In a nutshell
6-inch Quad HD +Full Vision OLED display with HDR10
Dual lens 16MP and 13MP camera, F1.6 Crystal clear lens
Audio by B&O Play with premium B&O Earphones inbox
64GB internal storage
Available in Cloud Silver & Moroccan Blue
What Carphone Warehouse says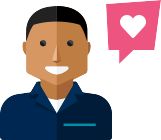 "This smartphone not only looks incredible with its super tall screen, but it also promises incredible photos and videos with thanks to the dual lens camera."
Operating System

Android Nougat (7.1.2)

Camera

13 and 16 Megapixels dual camera

Storage

Available in 64GB
View full specifications
The box contains
Device
Charger
Headphones
SIM card removal tool
USB cable
Quick Start Guide
Special Features

Body

Dimensions

151.7 x 75.4 x 7.4 mm

158 grams

Calls & Messages

Operating System

Android

Android Nougat (7.1.2)

Apps

Battery

Connectivity

Camera

LED

4K

5 megapixels

16 megapixels

Storage

Music and entertainment

Processor

Octa

Qualcomm Snapdragon 835

2.45 GHz

2.45 GHz

4 GB

Display

Quad HD

537 ppi

1440 x 2880p

P-OLED capacititve touchscreen, 16m colours

6 inches
LG V30
is rated out of
5
by
37
.
Rated

4

out of

5
by
Stan G
from
Great phone, when it works
When it works, it's great. Fab screen, great sound with the Quad DAC, fast and easy to use, and the landscape camera is almost unique. It takes great pictures for a phone. But i've never had an LG phone that hasn't needed to be replaced, and LGs customer service is beyond awful. You buy an LG phone for the excellent features, in the hope it won't break so you dont have to deal with LG.... see below I purchased my first LG V30 with B&O headphones in early December, and it quickly developed groups of dead pixels all over the screen. To be fair to CPW, they did replace it overnight due to their Christmas exchange policy, but only after two different stores gave different advice. A couple of months later, the B&O headphones stopped working properly. The volume and bass in the right earbud was down compared to the left (I checked the phone settings, and accessibility settings etc. it was definitely the headphones). LG initially said it wasnt their problem, and I needed to contact B&O. B&O replied to say LG had a contract to fix these headphones, so I had to tell LG about their own contract... after this, I sent the headphones to LG who took 2 weeks to test them, and said they worked fine, in a typed return note with badly spelled English. I replied back to say that the headphones were still broken. LG then said then wanted to take the headphones and the V30 to test them for "compatibility issues". Bearing in mind they bundled the headphones with the V30 package, and the headphones worked fine on the first V30 and the second for a period. Also the headphones had the same error on laptops, ipads, other phones etc. Other headphones worked fine on both phones and other devices too... They'd also need the phone and the headphones for another 2 weeks.... I gave up after this and purchased a pair of headphones myself. but after spending hundreds on a phone because it has a quad DAC and was being bundled with good headphones, it seemed like a waste of money and time. i'll purchase my next phone from a different manufacturer for sure.
Date published: 2018-06-09
Rated

5

out of

5
by
Schnuupi
from
One of the best smartphones of the year.
I have used a lot of smartphones over the years, and many LG phones. From the first wave of Android phones with Android Donut 1.6 on the LG GT540, the LG Optimus 3D, the LG G2 and LG G4. Along other phones as well including some very groundbreaking phones such as the Xiaomi Mi Mix. The one winning point for me is the Quad DAC setup on the LG V30, yes it was difficult to use at launch as only the default music player worked but as of now with Tidal fully supporting MQA format on their android app and with the app making use of the SABRE DAC in the LG V30 it sounds amazing, no other phone can compare. The screen is sharp, bright, colours are great and the so called "colour leaking" and blue tint I really do not see, the only time you notice any lines is if you stare at a pure white screen for several seconds but you will never do this unless you love the colour white (a lot). The build is premium with high quality glass and metal (LG has finally ditched plastic in it's phones.) Button layouts are great with power being exactly where you need it on the back, and volume buttons on the side. It's comfortable and super light for a 6 inch display. 64GB may not seem like enough today but I have yet to fill it with my MQA Hi-Res audio. It does support expandable memory so it will always have room for more. The camera is also amazing, many people seem to bash it (I've noticed mainly Google Pixel fans and carphone warehouse employee's who sadly are not informed enough on the more gritty and technical side of smartphones) but it really is great, the issues with the camera are on a software level which LG should hopefully address after the Oreo update. Installing the Google Camera app via APK enabled some truly amazing photo's although unable to switch between both lenses as the google app does not support dual lense. Wireless charing, USB Type C, Quick Charge 3, Headphone Jack and every sensor and feature you can expect in a flagship phone. Add daydream support and you have a phone that does it all. I would recommend this phone over any other out right now, if you are a user who relies heavily on the software of a phone and doesn't like to go into the Play Store to get third party apps then maybe give it a try first, LG has some catch up to do software wise. Most works, and you get many apps other brands do not bother to do. Like an FM Radio natively among other useful features that LG did first. If you don't mind getting third party apps for some functions then the LG V30 is a great phone with expandable memory.
Date published: 2018-03-19
Rated

5

out of

5
by
Jay H
from
Best phone to date and a great price
I have had LG phones in the past and as much as ive liked them, the have always been issues. This phone is something else. LG have done everything right. Great screen, amazing camera and a battery that lasts well over a day with fairly heavy use. If i was to pick fault, it would be the fact that the cameras native ratio is 4:3 having to dowscale to 12mp to get a 16:9 image but these images are still great quality. Best phone available to date and a great price
Date published: 2018-03-06
Rated

5

out of

5
by
The Dude
from
One of the best
I purchased a Google Pixel 2 but was very disappointed with it so I sold it and got myself an LG V30. I'm very pleased with every aspect of the phone. It's fast has a great camera and fits really nicely in the hand. The buttons aren't fiddly at all and the on/off/fingerprint button and reader at the back is a great idea. I do own an LG V20 so I was used to this anyway. If your looking for a top of the range Android phone at a reasonable price you won't go far wrong with this one. Great battery life too and wireless charging is a real bonus.
Date published: 2018-01-26