Oops!
To view this video, please install the latest version of Adobe Flash Player.



In a nutshell
Bluetooth 5.0
Active Noise-cancelling
Up to 21 hours playtime
Wireless charging compatible
Mic & remote
What Carphone Warehouse says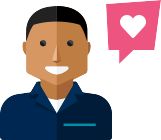 "You'll love how good your favourite songs sound thanks to AKG technology. Good looks, comfortable design, and convenient wireless charging make these Buds stand out from the crowd."
Galaxy Buds Live
Stylish. Iconic.
Designed to turn heads.
Galaxy Buds Live are made to look as good as they sound. A reflective metallic finish is as stylish as it is eye-catching. They're ergonomically designed for a comfortable, snug fit, so you can wear them all day with less fatigue. And with Active Noise Cancellation for open type, you can block out noises you want to avoid without missing out on what's important, so you are in control of what you want to hear.1
Iconic Design
Active Noise Cancellation
3 Microphones
1Active Noise Cancellation (ANC) cuts background noise by up to 97% in low-frequency bands.
Ever wondered
what great style
sounds like?
With their jewellery-like design and reflective metallic finish, Samsung Galaxy Buds Live are stylish, iconic and designed to turn heads. But it's not just style for style's sake — they're ergonomically crafted for superior comfort and a snug fit, so you can wear them all day. Plus, they come with a sleek case to complete the look.
Goodbye background,
hello beat.
Experience sound like never before with Galaxy Buds Live. They're backed up by Grammy Award-winning AKG technology, so you can be sure that you'll hear the treble, feel the bass, and really lose yourself in immersive sound. While Active Noise Cancellation lets you control how much background sound you can hear.
Lasts for hours.
Then stays for an encore.
More of the music, less of the waiting. Galaxy Buds Live delivers up to 21 hours of play time3. Five minutes of fast wireless charge gives you up to 1 hour of power2 and on a full charge, they deliver up to 6 hours of uninterrupted play time. You can even pop them back in their case and power them up for an additional 15 hours of charge3.
Up to 6 hours
Of non-stop listening
Up to 12 hours
With charging case
2Battery must be below 30%
36 hours uninterrupted play time, plus 15 hours extra when charged with the case. Battery life is based on usage of music or calls with Bluetooth and ANC turned on, and Always-on Mic turned off.
Easily pair with your PC.
At a touch.
You're more in control than ever before - in fact, you don't even need to use your phone. Put Galaxy Buds Live in pairing mode near a PC using Windows 10 Swift Pair4 and get your best work done.
4Compatible with PCs running Windows 10 April 2018 update or newer.
Loud and
clear calls
Galaxy Buds Live are designed to make every call crystal-clear. Two outer microphones detect external noise and block it out before it reaches the inner mic. So when on the move, you can be sure that your voice will be heard loud and clear every time.
Find the right
Galaxy Buds for you
Galaxy Buds Live
Galaxy Buds+
Design
Speaker
Noise Cancellation
Active Noise Cancellation
Play time
Up to 6 hours3
Up to 21 hours
Up to 11 hours
Up to 22 hours
Fast Charging
5min charge = 60min play2
10min charge = 180min play5
Capacity
60mAh (Buds)
472mAh (Case)
85mAh (Buds)
270mAh (Case)
Microphone
Remote Control
Play / Pause /
Volume / Sound
Durability
Buds weight
Compatibility
36 hours uninterrupted play time, plus 15 hours extra when charged with the case. Battery life is based on usage of music or calls with Bluetooth and ANC turned on, and Always-on Mic turned off.
5Only available with wired charging, battery charging specifications are based on wired charging tests.
6Not all features work with iOS.
The box contains
Device
Charger
USB cable
Headphones
Quick Start Guide
Power

Wireless Charging with charging case

Style

Specification

Compatible with Android and IOS

Speakers

Battery

Wireless charging with charging case

Dimensions

Headphones

Connectivity
Samsung Galaxy Buds Live is rated out of 5 by 156.
Rated 1 out of 5
by
BearWall
from
Very bad do not get
do not get this item if you want or need wireless earbuds get a different set the earbuds fall out of the person ear without the person moving and they need cleaning all the time without cleaning they become unusable
Date published: 2022-05-06
Rated 5 out of 5
by
Toecutter
from
Ive owned for a few Months and they are fabulous!
Ive never owned any ear located headphones as I could not stand things actually going into my ear Canal. However these do not insert into your ear Canal, they cleverly lock into your outer ear! Well done Samsung! I love these, in fact so much so I have 2 sets, one at work and one at home. The sound is excellent, very good Bass and working in a noisy factory at times ive found the noise cancellation to work amazingly well! I love the fact they magnetically hold into the case as well-which means they are less likely to drop. Ive never had any problem with battery life. Owning for many months now I can also confirm the build quality is also superb, as they bascicly still look New!
Date published: 2022-02-02
Rated 1 out of 5
by
Kungfuhud
from
Love these but...
Had these over a year now. Sound is great, depth in bass, if you like low rolling sounds and the 808 then you'll love these! Only problem is mine kept cutting out mainly on the left bud. Sent back to Samsung 4 times and made to feel stupid, even though I tried it on 2 new Samsung's and an iPhone with the same results. Ruined my reputation of Samsung, shame really. Bought some Sony WF-1000XM4 buds. Never been happier. Not had 1 drop since having them. Thanks Samsung Post loyal fan
Date published: 2021-12-15
Rated 1 out of 5
by
Bosshorty
from
Not that impressed!!!!!
I purchased these along with my z-flip 5g phone and tablet. For watching programmes on the tablet inside the home or just having music in my ears whilst working, absolutely fine, however, walking to work listening to music, it's not blocking out surrounding vehicle noise, can't turn it up any louder, base isn't great, and after 10mins of walking, one neatly fell out and then the other. The headphones that came with the phone are so much better.
Date published: 2021-11-12