Oops!
To view this video, please install the latest version of Adobe Flash Player.



In a nutshell
Bluetooth 5.0
Active Noise-cancelling
Up to 21 hours playtime
Wireless charging compatible
Mic & remote
What Carphone Warehouse says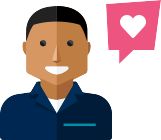 "You'll love how good your favourite songs sound thanks to AKG technology. Good looks, comfortable design, and convenient wireless charging make these Buds stand out from the crowd."
Galaxy Buds Live
Stylish. Iconic.
Designed to turn heads.
Galaxy Buds Live are made to look as good as they sound. A reflective metallic finish is as stylish as it is eye-catching. They're ergonomically designed for a comfortable, snug fit, so you can wear them all day with less fatigue. And with Active Noise Cancellation for open type, you can block out noises you want to avoid without missing out on what's important, so you are in control of what you want to hear.1
Iconic Design
Active Noise Cancellation
3 Microphones
1Active Noise Cancellation (ANC) cuts background noise by up to 97% in low-frequency bands.
Ever wondered
what great style
sounds like?
With their jewellery-like design and reflective metallic finish, Samsung Galaxy Buds Live are stylish, iconic and designed to turn heads. But it's not just style for style's sake — they're ergonomically crafted for superior comfort and a snug fit, so you can wear them all day. Plus, they come with a sleek case to complete the look.
Goodbye background,
hello beat.
Experience sound like never before with Galaxy Buds Live. They're backed up by Grammy Award-winning AKG technology, so you can be sure that you'll hear the treble, feel the bass, and really lose yourself in immersive sound. While Active Noise Cancellation lets you control how much background sound you can hear.
Lasts for hours.
Then stays for an encore.
More of the music, less of the waiting. Galaxy Buds Live delivers up to 21 hours of play time3. Five minutes of fast wireless charge gives you up to 1 hour of power2 and on a full charge, they deliver up to 6 hours of uninterrupted play time. You can even pop them back in their case and power them up for an additional 15 hours of charge3.
Up to 6 hours
Of non-stop listening
Up to 12 hours
With charging case
2Battery must be below 30%
36 hours uninterrupted play time, plus 15 hours extra when charged with the case. Battery life is based on usage of music or calls with Bluetooth and ANC turned on, and Always-on Mic turned off.
Easily pair with your PC.
At a touch.
You're more in control than ever before - in fact, you don't even need to use your phone. Put Galaxy Buds Live in pairing mode near a PC using Windows 10 Swift Pair4 and get your best work done.
4Compatible with PCs running Windows 10 April 2018 update or newer.
Loud and
clear calls
Galaxy Buds Live are designed to make every call crystal-clear. Two outer microphones detect external noise and block it out before it reaches the inner mic. So when on the move, you can be sure that your voice will be heard loud and clear every time.
Find the right
Galaxy Buds for you
Galaxy Buds Live
Galaxy Buds+
Design
Speaker
Noise Cancellation
Active Noise Cancellation
Play time
Up to 6 hours3
Up to 21 hours
Up to 11 hours
Up to 22 hours
Fast Charging
5min charge = 60min play2
10min charge = 180min play5
Capacity
60mAh (Buds)
472mAh (Case)
85mAh (Buds)
270mAh (Case)
Microphone
Remote Control
Play / Pause /
Volume / Sound
Durability
Buds weight
Compatibility
36 hours uninterrupted play time, plus 15 hours extra when charged with the case. Battery life is based on usage of music or calls with Bluetooth and ANC turned on, and Always-on Mic turned off.
5Only available with wired charging, battery charging specifications are based on wired charging tests.
6Not all features work with iOS.
The box contains
Device
Charger
USB cable
Headphones
Quick Start Guide
Power

Wireless Charging with charging case

Style

Specification

Compatible with Android and IOS

Speakers

Battery

Wireless charging with charging case

Dimensions

Headphones

Connectivity
Samsung Galaxy Buds Live is rated out of 5 by 138.
Rated 5 out of 5
by
Shardflooffox
from
Fantastic Earphones
Iv been using these for a few weeks now, and they sound and work perfectly for what I do, they fit in my ears just fine, and never fall out, these are great earphones.
Date published: 2021-07-19
Rated 4 out of 5
by
Dobromir
from
Quite Good Overall with Some Drawbacks
Overall, these buds are very and I mean very good. The sound quality is excellent, they are comfortable to keep in your ears and battery life is excellent. The only bit I don't like about these buds is the call quality - I know Samsung tried to improve them in comparison with the previous model, but the call quality is still really poor. People just can't hear me well when on the phone - external sounds like cars and birds suppress my voice. Nevertheless, I recommend the product.
Date published: 2021-07-03
Rated 5 out of 5
by
purplemelon4115
from
Fantastic Earbuds
I have had my Galaxy Buds for around 2 months and the quality on them is phenomenal, the sound is crisp clear and full. They fit comfortably in my ear to the point where I sometimes forget I have them in which is good. The ambient sound is really good too as it means I don't have to take an earbud out when into shops and stuff. The only thing I would change is maybe add more options for touch gestures but other than that fantastic product and great value for money
Date published: 2021-06-29
Rated 3 out of 5
by
Dissenter
from
Good for some things, not others.
Clear, bright sound. Noise cancelling quite effective in, say, trains; but not against wind. Compact & fairly secure fitting. But their sensitity to touch as more of a nuisance than a feature. On the bike with a helmet, in town with a mask or simply wiping off the sweat in the gym, turns them off. I mostly prefer my Bowers & Wilkins P14's which are joined by a cord and are clumsier, but are easier to control and have a richer sound.
Date published: 2021-06-17