Oops!
To view this video, please install the latest version of Adobe Flash Player.




In a nutshell
5.3-inch Quad HD display
Dual 13MP camera
64GB internal storage
Available in matte blue, glossy blue, copper and silver steel
What Carphone Warehouse says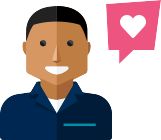 "For a perfect all-round Android experience, the Nokia 8 is well worth a look. The dual 13MP camera will provide top quality photos, and the slim-line design feels great."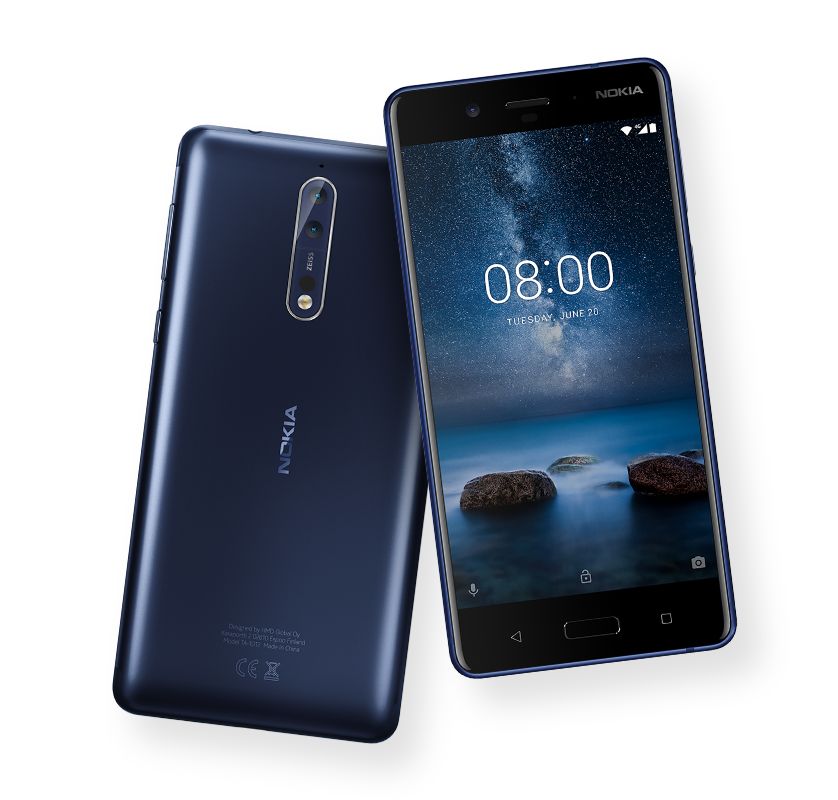 Built to last
The Nokia 8 is crafted from a single piece of precision-crafted aluminium, which wraps around the sides of the phone from the rear. It's also super-slim at just 7.9mm - looking and feeling great. 
See more detail in everything
The large Quad HD display with 2.5D curved Gorilla Glass 5 not only looks great, but it's really strong too. It measures 5.3-inches from corner to corner, and delivers a really high quality picture. 
Two lenses for better photos
The rear camera is made up of two 13MP lenses, giving you loads of creative options. You can use both lenses at the same time with live bokeh effect, blurring the background for a sharp professional look. Or, you can use them independently for detailed monotone shots.   
The bothie
Nokia's branded its Dual-Sight mode 'bothie', which lets you use the 13MP front-facing lens at the same time as the rear 13MP camera. This lets you put yourself in the frame, at the same time as taking photos of your mates. You can also broadcast live to Facebook with this mode – ideal if you want to capture your own real-time reactions.  
Super-quick charging
The Nokia 8 comes with the latest USB technology, USB Type-C. The symmetrical power port lets you inject charge quicker than ever before, meaning you'll be able to go from flat to full in around an hour with the 3,090mAh cell. 
Keeping things moving
To make sure you're never slowed down when using the Nokia 8, it comes equipt with the latest Qualcomm Snapdragon 835 processor. There's also a generous 4GB RAM, helping you skip between lots of different apps without any lag time.  
The box contains
SIM card removal tool
Device
Charger
Headphones
USB cable
Quick Start Guide
Body

Dimensions

151.5 x 73.7 x 7.9 mm

160 grams

Camera

4K

Dual Tone Flash

13 megapixels

13 megapixels

Calls & Messages

Battery

Operating System

Android

Android Nougat (7.1.1)

Apps

Special Features

Connectivity

Storage

Music and entertainment

Processor

Quad

Qualcomm Snapdragon 835

2.5 GHz

2.5 GHz

4 GB

Display

Quad HD

403 ppi

2560 x 1440 pixel

IPS LCD touchscreen, sunlight readability, 16m colours

5.3 inches
Nokia 8
is rated out of
5
by
31
.
Rated

5

out of

5
by
darth
from
Goodbye Windows Hello Stock Android
What can i say. i have had nokia phones since start of time even had a few Wp Lumias that had overheating issues and used to always swear my samsung. Well no more after borrowing my family members nokia 6 i fell in love with how simple yet fast these new nokia handsets are. Dont let thebattery full you iver you will get at least a full day on a single charge. and with Usb C it charges real quick. dont get me wrong the polished blue i have has already light scratched on back so i would buy a case with it nothing major you wouldn't notice if i didnt point it out to you. the bothie mode has some great uses. cameras are fantastic since new android 8.0 fixed the light problem in low light. and finally even with heavy gaming the liquid cooling they put into this phone works great no hot hands at anymore for a nokia phone.All in all a great premium handset, even the nokia 6/5 are worth a look too if you budget not to big. thanks hmd global youve made me happy to own a nokia again long may it continue
Date published: 2017-12-06
Rated

4

out of

5
by
Anonymous
from
Amazing build quality, Fast Android Updates!
I purchased the Nokia 8 for £380 for on black Friday and for that price the Nokia 8 is a brilliant piece of kit, while it lacks features such as a bezel-less display, notification LED it makes up for with sheer build quality and once you get one of these phones in hand you will know what I'm talking about (I personally would recommend going for one of the Matt colours as the polished versions are really slippy and are finger print magnets, I own the Steel version) The specs are top of the line at the time of writing this review, to name a few it packs an 8 core Snapdragon 835 SOC and 4GB of RAM (which is more than enough for 90% of people) a stunningly bright 1440P IPS Display (while I personally would have went with a 1080P OLED display for both real blacks and better battery life its still an amazing display) and 3 13MP camera's two of which are on the rear and they work in together to stitch both images from the OIS RGB Lens and Monochrome lens into one image that in theory provide a better low light image and a more detailed picture overall and this is were I start to tell you why I rated it 4 stars instead of 5, The camera's on paper should be top of the line and should compete with the S8 and iPhone 8 but as they currently stand (with the current algorithm and Camera App thats available) they are subpar in both lowlight and normal shots when compared to the likes of the S8 but this in no way means they are bad as the Nokia 8 will still take amazing images but they could be a lot better and I have contacted Nokia myself about this and they have stated that they are working to improve the camera (both algorithm and camera app) as well as other aspects of the Nokia 8 in the near future, and finally onto my final complaint is that the battery is only 3090mAh in size compared to similar sized phones such as the Galaxy Note 3 which has a 3200mAh battery (I upgraded from this phone) so I feel they could have found space for a larger battery but none the less the battery life itself isnt bad and you would get about 5/6 hours of watching YouTube at 100% brightness (obviously you could get more if you have the brightness on 50% but for ease I will tell you worse case) so that's still a good length of time but its 2017/2018 and people do more and more on their device's each day so a larger battery woukd have been appreciated but assuming you don't be using the device constantly for games, YouTube e.c.t it should get you through a working day just fine and if not thats OK as it comes with quick charge 3.0 which can charge the battery from 0-100% in under 2 hours (1h:45m roughly) so Overall if you want a stock android experience without bloatware and any skin layered on top, fast updates (Android 8.0 is already available), the fastest CPU available ATM, a great looking display, amazing build quality and a very good photography experience (this will be a great experience once the issues I listed are resolved) then this is the phone for you but its not worth anything over the £400 mark (get it on sale like me) as then you get into the one plus territory which is a hard device to beat for the £450/£500 mark.
Date published: 2017-12-05
Rated

4

out of

5
by
Emu1977
from
Really great phone
I got mine a week ago, easy to set up, so very smooth so quite easy to drop, get a cover for it. Only problem I've had so far in the finger print scanner it doesn't work well at all which is a pain, but other than than love it!!!
Date published: 2017-12-04
Rated

5

out of

5
by
PJagdev
from
Beautiful Phone
I only just got this phone and I am loving it. I am enjoying the simplicity of stock android. Nice responsive touchscreen, bright and clear. very fast. My apps work well and everything so far is smooth sailing. took a risk with Nokia seeing as they have been out of action for a while. but happy with what I have. Camera is good and has a dual sight mode (its fun, however not sure if it adds anything special). If you are looking for a change from Samsung and IPhone. go for the Nokia.
Date published: 2017-11-27