In a nutshell
2.4-inch display
2MP camera
Space for 32GB microSD card
Available in Red, Yellow, Blue and Grey
2G network coverage
What Carphone Warehouse says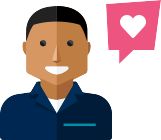 "The return of the 3310 is very exciting. The new Snake game is as addictive as it was back in 2000, and the 600-hour standby battery life is going to be perfect for festival season."
A tribute to the original
The new 3310 may have seen a few design refinements, but it still resembles the original. It's a little slimmer and the same height, and now has a 2MP camera on the back for quick photos if your smartphone is at home.   
The one-month battery
The 3310 is perfect as a secondary phone to take camping or to festivals, or as your first handset - if you don't have a need for the bells and whistles of modern smartphones.
And with a standby battery life of around 25 days, you'll never be left without a means of communication.  
What's the difference between the new Nokia 3310 (2017) and the original?
The new Nokia 3310 is more compact than the original, which was released in the year 2000. It has a colour screen, a longer battery life, and it comes in a range of colours – yellow, blue, red, and grey.
You can read more about the comparison between the two phones on The Lowdown. 
Does the new Nokia 3310 have any screen protection?
The new Nokia 3310's screen is made of plastic, and doesn't features any protection as such, however, the phone is very lightweight, and won't take on accidental damage very easily. 
Which SIM card size does the new Nokia 3310 accept?
The Nokia 3310 (2017) uses a Mini-SIM. 
Does the new Nokia 3310 accept dual SIM?
There is a dual SIM version of the Nokia 3310, but it will only be available in certain territories. 
What is the battery capacity of the new Nokia 3310 compared to the original Nokia?
The Nokia 3310 (2017)'s battery capacity is 1,200mAh, compared to the original's 900mAh. 
Which games can I play on the new Nokia 3310?
You can play the legendary Snake on the new Nokia 3310, which has been updated and is now in colour. There are other games available to download, too, including Asphalt 6: Adrenaline, Doodle Jump and Diamond Twister 2. You will need an internet connection to download these, however. 
How long does the battery last on the new Nokia 3310?
The Nokia 3310's battery capacity is 1,200mAh. The longevity of this will depend on your usage, but typically you can expect up to 744 hours on standby (30 days), and up to 22 hours talk time. 
The box contains
Quick Start Guide
Device
Charger
Display

240 x 320 pixels

QVGA

167 ppi

2.4 inches

Body

Dimensions

115.6 x 51 x 12.8 mm

79.6 grams

Calls & Messages

Operating System

Special Features

Battery

1200 mAh

22 hours

744 hours

Connectivity

Camera

2 megapixels

LED

2 megapixels

Storage

Music and entertainment
Nokia 3310
is rated out of
5
by
32
.
Rated

1

out of

5
by
Wolflieb
from
Terrible phone
This is without doubt the very worst mobile phone I have ever had the misfortune to buy! I got it for my wife, who is totally tech-unsavvy, but this piece of junk is so user-unfriendly that it defeated the object of getting a "simple" phone for her. I will be ditching it as soon as I find a phone she can cope with.
Date published: 2018-07-20
Rated

1

out of

5
by
Roofer
from
Worst of all worlds
I've been on a smart phone detox for some months and had another older Nokia which was fine and PAYG. I bought this as an additional phone because I could put my old SIM card in it. This is one of the least usable things I have ever tried to use. It's rubbish at the basics (calling, texting). Can't find predictive text (no Dictionary option) so texting is taking forever. Unintuitive menu options that appear / disappear depending on where you are. And the main navigation button on the key pad is physically badly designed so I'm forever clicking the wrong thing and have to use my finger nail rather than finger to navigate. Every few weeks I have a day of poor sound quality where I can't hear incoming or outgoing calls.
Date published: 2018-07-04
Rated

2

out of

5
by
Heathcliffe
from
Not such a good choice for the elderly
We bought this for dad as he's in hospital and we needed something very easy to use and familiar that won't confuse him (he used to have the original version of this phone). On trying it out, the keypad numbers are very hard to read in daylight. There's almost no contrast between the numbers and the key colour. You have to angle it to see what you're doing. The plus on this is that at least the keys light up clearly in a darker room.The phone dial/hang-up options are similarly very hard to read and quite unintiutive. Where most kepboard phones have clearly different icons and some red/green colour to set those buttons apart apart, this one has almost identical icons with almost no contrastor colour to make them visible. Those keys also double up as option keys so it's easy to mis-press when using them. It's a shame as it's a good looking phone that's marred by a few poor design over useability choices. If you're buying it for someone who needs something very easy to use or has poor eyesight, you might want to check those things out first. Store service was great however, and we get a 14 day return period.
Date published: 2018-04-08
Rated

4

out of

5
by
Anonymous
from
Great phone with one exception
i bought this phone as an easy to use phone for my mum who does not use the internet or smart phones. Great wee phone with a huge design flaw - it can be very difficult to read the numbers and letters - unless you are in the dark with the lights out and then they light up. Think they are missing a trick here as would be a fab phone for people like my mum otherwise. Also I had bought it as a sim free phone so that she could keep her present sim card but I now find that I cannot return it to get money back - can only swap it for something else - this was not made clear to me at time of purchase..
Date published: 2018-03-16