Oops!
To view this video, please install the latest version of Adobe Flash Player.




In a nutshell
2.4-inch display
2MP camera
Space for 32GB microSD card
Available in Red, Yellow, Blue and Grey
2G network coverage
What Carphone Warehouse says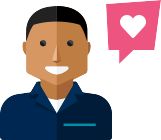 "The return of the 3310 is very exciting. The new Snake game is as addictive as it was back in 2000, and the 600-hour standby battery life is going to be perfect for festival season."
A tribute to the original
The new 3310 may have seen a few design refinements, but it still resembles the original. It's a little slimmer and the same height, and now has a 2MP camera on the back for quick photos if your smartphone is at home.   
The one-month battery
The 3310 is perfect as a secondary phone to take camping or to festivals, or as your first handset - if you don't have a need for the bells and whistles of modern smartphones.
And with a standby battery life of around 25 days, you'll never be left without a means of communication.  
What's the difference between the new Nokia 3310 (2017) and the original?
The new Nokia 3310 is more compact than the original, which was released in the year 2000. It has a colour screen, a longer battery life, and it comes in a range of colours – yellow, blue, red, and grey.
You can read more about the comparison between the two phones on The Lowdown. 
Does the new Nokia 3310 have any screen protection?
The new Nokia 3310's screen is made of plastic, and doesn't features any protection as such, however, the phone is very lightweight, and won't take on accidental damage very easily. 
Which SIM card size does the new Nokia 3310 accept?
The Nokia 3310 (2017) uses a Mini-SIM. 
Does the new Nokia 3310 accept dual SIM?
There is a dual SIM version of the Nokia 3310, but it will only be available in certain territories. 
What is the battery capacity of the new Nokia 3310 compared to the original Nokia?
The Nokia 3310 (2017)'s battery capacity is 1,200mAh, compared to the original's 900mAh. 
Which games can I play on the new Nokia 3310?
You can play the legendary Snake on the new Nokia 3310, which has been updated and is now in colour. There are other games available to download, too, including Asphalt 6: Adrenaline, Doodle Jump and Diamond Twister 2. You will need an internet connection to download these, however. 
How long does the battery last on the new Nokia 3310?
The Nokia 3310's battery capacity is 1,200mAh. The longevity of this will depend on your usage, but typically you can expect up to 744 hours on standby (30 days), and up to 22 hours talk time. 
The box contains
Quick Start Guide
Device
Charger
Display

240 x 320 pixels

QVGA

167 ppi

2.4 inches

Body

Dimensions

115.6 x 51 x 12.8 mm

79.6 grams

Calls & Messages

Operating System

Special Features

Battery

1200 mAh

22 hours

744 hours

Connectivity

Camera

2 megapixels

LED

2 megapixels

Storage

Music and entertainment
Nokia 3310
is rated out of
5
by
25
.
Rated

4

out of

5
by
Barbara
from
Excellent no nonsense phone......
Just bought this phone and it does exactly as it says it does...its for people who just want to text and phone and has a larger than average screen. I love it.....
Date published: 2017-11-29
Rated

1

out of

5
by
This guy
from
No great features
This phone is the worst phone on earth a brick From my mansion could be a better phone
Date published: 2017-10-18
Rated

5

out of

5
by
johny27
from
Nokia 3310 a 5 star phone
Just an update after owning this phone for 3 months now. Its a great phone for everyday use! Takes good photos and videos. You can load your full photo library onto a 32 or 64gb micro sd card (essential) Great for customising!! you can use any movie dvd cover photo as your wallpaper. In fact if you save an audio clip from any movie on your p.c, you can then use this audio clip for your ringtone or message tone. I have the Warriors movie cover as wallpaper and the audio clip of(warriors come out to play) as a message tone Try, Back to the future with the movie soundtrack as your ringtone, You can do all this for free via the internet then load these onto your micro sd card and use them on this brill nokia 3310.. Also Great for fm radio as you can use any earphones or use the built in speaker. Use your P.c to download 2500 podcasts from bbc or download your music library songs (mp3) to the nokia 3310 and use them as your ringtone or message tone...nice. A great basic phone but unsuitable for internet use as screen too small but great for kids and oldies. Has a brill L.e.d light and battery lasts about a week between charges if you use it a few hours a day.
Date published: 2017-10-16
Rated

5

out of

5
by
MidnightHolly
from
Great wee phone
Purchased this over the phone from Carphone Warehouse as their website was playing up. Recieved it today. Brilliant wee phone. Just wanted it for phoning and texting. Simple to use. Have to put memory card in it but am not in a hurry to do this yet. Would definately recommend to anyone looking for a simple to use 'old-fashioned' mobile phone that hasn't go the thrills and spills of a smartphone. Takes a few fotos - more with a memory card. Has an FM Radio and you can put music on it. Has internet via Opera and can connect to weather.
Date published: 2017-10-09