Oops!
To view this video, please install the latest version of Adobe Flash Player.




In a nutshell
2.4-inch display
2MP camera
Space for 32GB microSD card
Available in Red, Yellow, Blue and Grey
2G network coverage
What Carphone Warehouse says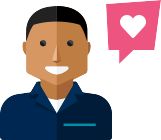 "The return of the 3310 is very exciting. The new Snake game is as addictive as it was back in 2000, and the 600-hour standby battery life is going to be perfect for festival season."
A tribute to the original
The new 3310 may have seen a few design refinements, but it still resembles the original. It's a little slimmer and the same height, and now has a 2MP camera on the back for quick photos if your smartphone is at home.   
The one-month battery
The 3310 is perfect as a secondary phone to take camping or to festivals, or as your first handset - if you don't have a need for the bells and whistles of modern smartphones.
And with a standby battery life of around 25 days, you'll never be left without a means of communication.  
What's the difference between the new Nokia 3310 (2017) and the original?
The new Nokia 3310 is more compact than the original, which was released in the year 2000. It has a colour screen, a longer battery life, and it comes in a range of colours – yellow, blue, red, and grey.
You can read more about the comparison between the two phones on The Lowdown. 
Does the new Nokia 3310 have any screen protection?
The new Nokia 3310's screen is made of plastic, and doesn't features any protection as such, however, the phone is very lightweight, and won't take on accidental damage very easily. 
Which SIM card size does the new Nokia 3310 accept?
The Nokia 3310 (2017) uses a Mini-SIM. 
Does the new Nokia 3310 accept dual SIM?
There is a dual SIM version of the Nokia 3310, but it will only be available in certain territories. 
What is the battery capacity of the new Nokia 3310 compared to the original Nokia?
The Nokia 3310 (2017)'s battery capacity is 1,200mAh, compared to the original's 900mAh. 
Which games can I play on the new Nokia 3310?
You can play the legendary Snake on the new Nokia 3310, which has been updated and is now in colour. There are other games available to download, too, including Asphalt 6: Adrenaline, Doodle Jump and Diamond Twister 2. You will need an internet connection to download these, however. 
How long does the battery last on the new Nokia 3310?
The Nokia 3310's battery capacity is 1,200mAh. The longevity of this will depend on your usage, but typically you can expect up to 744 hours on standby (30 days), and up to 22 hours talk time. 
The box contains
Quick Start Guide
Device
Charger
Display

240 x 320 pixels

QVGA

167 ppi

2.4 inches

Body

Dimensions

115.6 x 51 x 12.8 mm

79.6 grams

Calls & Messages

Operating System

Special Features

Battery

1200 mAh

22 hours

744 hours

Connectivity

Camera

2 megapixels

LED

2 megapixels

Storage

Music and entertainment
Nokia 3310
is rated out of
5
by
14
.
Rated

5

out of

5
by
jUDY
from
Just to let you know the Nokia 3310 wasn't legit.I have since asked for a refund through Amazon and have ordered a new proper 3310 from Carphone warehouse. I know when I get a proper on I will give it 5 stars..The copy wouldn't even recharge.Nothing like the real thing.Thankyou for listening. Judy Fleming .
Date published: 2017-08-15
Rated

4

out of

5
by
VDK1
from
Plain and Simple
I had the original 3310 so was very pleased to find out that the 2017 model was being launched. The new version is basically a good little phone and very light and easy to carry around. I have an iPhone, which I love, but wanted this one as it is pocket-sized and has a much longer battery life, although I still need to charge it every 3 days. Texting the old well loses its novelty after a few texts, but for what it is, the Nokia 3310 is an okay phone.
Date published: 2017-08-02
Rated

1

out of

5
by
JoNorfolk
from
looks nice but that's all.
Bought online ten days ago. Needed to buy a MicroSD card for it. Ok for calls, tho sound quality not great. Didn't enjoy the backwards step in texting, very laborious compared to my 7 year old Nokia. Calendar only allows 25 events to be entered - useless for me. Unable to receive or send MMS, Vodaphone say my account allows it so it must be the phone, however, no-one in CPW Technical Dept is able to help me as they do not have this phone to look at, nor any technical information about it to refer to - unbelievable! Emailed customer service to complain, received reply in 24 hrs, and have returned the phone. Waste of my time, but you live and learn.
Date published: 2017-07-29
Rated

3

out of

5
by
alantoon
from
average
I bought this phone a month ago from carphone.its ok for texts and calls.good battery life nice colour display for texts.down side no internet or mms messaging.tried a vodafone sim in it and contacted vodafone adviser she told me this model wasnt supported for web and mms.also 02 doesnt support it.
Date published: 2017-07-21