Trade In your device
Your Trade In value has been saved
Trade in your old phone, and get money off this handset
This is how much you could get for your old phone.
Click the button below to see how much you can get for it.
Go to your basket to remove a device
Trade-in your device
Now you can sell your old phone and save on your new purchase
Step 1
Complete your trade-in to guarantee your price.
Step 2
You'll receive an envelope and return your old device to us within 14 days.
Step 3
Funds transferred to your account within 3-5 days of us receiving your device
Loading…
In a nutshell
6.7-inch OLED display
50MP triple camera
10.8MP selfie camera
Google Tensor G2
5000mAh battery
5G Ready
What Carphone Warehouse says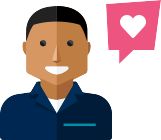 The Pixel 7 Pro goes even further with built-in smart functions. Send texts and emails with just your voice and simply say 'Answer' to pick up an incoming call or 'Stop' to silence the alarm going off.
The all-pro
Google phone.
1 Recycled materials are approximately 19% of phone based on weight. 2 Compared to Pixel 6. Based on internal testing on pre-production devices.
Google Tensor G2, the
brains behind Pixel 7 Pro.
Google Tensor G2 makes Pixel 7 Pro faster,
more efficient and more secure – with the
best photo and video quality yet on a Pixel.1
Pixel's Adaptive Battery can last over
24 hours. Turn on Extreme Battery Saver,
and the battery can last up to 72 hours.2
Live Translate lets you interpret face-to-face conversations in 48 languages, chat in real time and more.3
1 Compared to Pixel 6. Speed and efficiency claims based on internal testing on pre-production devices. 2 Estimated battery life based on testing using a median Pixel user battery usage profile across a mix of talk, data, standby and use of other features. Average battery life during testing was approximately 31 hours. Battery testing conducted on a major operator network. Battery testing conducted in California in mid-2022 on pre-production hardware and software using default settings. Battery life depends upon many factors, and usage of certain features will decrease battery life. Actual battery life may be lower. 3 Not available in all languages or countries. Not available on all media or apps. See g.co/pixel/livetranslate for more information. Translation may not be instantaneous.
Google's pro-level camera system.
From landscapes to snowflakes, the powerful Pixel 7 Pro triple camera
system adds drama and detail to all your photos and videos.
Super Res Zoom
for crisp details
from far away.
Capture amazing photos at a
distance with the 5x telephoto lens
and up to 30x Super Res Zoom.2
Pixel 7 Pro Exclusive
Macro Focus
finds beauty
in the details.
Even your tiniest subjects look
extraordinary – raindrops, rose
petals or a blade of grass.
Pixel 7 Pro Exclusive
Cinematic Blur
adds more drama
to your videos.
Keep your subject in focus
and blur the background
for a dramatic effect.
1 Maximum resolution with RAW image files setting turned on. Setting is turned off by default. See g.co/pixel/photoediting for more information. 2 Not available for all camera apps or modes.
Guided Frame helps people with low vision take better selfies.
Take vibrant photos in
low light with Night Sight.
Real Tone represents more skin
tones beautifully and authentically.
Magic Eraser makes it easy to remove distractions, like photobombers.1
1 Requires Google Photos app. Magic Eraser may not work on all image elements.
Multiple layers of security to help keep
your personal info safe.
Your protection,
built into Pixel.
The Titan M2 chip and the Google Tensor
security core, an extra layer of hardware
security, help make Pixel more resilient
to attacks.1
Unlock with a glance.
With Face Unlock, just look at your
Pixel to unlock it quickly.
Built-in VPN for extra protection online.
(Coming soon.)
With a VPN by Google One built in, Pixel
helps protect your online activity no
matter what app or web browser you use.2
1 Compared to earlier PIxel phones. 2 Coming soon. Restrictions apply. Some data is not transmitted through VPN. Not available in all countries. All other Google One membership benefits sold separately. Use of VPN may increase data costs depending on your plan. See g.co/pixel/vpn for details.
A world of help. Built around you.
Bring together Pixel phones, earbuds and the Google Pixel Watch
for personalised help throughout your day.1
Easily connect your earbuds, watch and phone
with each other. Pixel Buds Pro make it simple by
automatically switching audio between devices.1, 2
If you're listening to music or watching a show on
your Pixel phone, you can play, pause, rewind and
more from your phone, earbuds or watch.
Ring your phone from your watch, and ring your watch or earbuds from your phone to quickly find your misplaced Pixel device.1, 3
With Fitbit on the Google Pixel Watch, track activity, calories burned, sleep and heart rate.4
Manage your connected home devices, like lights and thermostats, from anywhere on your phone, watch or earbuds.1, 5
1 Watch and earbuds sold separately. 2 Fast Pair requires location to be enabled. Devices must have been previously paired with Pixel Buds Pro. 3 Requires connection to compatible devices. Ringing to locate misplaced device requires the device to be nearby. 4 Some features may require Fitbit account and mobile app. 5 Connected home control requires compatible smart devices (sold separately).
Switch over, don't start again.
Whether you're switching from Android or iOS, Pixel makes
it easy to transfer your favourite things in a few steps.1
2
Choose what you
want to copy.
3
Transfer apps,
photos, messages,
and contacts.
4
Enjoy your
favourite
things on your
new Pixel.
1 Some third-party apps and data may not be transferred automatically. Visit g.co/pixel/copydatahelp for information.
Thoughtfully designed.
The most refined design yet, Pixel 7 Pro is crafted with polished aluminium,
in modern, elegant colours. And it's made with recycled materials.1
1 Recycled materials are approximately 19% of phone based on weight.
Comes with the best of Google.
Pixel 7 Pro includes three months of YouTube Premium and Google One.1
YouTube Premium
Enjoy your favourite videos and
music ad-free, in the background
and offline on a lightning-fast phone.1
Google One
Get access to 100 GB of cloud storage
from Google One to back up your photos,
videos, contacts and more.1
1 The Google One and YouTube Premium three-month trial offers are available to eligible users with the purchase of Pixel 7 Pro. Offer expires 15 December 2023 at 11.59 p.m. GMT. Valid form of payment required at sign-up, but you will not be charged until the trial period has expired. Cancel anytime. See youtube.com/premium/restrictions and one.google.com/offer/terms-and-conditions/pixel7and7pro for full terms.
What is the best case for the Google Pixel 7 Pro?
To keep your brand-new handset in top condition and to protect it from damage, it's worth finding a compatible case for Google Pixel 7 Pro. What's best is up to you and your needs, depending on whether you want something light and slim for your pocket, or something a little tougher and rugged for work or sports.
How much is the Google Pixel 7 Pro?
The Google Pixel 7 Pro price in the UK will vary depending on how much memory capacity you want, and what kind of deal you sign up to. The Google Pixel 7 Pro is available with 128GB or 256GB of memory.
When did the Google Pixel 7 Pro come out?
The Google Pixel 7 Pro release date in the UK was 13th October 2022.
How much storage does the Google Pixel 7 Pro have?
The Google Pixel 7 Pro 256GB option is the larger of the two available, with the smaller option coming in at 128GB.
Is the Google Pixel 7 Pro better than the Pixel 7?
When it comes down to Google Pixel 7 vs 7 Pro in terms of which phone is better, it's worth considering what you actually need from your handset. The Google Pixel 7 is a smaller phone with a smaller display (6.3 inches) than that of the 7 Pro (6.7 inches). The Pro carries a bigger battery that will last longer, and the ultra-wide camera goes wider than it does on the Pixel 7.
What's the best way to buy a Google Pixel 7 Pro?
A Google Pixel 7 Pro contract will enable you to spread the cost of your phone in monthly instalments, along with your network and usage bills. A Google Pixel 7 Pro sim free deal gives you the flexibility to choose the network and bundle you like, but you'll have to pay the full price of the handset upfront.
Does the Google Pixel 7 Pro have a good camera?
The Google Pixel 7 Pro camera system comes packed with great features. There's a 50 MP wide lens and a 12 MP ultrawide lens with auto-focus, while the 48 MP telephoto lens has 30x Super Res Zoom for clearer, more detailed shots from a distance. One of the most impressive Google Pixel 7 Pro camera features is the Macro Focus option, which delivers clearer levels of detail for smaller subjects shot at close range.
What are the recommended accessories for the Google Pixel 7 Pro?
To help you make the most of your phone, you'll find a wide range of Google Pixel 7 Pro accessories at Carphone Warehouse. We recommend Google Pixel 7 Pro compatible wireless chargers to boost your battery on the go, and screen protectors to keep your phone display scratch-free.
Connectivity

Display & User Interface

Camera Features

Messages

Technical

163.01mm x 76.6mm x 8.74mm

210.5g

72hrs

6.7-inches

24hrs

5000mAh

Standard Features

Memory