In a nutshell
• Protect the screen of your Samsung Galaxy S20 • Smudge-resistant and scratch-free
What Carphone Warehouse says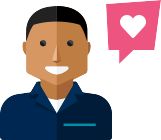 "Free yourself from the fear of scratches. Your phone screen will be protected from any accidental damage thanks to this handy screen protector."
ultra clear
+
Super Shater Protection
Smooth Silky Feel
Anti Bacterial Defence
Premium glass like feel and Clarity
Unbeatable Screen Protection with Anti-Bacterial Technology
Protect your screen from impact, scratches and bacteria! This incredibly tough protection has 100% clarity and an anti-bacterial treatment that kills 99.99% of surface bacteria. The glass-like surface of Ultra Clear+ preserves the sharp, vibrant optics of the most advanced smartphone displays. Ultra Clear+ fits flat or curved screens, and it preserves your screen's touch sensitivity, so it responds to every tap and swipe.
Advanced Glass-Like Surface
A glass-like surface provides protection that looks as good as it feels.
Shatter Protection
Ultra Clear+ provides edge-to-edge impact and shatter protection.
Anti-Bacterial Treatment
Ultra Clear+ has anti-bacterial properties that kill 99.99% of surface bacteria* and inhibit the growth of algae, mould, and mildew.
Easy Application
EZ Apply® tabs and a patent-pending installation process make applying your Ultra Clear+ screen protector simple and accurate.