In a nutshell
Oil resistant coating repels smudges of natural finger oils
Scratch resistant PET protection, for extra strength
Only 0.4mm thick for precise sensitivity and control
What Carphone Warehouse says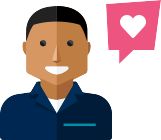 "This screen protector is really easy to apply with the fitting device included in the box. It's also super-thin, so your Galaxy S10 will be as responsive as ever."
ultra clear
+
Super Shater Protection
Smooth Silky Feel
Anti Bacterial Defence
Premium glass like feel and Clarity
Unbeatable Screen Protection with Anti-Bacterial Technology
Protect your screen from impact, scratches and bacteria! This incredibly tough protection has 100% clarity and an anti-bacterial treatment that kills 99.99% of surface bacteria. The glass-like surface of Ultra Clear+ preserves the sharp, vibrant optics of the most advanced smartphone displays. Ultra Clear+ fits flat or curved screens, and it preserves your screen's touch sensitivity, so it responds to every tap and swipe.
Advanced Glass-Like Surface
A glass-like surface provides protection that looks as good as it feels.
Shatter Protection
Ultra Clear+ provides edge-to-edge impact and shatter protection.
Anti-Bacterial Treatment
Ultra Clear+ has anti-bacterial properties that kill 99.99% of surface bacteria* and inhibit the growth of algae, mould, and mildew.
Easy Application
EZ Apply® tabs and a patent-pending installation process make applying your Ultra Clear+ screen protector simple and accurate.
Invisible Shield Ultra Clear for Samsung S10
is rated out of
5
by
9
.
Rated

1

out of

5
by
Jarek
from
Absolutely rubbish.
I have followed all instructions and double checked on YouTube, and it seems to be put together other way around in factory. So all money in the bin.
Date published: 2020-07-26
Rated

5

out of

5
by
Dazsr71
from
Excellent
At last a screen protector that actually works with S10 features. Once fitted it is actually virtually invisible. Easy to fit just watch the video and you should have no issues
Date published: 2020-07-24
Rated

4

out of

5
by
BigW
from
Pretty good if you can get it on properly
I got one of these from Three to go on my new S10. The instructions seemed a bit confusing so I watched a video on YouTube which seemed reasonably clear. Watched the video twice and then again as I was applying the screen protector. Thought I had followed the instructions properly, but I totally failed to get it applied and ended up getting annoyed and throwing it in the bin! I seemed to end up with two separate halves that didn't seem to be visible on the video. I wasn't sure if these were part of the protector itself or something else. I watched the video again and noticed that the two halves are supposed to peel off as the protector is being applied. So I bought another one (seemed to be cheapest at Carphone Warehouse at £2.99) and tried again. Actually bought 2 in case I messed it up again. Carefully watched the video again and made sure I followed the instructions and happily this time I managed to get the protector applied to my phone properly. I was bit concerned at first as there seemed to be a line across the middle, where the two halves were, and there were several bubbles along that line. I managed to push the largest bubble to the side and got rid of it, but I couldn't remove the others. They were fairly small and although to me they stuck out like a sore thumb I thought I would just have to live with it. I kept rubbing them a bit with the cloth and the squeedgy thing that came with it, but to no avail. A day or two later, however, and the line across the middle and all the small bubbles seem to have disappeared completely. It now looks pretty much perfect and you can barely see that there is a screen protector on at all. It fits perfectly on the curved edges of the screen and shows no sign that it might peel off - although time will tell of course. You can actually still see a very faint line across the middle but only if you really try to see it and hold it at an angle. It is pretty much totally invisible when the phone is in use though and if you didn't know it was there you would never know! I've just noticed that there is another tiny bubble right on the edge but I think it will either disappear or I will easily be able to push it away as it is so close to the edge. The other good thing about this is that part of the application process seems to be an extra dust removal stage (which I think is what the two plastic halves are for). This has enabled the protector to be installed without any rogue bits of dust being trapped. Something that I have never managed to avoid in the past - either with plastic or glass protectors. So although I had one disaster I now highly recommend this screen protector. It is actually the best non-glass screen protector I have ever had. It also works totally fine with the on-screen finger print sensor. I didn't even have to re-do my finger prints. Watch the video several times and make sure you are confident that you know what to do before applying it and give it a go - I certainly recommend it. I was going to add a photo but there really is nothing to see! Just imagine a brand new phone and that is basically what it looks like.
Date published: 2020-07-02
Rated

1

out of

5
by
Kooge
from
Absolute Rubbish! One star is too high a rating!
Followed instructions supplied and even watched Youtube video. Screen does not fold down on sides and is hanging clear of the phone. Screen has loads of horizontal lines when 'rolled' onto phone. I have reset the finger sensors as advised, but now finger contact has to be a lot harder than before. DO NOT BUY. ABSOLUTE WASTE OF MONEY!!!!
Date published: 2019-09-10