In a nutshell
Strong, polycarbonate plate to protect your iPhone 7 or 8
Choose from clear or black
Simple to use and easy to access your smartphone's features
What Carphone Warehouse says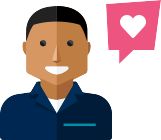 "This case is sleek, stylish and has a robust, polycarbonate plate that'll protect your iPhone 7 or 8 from wear and tear. It's easy to use and has a sleek, simple design."
Strong
It goes without saying that your iPhone case needs to be able to withstand modern life's bumps and knocks. The Xqisit iPlate Glossy's hard, polycarbonate outer shell is impact resistant and will protect your smartphone from everyday scuffs and scrapes.
Stylish
If you want to see your iPhone 7's features in their full glory then the Xqisit iPlate Glossy in clear is for you, or choose the subtle black hue for a bit of added sophistication.
Slim
Pop the Xqisit iPlate Glossy onto your iPhone 7 in one simple click and away you go. The slim, streamlined design means that you don't have to lug around a big, bulky case to stay protected.