In a nutshell
Strong, polycarbonate plate to protect your iPhone 7 or 8 Plus
Choose from clear or black
Simple to use and easy to access your smartphone's features
What Carphone Warehouse says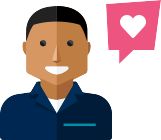 "This case is sleek, stylish and has a robust, polycarbonate plate that'll protect your iPhone 7 or 8 Plus from wear and tear. It's easy to use and has a sleek, simple design."
Protective Qualities
We all have the best intentions but sometimes we can't stop our smartphones from getting a knock or two. The robust, polycarbonate plate means that the Xqisit iPlate Glossy can help defend your iPhone 7 Plus against life's bumps and scrapes.
Stylish
Choose from a clear Xqisit iPlate Glossy which helps show off your iPhone 7 Plus' original design or you the sleek, minimalist black case that looks super-stylish. The Xqisit iPlate Glossy not only looks great, but is incredibly comfortable to use.
Ultra-slim
Though you want protection, you'll still want your iPhone 7 Plus to be similar in size, fortunately the Xqisit iPlate Glossy is ultra-slim so it'll hardly add any weight to your smartphone and you'll barely notice a change when it's in your pocket or bag.