In a nutshell
Pop a Tile on any item and you can track it in seconds
A pack of 4 Tiles, so you can track several items
Blue tooth enabled Tiles that connect to a Tile app
What Carphone Warehouse says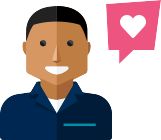 "We've all had to peer down the sofa to find our keys every now and then, but this tracker device will leave you with more time to do the important stuff, as Bluetooth enabled Tiles will keep your valuables in check."
Bluetooth
Your Tiles are Bluetooth enabled so you can track where they are using sound, find where they are on a map on your app and receive alerts when your items are found.
Small Tiles
The Tile Slim Bluetooth Tracker Device gives you a pack of 4 Tiles to use on any items you don't want to lose. The Tiles are a really small, handy size so you won't even notice that they're there.
Easy to Use
It's easy to download the Tile app and from there you can keep track of all your tiles. Not only that, it can work both ways. Lost your phone? No problem, each Tile can make your smartphone ring, even on silent mode.