In a nutshell
Control your smartphone from the SmartWatch 3's colour touchscreen
Doubles as a sports watch for tracking your training
Compatible with smartphones running Android 4.3 or higher
What Carphone Warehouse says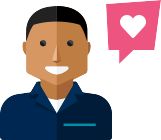 "The sleek metal core of the SmartWatch 3 gives it a premium look. And it's packed with handy features."
Simple convenience
Just connect the Sony SmartWatch 3 to your smartphone via NFC or Bluetooth, and all the notifications from your phone will appear on your watch. It means you can read and reply to your emails and texts, control your music and more without having to get your phone out.
Handy updates
With Google Now, your SmartWatch 3 will give you useful information before you've even asked for it. It could be traffic updates 5 minutes before you finish work or flight details the day before you go on holiday.
Sporty
If you want to use the SmartWatch 3 as a sports watch, go right ahead. It's well built, water resistant and tracks all your steps and activity. It also works with apps like Runtastic to track even more.
Great battery
The Sony SmartWatch 3 is super-efficient, so will give you up to a week of use before it needs charging again.
Compatibility
The Sony SmartWatch 3 is compatible with all smartphones using Android 4.3 Jelly Bean and later.
Dimensions

Fitness

Specification

Music and entertainment

Display

Connectivity

Calls & Messages

Operating System

Activity Trackers

Battery
Sony SmartWatch 3
is rated out of
5
by
4
.
Rated

4

out of

5
by
Megatron
from
Really cool product
When I first bought this product there were a few problems with it. Apps to change the watchface weren't connecting correctly and there were general Bluetooth problems. However all of these were quickly resolved with a system update and now it runs beautifully. This is a cheap smart watch however you wouldn't know that. It is lovely looking and it is very functional.
Date published: 2016-04-06
Rated

4

out of

5
by
Thing
from
A good effort from Sony
Firstly, I wouldn't ever want to spend more than £100 on a smartwatch, and when this was on offer for £95, I went for it. DESIGN- This is incredibly simplistic, waterproof, functional & hard wearing. There is no design flair, but it works for me without being too clonky or daft. The watch looks far better with the stainless link strap, but these are almost impossible to buy separately at the moment. Not sure why!!! (You can buy the whole watch outright in stainless, but these are upwards of £220) SOFTWARE/FUNCTION- Android wear is pretty much identical across all of the available watches, and i think it's ok. Updates to 5.1.1 from the start make things much better. You can select which apps notify on the watch, it all works as intended and is smooth in operation. It's great for binning emails & messages look great with any contact picture shown behind. There are a few good apps & watch faces available on the Play Store, but predictably, loads of rubbish too! SCREEN- It's ok, nothing more. Colours are fairly washed out, blacks aren't very deep & whites are a bit cream. BUT, it is really visible, even in full sun! Fancy that BATTERY- It's a day and a bit with GPS off, screen always on & max brightness. Meh. It charges really quickly with any micro USB phone charger though. Good call Sony. To sum up, It's a decent gadget to have, shopping lists are very handy on your wrist, I like having full weather info on the watch face & it was a bit of a bargain. Not very rock & roll, I know! But it all works well. I really don't think smart watches are going to change the world (especially at some of the silly prices......) just yet
Date published: 2015-08-13
Rated

4

out of

5
by
H
from
Good but ...
Looks good, works well and reasonably (?) easy to use. But...battery is very flaky. Can go to bed fully charged and one morning it will be 90%+, the next am will be 6% with no changes to the settings!! Same during the day - sometimes it will last most of the day, the next it will last a few hours. Also the wrist movement is a bit unpredictable. Still like the watch though, even if a bit frustrating
Date published: 2015-08-12
Rated

5

out of

5
by
ryan hawkeye
from
after you have one you wonder what you did before
simple and easy to use, i chose the sony watch because the benefits of my life style, while running it can still track my steps and location without the handset which was a big bonus also the internal memory allows for storage of music so if you have bluetooth headphones you can still listen to music on the go again without the handset. and because its sony water and dust proof comes as standard, voice control its excellent at picking up commands, only a few times has the watch misheard me. another great feature is the watch just pops out of its strap so while running you can have the rubber clip on band and then for that posh dinner insert it on to the metal band. battery life is on par with what sony advertise at two days but to achieve this google fit and gps have to be turned off, there's still many features of this watch i haven't covered, for the great price carphones doing it for its well worth it.
Date published: 2015-08-04