In a nutshell
Comfortable, silicone in ear headphones
Compact and easy to carry on the go
One-button in-line remote for easy changes
What Carphone Warehouse says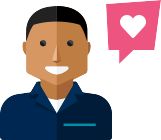 "These in ear headphones are great quality and the silicone earbuds are really lightweight, and fit snugly in your ear. No matter the genre, brilliant sound quality and crisp, clear audio so you can enjoy your favourite tracks on the go."
Quality Audio
The 5-24,000Hz frequency range means that these headphones are more than capable of enhancing your listening experience and giving you high quality sound.
Comfort
The silicone in-ear headphones are really comfy to wear and fit snugly in the ear. They're lightweight too, but have great grip so they won't fall out of your ears easily when you're wearing them.
One-Button Remote
It's easy to adjust your volume, switch songs and make phone calls with the one-button remote function. It makes using your hands-free function simple and hassle-free.