Trade In your device
Your Trade In value has been saved
Trade in your old phone, and get money off this handset
This is how much you could get for your old phone.
Click the button below to see how much you can get for it.
Go to your basket to remove a device
Trade-in your device
Now you can sell your old phone and save on your new purchase
Step 1
Complete your trade-in to guarantee your price.
Step 2
You'll receive an envelope and return your old device to us within 14 days.
Step 3
Funds transferred to your account within 3-5 days of us receiving your device
Loading…
In a nutshell
7.6-inch folding display
48MP triple camera
9.5MP selfie camera
Google Tensor G2 processor
4800mAh battery with battery saver
Assistant voice typing
What Carphone Warehouse says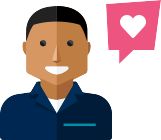 No need to buy two separate devices. The Pixel Fold lets you have a phone and a tablet in one. Enjoy your favourite games and movies on the foldable 7.6 inch display or keep it closed and deal with everything with just one hand on the just as beautiful 5.8 inch front display. No need to worry about performance either. The Tensor G2 processor has plenty of power to run everything smoothly.
The bigger the better is not always true. But it definitely is in this case. The Pixel Fold gives you a whopping 7.6 inch foldable OLED display with 120 Hz refresh rate. And if you need a quick access to your phone, there's also a 5.8 inch front cover display which is just as colourful and smooth.
The only foldable engineered by Google.
Google's first foldable. Brilliant in every way.
The powerful processor you'll only find on Pixel.
Split Screen lets you do
two things at once.1
The amazing Pixel camera. Now on a foldable.
Multiple layers
of security.2
Pairs perfectly with the3
Pixel Tablet, Watch and Buds.
1 Requires compatible apps. 2 Based on a third-party global research firm report. Evaluation considered features that may not be available in all countries. See goo.gle/mobilesecurity2022 for more information. 3 Pixel Tablet, Watch and Buds sold separately.
A full 5.8" Pixel phone
when it's folded.
Unfolded, it's a 7.6" immersive display.
A durable stainless
steel hinge.
The first foldable
of its kind.
It's ready for spills1
and splashes.
The battery can2
last all day long.
It's made with matte glass
and polished aluminium.
1 Designed to comply with water protection rating IPX8 under IEC standard 60529 when each device leaves the factory, but the device is not waterproof. The accessories are not water-resistant. Water resistance is not a permanent condition and will diminish or be lost over time due to normal wear and tear, device repair, disassembly or damage. Dropping your device may result in loss of water resistance. Liquid damage voids the warranty. See g.co/pixel/water for details. 2 Estimated battery life based on testing using a median Pixel user battery usage profile across a mix of talk, data, standby, and use of other features. Battery testing conducted on a major carrier network. Battery testing conducted in California in early 2023 on pre-production hardware and software using default settings. Battery life depends upon many factors and usage of certain features will decrease battery life. Actual battery life may be lower.
More room for work, play and everything in between.
Split Screen
lets you do two things at once.1
Drag two apps up from the Taskbar to quickly open them side by side. Or open two tabs in Chrome to shop and compare.
Enjoy YouTube
hands-free or
on the big screen.
Set Pixel Fold on a surface in tabletop mode and control YouTube by voice. Just say, "Hey Google, pause video". You can also open up your phone to watch videos on the immersive display.
The power
and speed of
Google Tensor G2.
Custom-built for Pixel, Tensor G2 makes Pixel Fold fast and secure.2 And Google's AI powers multitasking and entertainment in new ways on the big display.
1 Requires compatible apps. 2 Common Criteria certification for hardware and cryptographic library. See g.co/pixel/certifications for details.
The amazing
Pixel Camera. Now in a foldable.
Pixel Fold's unique form lets you express your creativity with brilliant rear camera selfies and a dedicated 5x optical zoom with up to 20x Super Res Zoom.1 All powered by Pixel's triple rear camera system and Google Tensor G2's advanced image processing.
1 Not available for all
camera apps or modes.
Your best photos. Hands down.
Step up your selfies with the rear camera.
Unfold your phone, frame yourself with the front display and snap a high-quality rear camera selfie.
With hands-free
photos, everyone's included.
Place Pixel Fold on a surface in tabletop mode, set a timer and jump in the frame. Or just say "Hey Google, take a photo".
Breath-taking astrophotography
without the tripod.
Capture a timelapse or a photo of the stars with Pixel Fold in tabletop mode.
Multiple layers1
of security keep your info safe.
VPN by Google One.
Extra online protection with no extra cost.
Built in to help protect your online activity in any app or web browser.2
Titan M2.
The foundation of Pixel privacy.
The certified Titan M2 security chip and Google Tensor G2 add multiple layers of security to help keep your personal info safe.1
Unlock your phone quickly with a touch.
The power button is also the sensor for Fingerprint Unlock. Or you can simply look at your screen and Face Unlock will do the rest.3
1 Common Criteria certification for hardware and cryptographic library. See g.co/pixel/certifications for details. 2 Restrictions apply. Some data is not transmitted through VPN. Not available in all countries. All other Google One membership benefits sold separately. This VPN offer does not impact the price or benefits of the Google One subscription plan. Use of VPN may increase data costs depending on your plan. See g.co/pixel/vpn for details. 3 Face Unlock available on outer display only.
Switch to Pixel,
the only phone engineered by Google.
Regardless of what phone you're switching from, you can transfer contacts, messages, photos and apps in a few simple steps.1
Pixel makes every photo stunning. And even fixes your old ones.2
Pixel protects your data and privacy. And looks out for you, every day.
It keeps getting new features. So you don't have to keep getting a new phone.3
1 Some third-party apps and data may not be transferred automatically. Visit g.co/pixel/copydatahelp for information. 2 Requires Google Photos app. May not work on all image elements. 3 Your Pixel will generally receive Feature Drops during the applicable Android update and support periods for the phone. See g.co/pixel/updates for details. Availability of some Feature Drops may vary.
Helpful accessories for your Pixel Fold.
Protects with the perfect fit.
The Pixel Fold Case is specifically designed to protect your foldable phone from scratches and drops, whether it's open or closed.
You'll really love charging.
The Pixel Stand is a convenient way to wirelessly charge your Pixel Fold. Use your phone like a mini display for photos while charging.1
Charge and go. Fast.
Charge your Google products quickly with the 30 W USB-C® Charger.2 It's compact enough to take wherever you go.
1 Pixel Stand sold separately. 2 30 W USB-C® Charger with USB-PD 3.0 (PPS) sold separately. USB-C® is a trademark of USB Implementers Forum.
Google Pixel
devices are even better together.
The Pixel phones, tablet, watch and earbuds work together
seamlessly for personalised help throughout your day.1
All your devices,
perfectly in sync.
Quickly pair, switch from one device to the other and share photos, links and more.1, 2
Entertainment on the go.
Enjoy music, games and shows from anywhere, and easily move them from one device to another.1, 2
Find your devices quickly.
Easily locate your Pixel phone, watch, tablet or earbuds on a map or by sound.1, 3
Take control of your
connected home.
Manage lights, locks and more from anywhere with the Google Home app on your Pixel devices.1, 4
Better workouts,
from anywhere.
Track your exercise on your watch, listen to music with your earbuds and view workouts on your phone or tablet.1, 5
1 Watch, tablet and earbuds sold separately. 2 Fast Pair requires location enabled. Devices must have been previously paired with Pixel Buds. 3 Requires connection to compatible devices. Ringing to locate misplaced device requires the device to be nearby. 4 Connected home control requires compatible smart devices (sold separately). 5 Some features may require a Fitbit account and mobile app.
Building products
for the planet.
Google is committed to creating products that are made from lower-impact and recycled materials. And they're designed to last, so they don't need to be replaced as often.
Comes with the best of Google.
Pixel Fold includes three months of YouTube Premium (then £11.99 per month) and six months of the Google One Premium 2 TB plan (then £7.99 per month) for new eligible users only. Recurring billing. Cancel anytime.1
YouTube Premium
Enjoy your favourite videos and music ad-free, in the background and offline on your lightning-fast phone.1
Google One
Get access to 2 TB of cloud storage from Google One and automatic phone backup for your photos, videos, contacts and more.1
1 The Google One and YouTube Premium trial offers are available to users in the United Kingdom with the purchase of a Pixel Fold. Must be 18 years or older. Offer expires 1 January 2025 at 07.59 a.m. GMT. Offer only available to customers who are not current or past Google One or YouTube Premium subscribers. Customers who have previously participated in a Google One or YouTube Premium trial may not be eligible. Valid form of payment required at sign-up, but you will not be charged until the trial period expires. You can cancel your trial at no charge at any time before the trial is over. At the end of the trial period, you will be automatically charged the individual subscription price, currently £11.99 per month for YouTube Premium and £7.99 per month for Google One Premium 2TB plan on a monthly recurring basis. No refunds for partial billing periods are available. Offers require a Google Account. Promoter: Google Commerce Limited, 70 Sir John Rogerson's Quay, Dublin 2 D02R296, Ireland. See youtube.com/premium/restrictions and one.google.com/offer/terms-and-conditions/pixelfold for more details.
When is the Google Pixel Fold coming out?
The Google Pixel Fold release date was the 27th of June 2023.
How much is the Google Pixel Fold?
The Google Pixel Fold price will differ depending on the storage option you go for, and what kind of deal you sign up to. If you opt for the 256GB option, it'll be cheaper than going for the 512GB storage option.
What colours does the Google Pixel Fold come in?
If you want a sleek black phone or a cool white phone then the Google Pixel Fold is for you. It is available in two colours: Obsidian and Porcelain.
What processor does the Google Pixel Fold have?
This cool model not only looks great, but it performs even better thanks to the Google Tensor G2 CPU.
What size is the Google Pixel Fold?
If you want a large-screen phone to enjoy movies, games and social media in stunning detail but still want it to be compact enough to comfortably fit in your hand or pocket when you need it to, the Google foldable phone is for you. This phone's dimensions measure at 6.2 x 5.5 x 0.2 inches when open and 5.5 x 3.1 x 0.5 inches when closed.
Does the Google Pixel Fold support eSIM?
Yes, the Google Pixel Fold is an eSIM phone, which allows you to connect to another mobile operator without using a physical SIM card. Learn more about the benefits of eSIM phones in our handy guide.
Is the Google Pixel Fold an Android phone?
Yes, the Google Pixel Fold runs on the Android 13 operating system.
How much storage does the Google Pixel Fold have?
This model comes with two storage capacity options to pick from to suit your needs. If you want to store a decent number of photos, videos and apps, the 256GB phone storage should suffice. If you think you'll need more, you can opt for the 512GB phone storage instead.
How good is the Google Pixel Fold camera?
The main 48MP camera on the Pixel Fold has an aperture of f/1.7 and features optical image stabilisation to ensure that your pictures are clear and crisp. The second camera features a 10.8MP Dual Pixel autofocus with an aperture of f/2.2 and the third is a 5x optical zoom telephoto snapper with a 10.8 MP resolution.
Does the Google Pixel Fold have a voice assistant?
Yes, the Google Pixel Fold does come with Google Voice assistant and allows you to connect to other Google devices. Learn more about voice activated phones for more information on how to make the most of your Google Voice Assistant.
Does the Google Pixel Fold have fingerprint recognition?
The Google Pixel fingerprint scanner is side mounted on the Pixel Fold to make it easy to log into your device. There are plenty of phones that also feature fingerprint recognition to explore at Carphone Warehouse.
What battery does the Google Pixel Fold have?
For a phone with a long battery life that can keep up with your busy days, the Google Pixel Fold is for you. It features a 4,821 mAh battery which will keep you powered up when you're on the go.
Does the Google Pixel Fold support wireless charging?
This Google Pixel has wireless charging capabilities, so you no longer have to mess around with wires and cords. Simply pop it on a wireless charging pad and it'll be charged up in no time.
Connectivity

Display & User Interface

Camera Features

Messages

Technical

139 x 79 x 12mm

283g

7.6 inch open, 5.8 inch folded

4800 mAh

Standard Features

Memory