In a nutshell
Bluetooth & 4G connectivity
Heart rate & activity tracking
Crafted from stainless steel & leather
Wireless charging compatible
What Carphone Warehouse says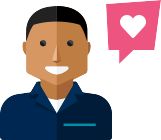 "It's easy to keep an eye on your overall wellness with the Galaxy Watch3. In addition to counting steps and monitoring your heart rate, you'll get an overview of your sleep and personal insights."
Stay connected with
Galaxy Watch3
Control your day from your wrist. Galaxy Watch3 lets you check your schedule, message your mates, and pay for your morning coffee without reaching for your phone or wallet. And with Galaxy Watch3 4G1, you're always connected, even when you don't have your phone on you. Stream the latest Spotify2 tunes on your way to work, and call your friends to plan your next hangout – all with your watch.
Brilliant tech.
Classic design



Focus on what matters with a bigger screen on a thinner and lighter frame.

Crafted from stainless-steel and fine leather, Galaxy Watch3 encases game-changing tech in a classic watch body. The Super AMOLED touch display is protected by maximum strength Gorilla® Glass, so it'll stay pristine season after season. Plus, its iconic rotating bezel makes app navigation a breeze.
Call. Connect.
Control your day
You're always in tune with the world when you're wearing Galaxy Watch3. Text, WhatsApp or call your friends all from your wrist, without checking your phone. And thanks to Samsung Pay, you're essentially wearing your wallet. Don't forget the tunes – Galaxy Watch3 syncs up to your Galaxy Buds Live for uninterrupted Spotify tunes2 and podcasts, straight from your watch.
2 Requires Spotify Premium subscription.
No phone,
no worries
Always on, always connected. With Galaxy Watch3 4G, you're no longer tethered to your phone. You can check your schedule and pay for your morning coffee in a tap. And because you're always connected with Galaxy Watch3 4G¹, you can still explore all Spotify has to offer on the go².
1 Galaxy Watch3 4G connects exclusively on EE*, Vodafone** and O2***

*Standalone voice calling on 4G model requires an EE PAYM voice plan with data subscription to access the 'One Number' service. For initial set-up, wireless network and pairing with Samsung Galaxy smartphone 2017 and newer required.

**Available to all Vodafone Pay Monthly Mobile customers on a Red Plan. You will use the allowance from your current PAYM or SIMO plan to call from your Samsung Watch. For initial set-up, wireless network and pairing with an Android smartphone with OS Android 5.0 or newer and at least 1.5GB RAM required.

***From 04/09/2020. Standalone voice calling on 4G model requires an O2 PAYM plan with data subscription. Your Samsung smartphone must also be logged into your Samsung account, be switched on and connected to the O2 network. You will use the allowance from your current PAYM or SIMO plan to call from your Samsung Watch. For initial set-up, wireless network and pairing with Samsung Galaxy smartphone 2019 and newer required.
2 Requires Spotify Premium subscription
Boost your healthy habits
Take your health into your hands with Galaxy Watch3. The built-in step counter helps you hit your walking goals, while the heart rate tracker lets you keep tabs on your daily cardio. It also collects sleep data and offers tips and insights to help you make the most of your down time. Plus, it integrates with our Women's Health app and measures oxygen saturation.
3 IP68 is based on test conditions for submersion in up to 1.5 metres of freshwater for up to 30 minutes.
Water and3
Dust Resistant
Up your game with
built-in oxygen measurement
Galaxy Watch3 uses red LED and infrared rays to estimate your Sp02 levels, or the amount of oxygen in your bloodstream. Because this oxygen saturation is directly linked to your physical performance, you can use Galaxy Watch3 to push your routine to the next level.4
4 SpO2 is defined as saturation of percutaneous oxygen. Normal levels in humans are measured at approximately 95-100%. Factors like vigorous exercise, the amount of oxygen in the air, your elevation, and various health conditions can all result in lower readings.
Fall detection that
won't fall down
Explore fearlessly. Galaxy Watch3 automatically detects hard falls with its enhanced accelerometer, sending an SOS to your emergency contact with your location5.
5Galaxy Watch3 can initiate Emergency call and message if you take a hard fall and don't seem to move. Galaxy Watch3 cannot detect all falls. The more physically active you are, the more likely you are to trigger Fall Detection due to high impact activity that can appear to be a fall. Sending SOS calls and messages requires network connection and smartphone pairing.
Get a better
night's sleep
Galaxy Watch3 records your REM cycles, deep sleep, and total sleep time to score and help you improve the quality of your rest. Samsung partnered with the National Sleep Foundation to include educational content and sleep tips right on your device, to help you understand and improve your sleep6.
6 Sleep management functions (REM cycles, deep sleep, and total sleep time) on the watch can be used as standalone, but smartphone pairing is required in order to see sleep score. Insight only available on paired smartphone.
Make it yours
Complete Galaxy Watch3's signature look with a watch face to suit your style. Make your own combination with over 40 complications, and choose what information you need at a glance.
Keep the
conversation going
When you get a new text, Galaxy Watch3 shows your chat history so you can effortlessly follow the conversation. Smart reply allows you to stay connected on the go with suggested replies. And with AR Emojis⁷ you can add a little more of you to your messages.
7 AR Emoji feature is compatible with Galaxy smartphones supporting One UI 2.5 and above. Feature only supported on the Message app. Wi-Fi/LTE connection is required on Galaxy Watch3 and feature requires pairing with smartphone.
Gets along with
other devices
Galaxy Watch3 can easily connect with a range of Galaxy and non-Galaxy devices to help you get the most out of every moment8.
8 Compatible with Android 5.0 (L OS) or higher, RAM 1.5GV above. Compatible with iPhone 5 and above, iOS 9.0 or above.
Find the right
Galaxy Watch for you
Galaxy Watch3
45mm
Galaxy Watch3
41mm
WATCH DISPLAY
1.4inch Super AMOLED touch
WATCH DISPLAY
1.2inch Super AMOLED touch
ROTATING BEZEL
ROTATING BEZEL
BATTERY LIFE
BATTERY LIFE
WEIGHT
WEIGHT
FEATURES
Activity Tracker
Step Tracker
Real Time Coach
Improve Sleep
Score
Heart Rate Tracker
Stress Tracker
Oxygen Saturation(new)
Breathing Exercises
Answer Calls
Reply
Samsung Pay
Activity Tracker
Step Tracker
Real Time Coach
Improve Sleep
Score
Heart Rate Tracker
Stress Tracker
Oxygen Saturation(new)
Breathing Exercises
Answer Calls
Reply
Samsung Pay
WATER RESISTANT
1.5m for 30 mins
5ATM - up 50M IP6810
WATER RESISTANT
1.5m for 30 mins
5ATM - up 50M IP6810
OPERATING SYSTEM
OPERATING SYSTEM
CONNECTIVITY
CONNECTIVITY
BUDS CONNECTIVITY
BUDS CONNECTIVITY
COMPATIBILITY
COMPATIBILITY
MEMORY
MEMORY
STORAGE
STORAGE
COLORS
Mystic Silver / Mystic Black
COLORS
Mystic Bronze / Mystic Silver
9Depends on device settings and network connection.

10Galaxy Watch has ISO 22810:2010 certification for 5ATM rating of 50 metres (165 feet) under specific conditions. This means that both devices are safe to wear while walking in the rain or showering, and may be used for shallow-water activities like swimming in a pool or ocean. However, the Galaxy Watch should not be used for scuba diving, water-skiing, or other activities involving high-velocity water or submersion below shallow depth.
The box contains
Device
Charger
Quick Start Guide
Calls & Messages

Chargers & cables

Connectivity

Music and entertainment

Power

Display

Fitness

Dimensions

45 x 42 x 11 mm

48.2 grams

Headphones
Samsung Galaxy Watch3 45mm 4G
is rated out of
5
by
7
.
Rated

1

out of

5
by
waynes2502
from
Leave alone got big issues
I bought the watch3 4G and everytime i wear it for running or just shopping it over heats and goes into flight mode for about 1 hour until is cools down. I spoke to samsung did all the tests and resets it works for a few days then starts again. this is a common well known issue with no fix available. so unless you live is iceland or some where its freezing an don't want it for fitness steer clear.
Date published: 2020-12-31
Rated

5

out of

5
by
ProudDad
from
Funky machismo in Samsung Galaxy Watch3 4G
One morning in early September, it was a delivered. A beautifully boxed silver Samsung Galaxy Watch3 4G (45mm), a surprise present from my daughter in Australia. It was replacing my rather old by reliable Gear S2 smartwatch which I have had for many years. Simply put, it is a gorgeous looking piece of time kit which exudes outstanding built-in quality and technological machismo. I am over 60, so my technical nous can be questionable, but, let me say that this time piece has some really cool features which put a wry smile on the face of technical dinosaurs like me. I will not say much about the rotating bezel as I am already familiar with that from my Gear days. Nor will I say anything about the twin operating buttons – also on the S2. What is really uplifting is the funky stuff Samsung have added. Stuff like the 4G capability to make and receive calls without your mobile phone. And the SOS feature which detects when you fall suddenly (or which you manually activate with a few clicks of a button) and sends a distress message to your designated contacts. And the ability to control your phone camera from your wrist, or to change colours of the watch face to match your attire or using your watch surface is a trackpad or cursor. I can just imagine mesmerising clients with a PowerPoint presentation operated from my wrist watch. Except I am not sure that I would have the courage for such chutzpah! But the feature is there should I ever feel adventurous and uninhibited. The watch feels so comfortable on the wrist that you have to make an effort to remember that it is actually there. I have not taken it off since I received it except to charge it. During sleep, it automatically monitors my sleep patterns and it has many other great health features. With this bulging bag of tricks one would almost be forgiven for overlooking the watch's most obvious feature – it also tells time!
Date published: 2020-10-04
Rated

4

out of

5
by
Ben Galaxy
from
Could be excellent- battery is an issue though
Could be a game changer: leave your phone at home while still being able to make calls, write text messages, check emails, use bluetooth headphones listening to stored or streamed music, use NFC to pay for things, pedometer, gps 4G for navigation and to track activity on apps like strava....but if you do those things (e.g. track a long walk on strava while streaming music) there's about 3hrs battery life so I mostly end up using it as a watch & pedometer with notifications from the phone that I still keep on me. It's a shame to have all that functionality but not often use it in real life due to battery, it basically makes it a phone accessory most of the time.. Another (much smaller) issue I have is that pedometer distances measured are at least 10% lower than actual distance, this is probably because I have a longer than average stride. A simple option of being able to input stride length would solve this. Overall I am pleased with this watch but the battery life makes it a phone accessory while it could be a lot more, it could be amazing if the battery lasted about 4x as long, then the phone could be left at home for the day and using all the watch functions gives almost all of the functionalities of a phone.
Date published: 2020-09-30
Rated

1

out of

5
by
Nightwolf007
from
Overheating
Watch is ok until you enter e sim after that battery life is 5-6 hours and overheating after 20 minutes .. I bought 2 and have same issue...
Date published: 2020-09-20