In a nutshell
Connects to your phone via Bluetooth
Keyring attachment
Avaliable in Black or Oatmeal
What Carphone Warehouse says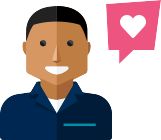 "Can't remember where you left your luggage? Connecting to your Galaxy phone via Bluetooth, you can easily find your lost items within 120 meters and view its location on a map."
Tag it. Find it. You are in control with SmartTag
Galaxy SmartTag helps you keep tabs on everything you care about. Lost your keys? No problem. Track everything to its precise location. It makes locating your most valued items simple and stress free, so you can focus on your day, knowing that Galaxy SmartTag has your back.
Nothing's really lost with Galaxy SmartTag
Say goodbye to aimless searching for your keys, your bag - or just about anything else. Once your SmartTag is attached, use your Galaxy phone or Galaxy tablet and SmartThings Find to locate them when they aren't in sight. To help find those items you care about most, share your Tags with friends and family using SmartThings Members1.
Out-of-range?
No problem
Galaxy SmartTag makes it easy to trace the things you care about with location tracking. And thanks to SmartThings Find, when you're nearby it will even ping your phone. SmartThings Find lets you see where your connected devices and SmartTags are on the map. And with the Galaxy Find Network2, when other users approach your lost device when it's out-of-range - you'll get an anonymous alert.
Precise locations, fast finding
So, your keys are in the garden, but you don't know where. That's where Galaxy SmartTag comes in handy. Use the SmartThings Find app to ring your tag via Bluetooth. Just follow the noise. Problem solved.
Unforgettable… that's what your Tags are
Keys, bag, your little one's favourite toy. It's a lot to remember when heading for the door in a hurry. Simply add a Galaxy SmartTag and if you leave them behind, you'll get a heads up - Galaxy SmartTag sends a notification straight to your phone1. So you can head back, pick it up, and keep your day on track.
Control your tech
Make the most of your Galaxy SmartTags and sync them to scenes and devices via the SmartThings app. You can use them to trigger lights when you get home or control a specific device.
Safe and secure
Your SmartTag's data is encrypted and protected by cutting-edge security. Similarly, the Galaxy Finding Network's alerts are anonymous. Simply put, when it comes to your data and your SmartTags - you're the one in control.