In a nutshell
At just 5.6mm thick, the Tab S2 is ultra-portable
Take bright, clear photos with the 8MP f1.9 rear camera
Keep going all day thanks to the long-life battery
What Carphone Warehouse says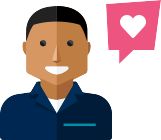 "We love the look and feel of this ultra-thin tablet – and we're really impressed with its speed too."
Get true portability with the sleek design
The Samsung Galaxy Tab S2 is unbelievably thin, measuring just 5.6mm from screen to back. There's also very little space around the screen, making the whole package even more compact. That means you can easily slip it in a bag or hold it with one hand so you can use the tablet while on the move.
Enjoy everything in stunning clarity
With a resolution higher than HD, the 8-inch screen on the Galaxy Tab S2 shows everything in brilliant detail. It also uses Samsung's exclusive Super AMOLED technology to give brighter colours and darker blacks so everything looks lifelike.
Take brighter, sharper photos
On the back of the Samsung Galaxy Tab S2 you'll find a great 8MP camera. It uses the same technology as the camera on the Samsung Galaxy S6 smartphone, so it has a super-wide f1.9 aperture. That means the lens lets in more light, giving you brighter, sharper photos every time.
Make HD video calls
The 2.1MP front camera on the Galaxy Tab S2 is perfect for video calls and quick selfies. Paired with apps like Skype or Hangouts, it lets people see you in HD, and selfies are a brilliant size for quickly sharing on Facebook and Instagram.
Experience smooth performance all the time
With a powerful octa-core processor and 3GB RAM, the Samsung Galaxy Tab S2 can easily run your favourite apps and games smoothly. And it's great at multitasking, letting you run apps in the background, like your music, while you do other things.
Stay unplugged all day
The Galaxy Tab S2 packs a big battery so you won't have to worry about finding a charger while you're out. At 4,000mAh, it holds enough charge to let you play, browse the web and work all day.
Fingerprint security
If you like to keep your stuff safe, you'll love the fingerprint scanner on the Samsung Galaxy Tab S2. It's fast, accurate and can lock the tablet, individual apps, and even make PayPal payments.
Connect to your TV
With Samsung Quick Connect, you can easily send stuff that's on your Galaxy Tab S2 to your TV, letting you experience everything in big-screen quality.
The box contains
Quick Start Guide
USB cable
Charger
Device
Processor

Camera

2.1 megapixels

8 megapixels

Dimensions

134.8 x 198.6 x 5.6 mm

272 grams

Storage

Battery

Operating System

Display

1536 x 2048 pixels

8 inches

Super AMOLED

Connectivity
Samsung Galaxy S2 8" Wi-Fi
is rated out of
5
by
1
.
Rated

5

out of

5
by
Dami A
from
One awesome Tablet. Samsung is ahead right now!
I have to say that this tablet is one of the fastest and most powerful i have owned since i started using tablets. I have to say the design and the build is great and it means a nice experience and such a thin set of bezels which i can't believe Samsung could ever make. The tablet feels so nice in the hand and the screen is amazing, that 2048 by 1536 screen is a beast and is beautiful whether you are in the dark or in the sun, you can see it bright and clear and it really outshines every other device i have got to use. I love the speed especially when it has 1.9 and 1.3GHz Octa Core processors and the Adreno 510 GPu, this really brings some new power which i think tablets should have these days especially when we do so much with out tablets these days. The multitasking is awesome, i can do it like im on the PC and there is no slowdown anytime. The tablet has also has 32GB storage which i think is awesome for base storage as it allows me to store so many things and therefore i dont have problems having to store elsewhere so hats off to Samsung there and also i love that Microsoft have made their apps available and preinstalled in this tablet as it means for me that i don't have to waste time in downloading the apps and it also means that there is more storage space available. The cameras are decent and they have some good features when there is sunlight, however the cameras can show more noise when in darker areas, however this is not often. Lastly battery life is great, i have been able to get about 10 hours or mixed use even with brightness up halfway and sometimes some hard core watching videos, social media and working on Microsoft Office apps. The battery is 4,000mAh so thats quite small but Marshmallow's Doze feature should be able to help you get more battery life out the tablet and therefore enjoy the tablet longer. Hopefully it will get 7.0 Nougat soon. But i have to say Samsung have done so well here and they have produced a tablet that doesn't just last all day, it works well, it handles everything you throw at it without issue and its a beautiful design. Its a tablet which perfectly pairs Power and Design into one.
Date published: 2016-10-06