Oops!
To view this video, please install the latest version of Adobe Flash Player.



In a nutshell
Bluetooth 5.0
Active Noise-cancelling
Up to 21 hours playtime
Wireless charging compatible
Mic & remote
What Carphone Warehouse says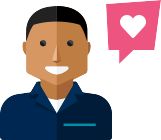 "You'll love how good your favourite songs sound thanks to AKG technology. Good looks, comfortable design, and convenient wireless charging make these Buds stand out from the crowd."
Galaxy Buds Live
Stylish. Iconic.
Designed to turn heads.
Galaxy Buds Live are made to look as good as they sound. A reflective metallic finish is as stylish as it is eye-catching. They're ergonomically designed for a comfortable, snug fit, so you can wear them all day with less fatigue. And with Active Noise Cancellation for open type, you can block out noises you want to avoid without missing out on what's important, so you are in control of what you want to hear.1
Iconic Design
Active Noise Cancellation
3 Microphones
1Active Noise Cancellation (ANC) cuts background noise by up to 97% in low-frequency bands.
Ever wondered
what great style
sounds like?
With their jewellery-like design and reflective metallic finish, Samsung Galaxy Buds Live are stylish, iconic and designed to turn heads. But it's not just style for style's sake — they're ergonomically crafted for superior comfort and a snug fit, so you can wear them all day. Plus, they come with a sleek case to complete the look.
Goodbye background,
hello beat.
Experience sound like never before with Galaxy Buds Live. They're backed up by Grammy Award-winning AKG technology, so you can be sure that you'll hear the treble, feel the bass, and really lose yourself in immersive sound. While Active Noise Cancellation lets you control how much background sound you can hear.
Lasts for hours.
Then stays for an encore.
More of the music, less of the waiting. Galaxy Buds Live delivers up to 21 hours of play time3. Five minutes of fast wireless charge gives you up to 1 hour of power2 and on a full charge, they deliver up to 6 hours of uninterrupted play time. You can even pop them back in their case and power them up for an additional 15 hours of charge3.
Up to 6 hours
Of non-stop listening
Up to 12 hours
With charging case
2Battery must be below 30%
36 hours uninterrupted play time, plus 15 hours extra when charged with the case. Battery life is based on usage of music or calls with Bluetooth and ANC turned on, and Always-on Mic turned off.
Easily pair with your PC.
At a touch.
You're more in control than ever before - in fact, you don't even need to use your phone. Put Galaxy Buds Live in pairing mode near a PC using Windows 10 Swift Pair4 and get your best work done.
4Compatible with PCs running Windows 10 April 2018 update or newer.
Loud and
clear calls
Galaxy Buds Live are designed to make every call crystal-clear. Two outer microphones detect external noise and block it out before it reaches the inner mic. So when on the move, you can be sure that your voice will be heard loud and clear every time.
Find the right
Galaxy Buds for you
Galaxy Buds Live
Galaxy Buds+
Design
Speaker
Noise Cancellation
Active Noise Cancellation
Play time
Up to 6 hours3
Up to 21 hours
Up to 11 hours
Up to 22 hours
Fast Charging
5min charge = 60min play2
10min charge = 180min play5
Capacity
60mAh (Buds)
472mAh (Case)
85mAh (Buds)
270mAh (Case)
Microphone
Remote Control
Play / Pause /
Volume / Sound
Durability
Buds weight
Compatibility
36 hours uninterrupted play time, plus 15 hours extra when charged with the case. Battery life is based on usage of music or calls with Bluetooth and ANC turned on, and Always-on Mic turned off.
5Only available with wired charging, battery charging specifications are based on wired charging tests.
6Not all features work with iOS.
The box contains
Device
Charger
USB cable
Headphones
Quick Start Guide
Power

Wireless Charging with charging case

Style

Specification

Compatible with Android and IOS

Speakers

Battery

Wireless charging with charging case

Dimensions

Headphones

Connectivity
Samsung Galaxy Buds Live is rated out of 5 by 126.
Rated 1 out of 5
by
CoolJoe
from
Poor design resulting in loss
I cannot comment on anything other than design as I no longer have one of the earbuds. The right earbud seemed to fit snugly and after some twisting, turning and refitting, the left ear bud also seemed to be in place. However, after a few minutes the left earbud fell out and has not been seen since. Perhaps I should have purchased the Buds Pro.
Date published: 2021-05-03
Rated 5 out of 5
by
NatNat123
from
I love it!
I have received Galaxy Buds Live as a Christmas gift and I must say I am in love with them! The sound is amazing, they are easy to use and last for hours (I use them really often and for a long period of time and I must say they definitely last many hours without charging). I must, however, say that if you wear them for a longer period of time you may feel a slight discomfort in your ears I would say you may feel slight pain. I am not sure whether this is because of the size of Buds or maybe it's just my ears. Another disadvantage of them is that you can't sleep in them feeling safe that while you move your head on the pillow they won't fall out and drop on the floor but, overall I am satisfied and would really recommend.
Date published: 2021-04-30
Rated 4 out of 5
by
Faiz1
from
Decent! But cannot workout in these!!
No earbuds fit me or stay in my ear during a workout! Secondly noise cancellation is nowhere near as good as over head headphones! Besides that they're amazing for just lounging about in. Match the ecosystem very well!
Date published: 2021-04-21
Rated 5 out of 5
by
_poggs
from
These are great
I thought these buds were fantastic. I use them every day and the sounds is crystal clear. The battery life is good too, lasting all day.
Date published: 2021-04-19