In a nutshell
Fast wireless charging for your Samsung smartphone
Compatible with Galaxy S6 Edge+, Galaxy Note5
Convenient LED battery level indicators
Available in black or white
What Carphone Warehouse says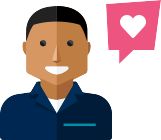 "With this super-stylish wireless charger, powering up your phone could not be easier. Just pop your phone onto the charging pad for a quick power boost."
Samsung Fast Wireless Charger
is rated out of
5
by
6
.
Rated

1

out of

5
by
samuel
from
charges
hi i bought this on Tuesday morning worked fine the first day and since then It hasn't worked wouldn't recommend it to anyone would the take it back if no box or recpit
Date published: 2017-11-24
Rated

2

out of

5
by
E204
from
Don't buy!
Bought this week thinking it would be handy to get some "fast charge" when in need quickly before going out but fast charge doesn't work! Tried numerous leads (as it doesn't come with one) and plugs and different sockets around the house, can't get it to work. Will be returning it this weekend.
Date published: 2017-09-22
Rated

2

out of

5
by
Marky parky
from
Not a fast charger
If you don't want to plug your phone in to the charger every time you want to charge It then this is for you. If you want a quick charge up then don't bother buying this. It's a lot slower than most chargers. Charging my phone with the cable when it's directly connected to the phone is much faster. Phone S7 edge.
Date published: 2017-08-27
Rated

2

out of

5
by
Lee W
from
Disappointing and overpriced
I've been using this for just over a month now, having purchased it along with a Galaxy S7 Edge. I use it for charging my phone in work, and at home I have a cheap Chotech wireless (non-fast) charger. In all honesty, I prefer the Chotech charger; it's flat, compact and easy to use. The Samsung 'fast' charger on the other hand, is a pain despite costing more than twice as much. It's noticeably no faster charging the phone than the Chotech - despite the phone displaying "Fast charging wirelessly" when in use - and I might even go as far to say that it's slower. It's also less compact, with the charging surface raised a few centimetres off the desk, and the circular shape makes it more awkward to get the charging to start. In addition, the charging generally stops and starts multiple times after first setting the phone down. If I find myself low on battery, I invariably end up having to pull the cable out of the charger and plug directly into the phone, getting the benefit of proper fast charging, but defeating the purpose of having the product at all! On a more positive note, the product looks nice, with a glass-look plastic charging surface and central rubberised ring to cushion your device and charger if you drop it on there rather than setting it down gently. There's a pleasing blue glow at the bottom of the charger when charging, switching to green when you hit 100%. And at the most basic level, it DOES charge your phone, just at a speed nowhere near what I was expecting. All in all, there appears to be little benefit gained from going with the brand name charger in this case. I'd instead recommend reading up on some of the cheaper fast (and even non-fast!) wireless charge pads out there and saving yourself a few quid.
Date published: 2017-04-26