Trade In your device
Your Trade In value has been saved
Trade In your {{phone-name}}
Trade in your old phone, and get money off this handset
This is how much you could get for your old phone(s).
Click the button below to see how much you can get for it.
Go to your basket to remove a device
In a nutshell
6.5" Full HD+ AMOLED display
48MP + 13MP + 8MP + 2MP quad camera
16MP front camera
256GB internal storage
Available in Ocean Blue, Luminous Black and Sunset Pink
What Carphone Warehouse says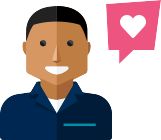 "The Oppo Reno2 has an incredible set of cameras, including a selfie camera that pops up when you need it. So your screen is uninterrupted, and you can film and snap away with professional quality."
Iridescent colours
The Oppo Reno2 comes in a series of colours known as "Twilight Mist" finishes. The back of the Reno2 has a stunning iridescent colour that changes depending on the light. You'll definitely want a clear case so you're not hiding this phone.
All screen, always
You've got a great 6.5" AMOLED screen, so you don't want anything to get in the way. Which is why the selfie camera pops out of the top. No camera notch – just a big, beautiful screen.
Professional looking photography
Want an incredible camera in your phone? Look no further than the four, yes FOUR, cameras on the back of the Oppo Reno2. You've got a whopping 48 MP main camera, 13 MP telephoto lens, 8 MP wide-angle lens, and finally the 2 MP mono lens. All of the lenses, all of the quality.
Zoom right in. Or out.
You've also got the power to zoom in like never before. You can capture huge wide landscapes, as well as super zoomed in macros – and everything in between. Capture that perfect sunset skyline, then snap a close up of your friend in Portrait Mode. No fancy photography skills needed.
Battery for days
You've got loads of battery in the Oppo Reno2 – enough to game continuously for up to 8 hours, or watch stuff online for up to 13 hours. That's long haul flights sorted.
Super-fast charging
Running low on power? Not for long. The Reno2 can get up to 51% charge in just 30 minutes.
Dimensions

160 x 74.3 x 9.5 mm

189 grams

Body

Calls & Messages

Operating System

Apps

Battery

USB Type-C

4000 mAh

350 hours

26 hours

Special Features

Connectivity

Camera

HD

16 megapixels

HD

Auto Focus

48 megapixels

Storage

Music and entertainment

Yes,Dual intergrated stereo speakers

Processor

Qualcomm SM7150

2 GHz

8 GB

2 GHz

Display

Full HD Plus

2400 x 1080 pixels

AMOLED

6.5 inches
OPPO Reno 2
is rated out of
5
by
12
.
Rated

5

out of

5
by
Crazypeanutguy
from
This phone is friggin' awesome!
I've had this phone for maybe a year and a half tops now, and I haven't once looked back. I had the choice of well known brands like Samsung and Apple, but I've sworn against Apple, and I fancied a change from Samsung. The helpful lady at the Yeovil store pointed me towards the up 'n' coming Oppo Reno 2, spoke about it's incredible camera, its cute little pop up front facing camera, (fantastic if you're concerned about the hackability of phone hardware, i.e the camera,) and she talked about it's sexy design, and boy she wasn't wrong- this thing is gorgeous. This is the first smartphone that I've had where I haven't smashed any part of it after many, many drops. It works pretty much just as fast as it did when I got it, which, again, given my past experience with smartphones, is amazing. The android UI is easy as pie to use, and...yeah I need to reiterate how good this camera is actually. I was able to take a photo of the night sky, and literally see more stars on the photo than I could with my own eyes. The camera is just, out of this world. I'm so chuffed to have a camera of this quality in my pocket wherever I go. Oh! And the battery life is fantastic. A stark difference to any other smartphone I've ever had, again. It will last for two days with pretty regular usage, and the charger cable and plug that comes with the phone is so fast! Even now I come back to my phone whilst it's been on charge, and am surprised by how fast it charges. There really isn't that much that I can fault it on, and they're tiny things. One is that dust and grit can get stuck in the pop-out camera- so it's good to try and remember to use it every once in a while just to wipe it clean. The other is that I can't seem to send a scheduled text message- so that it sends at a certain time. I thought it was sort of common place on phones now, but I really can't figure out a way to do it- although I might just be being fickle! Anyways, like I said, fantastic phone- I just had to come back and write it a review. Would heartily recommend to anyone- they could honestly charge a lot more for this thing.
Date published: 2020-12-21
Rated

5

out of

5
by
KevG
from
Cracking Phone
The Oppo Reno 2 I have had for the last 6 months, and I cannot fault it in any way, Bezeless design, pop up camera, 48MP camera, finger print and facial recognition amazing device, runs rings round other well known brands.
Date published: 2020-07-11
Rated

5

out of

5
by
Dami44
from
A Star Midrange Flagship.
The Oppo Reno 2 is a wonderful phone to use and has so many great features. It's such a wonderful phone with great specs and a speedy Snapdragon 730G processor. It definitely also helps when the phone has 8GB of RAM & 256GB of storage. The phone feels super smooth and fast. Although I wish we had the option of a higher refresh rate. The things I love the most include the cameras which are excellent, they take great quality photos and perform very well even at night time, the screen which is bright and large ah 6.5 inches. It helps someone like me who.is visually impaired so can't see small fonts. Other features I love include the screenshot feature which lets you screenshot whole pages and large storage, which is great for me as it means I don't have to worry about space. I would improve some things like having a higher refresh rate and having 5G but they are small minor problems which at this price don't matter as much. In general I wanted to keep this review different and try and share everyday experiences. This phone is just wonderful and has all the features you need to get though the day and even deal with more high intensive tasks or apps. The battery is fantastic and lasts all day and performance is definitely at the top of the midrange sector. In general this phone is a perfect partner for anyone who needs a phone which works all day and can last too.
Date published: 2020-05-31
Rated

1

out of

5
by
Nofro
from
Avoid. Very frstrating.
I've had the phone for 6 months or so and it is one of the most frustrating phones I have ever owned. I am a fairly light user of mobiles, I call, message and have light internet use, but there has been no end of frustrations. On 3 or 4 occasions I have stopped receiving Gmail notifications, often for no reason. I havent changed any of the settings. Everything is optimised on the phone, notifications are set to all (not just priority), battery saver is off and in full performance mode. No reason why the notifications have stopped and after much time trying to diagnose the issue this time, I have been unsuccessful. There is hardly any support online for these issues. The phone often takes some time to connect via Bluetooth, even when connecting to a Bluetooth speaker it has been paired with many times before. It will randomly drop the Bluetooth connection too. The web browser will randomly crash 5 or 6 times a week. Easily the worst/most frustrating phone I have ever had, and I'm stuck with it for at least another 18 months! Save yourself the hassle and get something else.
Date published: 2020-05-18