In a nutshell
5.3-inch Quad HD display
Dual 13MP camera
Available 64GB (4GB RAM) & 128GB (6GB RAM) internal storage
Available in matte blue, glossy blue, copper and silver steel
What Carphone Warehouse says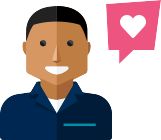 "For a perfect all-round Android experience, the Nokia 8 is well worth a look. The dual 13MP camera will provide top quality photos, and the slim-line design feels great."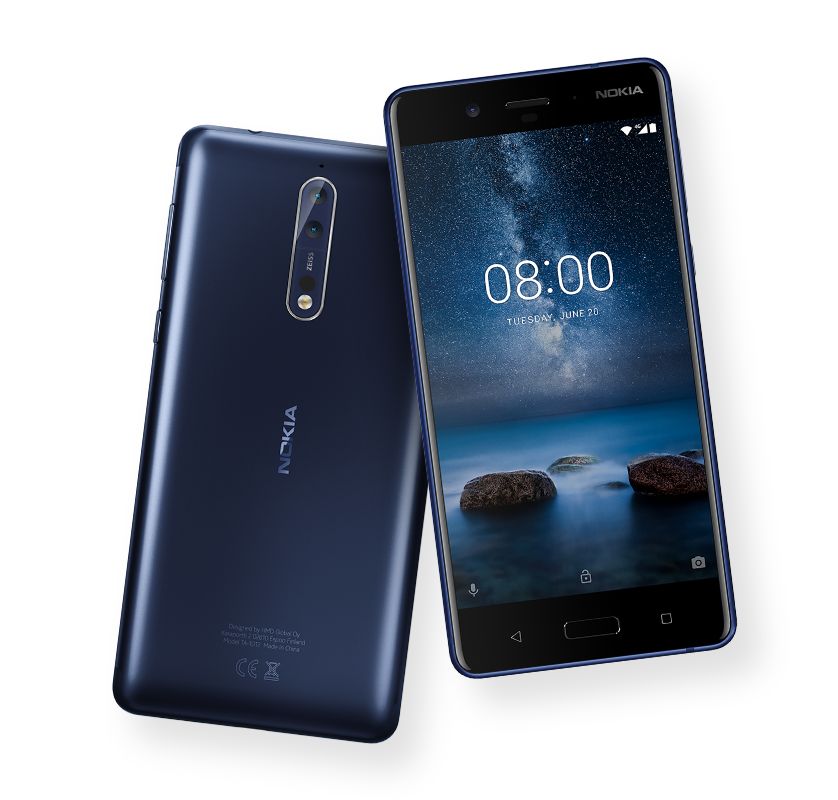 Built to last
The Nokia 8 is crafted from a single piece of precision-crafted aluminium, which wraps around the sides of the phone from the rear. It's also super-slim at just 7.9mm - looking and feeling great. 
See more detail in everything
The large Quad HD display with 2.5D curved Gorilla Glass 5 not only looks great, but it's really strong too. It measures 5.3-inches from corner to corner, and delivers a really high quality picture. 
Two lenses for better photos
The rear camera is made up of two 13MP lenses, giving you loads of creative options. You can use both lenses at the same time with live bokeh effect, blurring the background for a sharp professional look. Or, you can use them independently for detailed monotone shots.   
The bothie
Nokia's branded its Dual-Sight mode 'bothie', which lets you use the 13MP front-facing lens at the same time as the rear 13MP camera. This lets you put yourself in the frame, at the same time as taking photos of your mates. You can also broadcast live to Facebook with this mode – ideal if you want to capture your own real-time reactions.  
Super-quick charging
The Nokia 8 comes with the latest USB technology, USB Type-C. The symmetrical power port lets you inject charge quicker than ever before, meaning you'll be able to go from flat to full in around an hour with the 3,090mAh cell. 
Keeping things moving
To make sure you're never slowed down when using the Nokia 8, it comes equipt with the latest Qualcomm Snapdragon 835 processor. There's also a generous 4GB RAM, helping you skip between lots of different apps without any lag time.  
The box contains
SIM card removal tool
Device
Charger
Headphones
USB cable
Quick Start Guide
Body

Dimensions

151.5 x 73.7 x 7.9 mm

160 grams

Camera

4K

Dual Tone Flash

13 megapixels

13 megapixels

Calls & Messages

Battery

Operating System

Android

Android Nougat (7.1.1)

Apps

Special Features

Connectivity

Storage

Music and entertainment

Processor

Quad

Qualcomm Snapdragon 835

2.5 GHz

2.5 GHz

4 GB

Display

Quad HD

403 ppi

2560 x 1440 pixel

IPS LCD touchscreen, sunlight readability, 16m colours

5.3 inches
Nokia 8
is rated out of
5
by
48
.
Rated

1

out of

5
by
shona2904
from
Faulty within 6 weeks. Repair service a joke.
Bought on 29th March. Faulty by 9th May. Carphone Warehouse Customer Care a joke. Store staff empowered to do nothing but give you a phone number and send you away. About the phone - fairly intuitive. Camera not brilliant. Have been an EE customer for years. Bitterly regret buying from Carphone Warehouse
Date published: 2018-05-27
Rated

2

out of

5
by
Baja
from
Dissapointing
Decision made by heart not the head to buy Nokia was purelly sentimental. In todays market it isn't a bad phone, by design or quality of harware, but there are unpolished issues that turn in in to a brick you want to throw in frustration. They might infuriate you , or maybe thay might not. Good things : Good screen, build quality, looks solid. Bad things : Wi-Fi reception is so patchy that 1inch of moving phone might break the connection and that in good WiFi reception area. Turn on the bluetooth and thise two will be punching themself like the laws of electromagnetics does not apply to them. Go on, you want to listen internet radio and browse other page simultaniously ? I dare you... Screen sensibility is all over the place. You can scroll some pages up for minutes then suddenly you will be frantically trying to get out of pages you wanted to scroll up , NOT click on. Automatic screen orientation almost never works first time. Power off is randomly powering back on. I thought we are way past wasteful, stupid idea of charger for every new mobile. I thought only Apple and One+ are still doing that atrocity. Ok, yes aftermarket charges DO charge Nokia but as it is with other makers you don't know if Nokia is fast charging or not, it does not give you that info. As for the phone with Qualcom3 option is strange that Q3 chargers will not charge, not even slowly, they won't charge Nokia at all. iQ charge is working but Q3 is not. Its also great pain to write and text. Nokia8 screen makes it almost impossible to not make typos. If you are a person like me , who never uses autocorrect, you going to have a lot of "i" instead of "o" ect. . There is basically no "give" in touch keyboard, like every button is two square millimetres big and any deviation from that results in keys other than the one you are trying to touch, being suddenly 5 times larger, catching your input finger. Terrible. The back panel is made of slipoffium. You take it out of the box and you drop it. Don't bother with this phone color to be the one you like, you need to cover its nice looking back with rubber cover , to be able to hold it. No option to switch off home button results in making calls, changing options, inside your bag, pocket or just lying on car seat, It will write emails to your parents, friends and Donald Trump. I am very carefull with battery usage and still, with such a big capacity batery it is drainig it much faster than other phones. Camera is painfully average. Thought two main cameras would make the difference. Well they probably do but software that controls them is not good enough. Time to go back to my old Motorola. Every "i" , "o" and "t" in this review had to be fixed. Your choice but don't let your heart to chose your mobile phone
Date published: 2018-05-06
Rated

1

out of

5
by
crafter27
from
Not the Nokia of old, and android hasn't improved
Having previously used a Nokia Lumia 930 and 950, which both had fantastic cameras with lots of manual control, I expected great things of the Nokia 8 given that it's supposed to be a "flagship" phone. Sadly it's awful. I agree with the other writer who noted that the camera wasn't as good as previous models. The reality is it's no better than the camera on my old Motorola G4, which cost four times less. Nothing else screams "flagship". Colours are not as bright as either of the Lumia phones despite the Quad HD screen, and while build quality is good it doesn't feel premium in any way. Add to that the fact that you can't seem to adjust the sound quality, and android is just a pain to use and hasn't improved in the four years I was using windows phones, which was far more intuitive and easy to use. All the Windows phones haters will probably vote this down but the old Nokia are dead and running android is doing them no favours at all. Avoid.
Date published: 2018-05-04
Rated

3

out of

5
by
Dimplez3201
from
Mixed feelings
I brought this phone month ago. The build is look of the phone is excellent. I am disappointed with the camera. There is no where I can see I can put my hotmail emails in unless through my Google email address and there is no gallery folder. I like to listen to music on my phone and use deezer but there are no eq settings on the phone so in my opinion doesn't sound fantastic. Battery life is fantastic I can easily get a full days heavy use and still have battery life at the end of the day.
Date published: 2018-04-22