In a nutshell
Folds down for ultimate portability
Compatible with all smartphones, tablets and music devices
Clever auto-detect chip to deliver optimal charge
What Carphone Warehouse says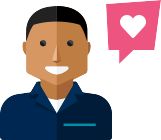 "There's nothing worse than stepping on a plug, fortunately, there'll be no prong punctures with the Mu plug. Simply fold it down when you're done and you've got a prong-free plug that's small enough to pop in your pocket.
Folds Away
Using a patented folding feature, the Mu folding plug reduces down to 70% of its original size, and better still to outer shell encases the prongs so you don't need to worry about getting things tangled around them in your bag or case.
Total Compatibility
With a USB port, the Mu plug works with a wide variety of tablets, smartphones, music devices and wearables. Simply pop your USB cable into the plug and away you go.
Optimal Charging
With a single 1Amp USB port, the Mu charger works with a range of manufacturers, better yet there's a clever auto-detect chip that allows the Mu to identify what device it's connected to and will deliver the optimal charge rate.
Case

Folding USB folds flat for greater portability.

Ports