In a nutshell
Stylish dot print, inspired by Kate Spade
Super-slim design
Hardshell & rubber edge for maximum protection
What Carphone Warehouse says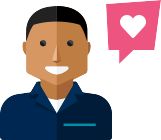 "Want a bit of designer swag on your arm? The dot case can deliver, from New York fashion house, Kate Spade it looks great and will keep your iPhone 7 protected against everyday bumps and scrapes."
Fashion First
From the creatives at fashion house, Kate Spade New York, the dot case is the perfect mix of style and substance. It'll protect your Apple iPhone 7 with gusto whilst still looking the part.
Maximum Protection
With a protective hardshell and rubberised, impact-absorbing bumper, your iPhone 7 will stay scratch-free and be able to withstand whatever life throws at it. 
Super Stylish
Looking to add a bit of shimmer to your smartphone? Featuring quaint silver and gold dots on a clear plastic shell    , you'll still see the curves of your iPhone but with a little extra pizzazz. What's not to love?