In a nutshell
Stylish graphic prints, inspired by Kate Spade New York
Stay protected with a hardshell, co-molded case
Super-slim design
What Carphone Warehouse says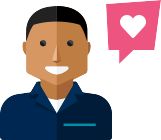 "This case is the perfect way to protect your new iPhone 7 Plus and make it stand out from the crowd. The polycarbonate case will protect your phone from every day scrapes and even comes with a shock resistant bumper."
Fashion First
Designed by New York fashion house, Kate Spade, the confetti dot case is super stylish and will definitely get you noticed. Want a phone case that's as unique as you are? The Kate Spade confetti case won't disappoint.
Maximum Protection
Keep your iPhone 7 Plus looking as good as new with the polycarbonate hardshell case that gives your smartphone effective impact protection and a shock resistant advantage.
Snug Fit
You'll find this case easy to carry, easy to grip and it'll be easy to forget you even have an extra layer of protection on your iPhone 7 Plus at all because it's so lightweight.