In a nutshell
Kate Spade New York design
Pink Ombre Glitter case
Hardshell design for extra protection
What Carphone Warehouse says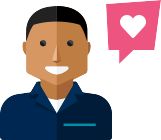 "If you want a case that's a little bit different then the Kate Spade glitter case could be for you. Perfectly combining fashion and functionality, it not only looks good but has the latest impact protection technology to keep your smartphone safe."
Designer Swag
Brought to you by New York fashion house, Kate Spade the glitter case comes with the designer's signature print and quirky pink ombre glitter back. Want a case that's catwalk ready? It's yours.
Ultimate Protection
With a protective hardshell made with shock absorbing materials and a reinforced outer edge, the Kate Spade glitter case will keep your Apple iPhone safe from scratches and scrapes.
Made to Measure
Built specifically for the iPhone 7, the Kate Spade glitter case is super-slim and lightweight so you don't need to worry about it adding any extra weight. Just clip it on and it wraps snugly around your smartphone to give it a unique protective layer.