In a nutshell
Glass watch face with AMOLED touchscreen
Accurate workout and sleep tracking
2 weeks battery life
Smartphone notifications
What Carphone Warehouse says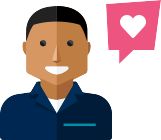 "Two weeks of battery life, a bright and bold AMOLED screen and really impressive fitness and sleep tracking. All in one beautiful, lightweight design."
Huawei Watch GT2 Sport 46MM Black Case with Black Strap
is rated out of
5
by
29
.
Rated

5

out of

5
by
WatchingTheWatch
from
Less of a smartwatch but smarter for it!
I've only owned this watch for a couple of days but already impressed. I had spent ages looking at all the other feature-laden models, never finding the right balance. Some had mediocre battery life at best, whilst others struggled to last a day. Typing in messages on a small watch screen is not for me! I had to ask myself, why duplicate on a tiny screen what I can do on my mobile? I then found this Huawei Watch GT2 and how much better it is - for me - with long battery life, great fitness tracking, accurate GPS, heart rate (manually checked my heartrate on several occations to test) and blood oxygen level (watched a Youtube video of someone comparing against a Hospital bed-side monitor). I use it for tracking my outdoor walks, but later on will be using it for cycling and indoor excercise bike sessions. Build quality is great, it has a nice traditional look with a round dial. I'm not keen on the square looking watches, but each to their own. I find navigating through the menus to be slick and responsive. There is a slight delay when touching the screen to change the watch face. I touch the screen for about a second, and then maybe a second later the watch vibrates and I'm then able to select from the other designs. This is no deal breaker, and I suspect part of the battery saving design. In contrast, raising my arm to view the time or health stats, the GT2 turns on the display with so little delay I hardly notice. Huawei have put the speed into the areas that need it. The AMOLED display is clear and bright, I can easily read it on a bright sunny day. Not all smartwatch dispays are this good. I don't want Google maps, Google Assitant, NFC, games, or cameras on my watch. I have a smartphone that can do all those things and better than any watch can manage them. What I want is a watch that is not going to die before the day is out, or one that I have to play around with umpteen settings to get it to stretch to two days. I want one that reliably manages health monitoring but also gives me some nice extras. If I'm in a picky mood, and this really is being fussy, I would have liked the analogue watchfaces to gradually move their hour and minute hands around the dial instead of jumping to the next whole minute or whole hour respectively. But then again, this may also be part of the battery saving, so if that's the case I say thumbs up. Overall, I would say this is an excellent watch that focuses more on health tracking than smart features. If you are happier using your mobile for reading and sending messages, playing games, navigating and paying via NFC, then this watch would be a very good option.
Date published: 2020-05-04
Rated

5

out of

5
by
masonm12
from
Does the simple things extremely well.
Great value smart watch. It does the simple things really well and has helped me loads in my fitness routine. It looks and feels very well built and the dial and screen are really nice. It maps my runs accurately and gives lots of vaital information that helps me manage what i need to improve on. Overall its brilliant and i am really pleased.
Date published: 2020-03-30
Rated

5

out of

5
by
Disaka79
from
Superb
Love this watch, I have been enjoying this watch for long time. Quality of product is very good, battery life very good, connectivity very good, not many apps but you have the important ones like you can receive and dial from your watch, well you can store up to 10 important numbers on your watch, you can receive msg, track your steps , listen to music, it can check your stress level and heart rate, you can put alarms , you have stopwatch,timer,flashlight, weather, msg notification, compass, you can practice you breathing exercise, it keeps track of your sleep, it can also keep records of your activity. In workout mode you have options like running courses, outdoor run, indoor run, outdoor walk, indoor walk, outdoor cycling , indoor cycling, pool swim, open water, climb, hike, trail run, triathlon, elliptical, rower, other, and you can keep records of all your workouts.. It also have a feature to find your phone if you press that you can here your phone say " I am here " my 3yr old likes that very much, that's how she find my phone. For me the best feature is music, I connect my Huawei buds to the watch and I am set to work. Being a courier driver I like doing my work with music, before I had my earphones and mobile in my pocket but it was to big and bit fiddly to carry all the time, but this watch fix that issue. I am using this watch as my everyday watch because it's very lightweight and not bulky or overweight, and is very comfortable. Definitely recommend to all.
Date published: 2020-01-28
Rated

5

out of

5
by
Ben30
from
Fantastic watch.
I received this product as part of a review program in return for an unbiased review. Upon receiving the watch I was really impressed by the traditional look and feel of the watch. I've owned the Samsung Gear Sport in the past and was always a bit embarrassed by the look of it and the Watch GT2 couldn't be more different, it's could easily pass as a high quality mechanical or quartz watch. The quality is superb, heavy enough to feel expensive but light enough to be comfortable. The screen is a delight, fantastic at making your skeuomorphic watch face seem real. The watch has a number of useful features that use more than I thought I would. The watch torch for example is weak but nonetheless useful. The calling function works far better than expected, the speaker is loud and clear and I've had no complaints on the other end of the line. Notifications aren't perfect, if you have constant Whatsapp messages from a group they are often grouped so you cannot see the content but on the whole the GT2 does a good job of notifying you of a message, email etc. Since taking delivery of the watch my phone hasn't made a noise, the vibration of the watch is excellent. It's particularly nice not to wake up to an annoying alarm tone. The fitness tracking of the GT2 is impressive and the detailed statistics provided are useful for judging progress. My only criticism is that workouts are not automatically tracked but It soon became muscle memory to push the lower button and select a workout at the beginning of a workout session. GPS tracking has proved accurate and always locks on within a few seconds. Sleep tracking is fantastic and really highlighted my need to go to bed earlier. The Health app does a good job of gamifying getting a good night's rest by scoring your sleep. Naps are also tracked but with barely any detail, it simply tells you the duration and that's all. The most impressive and useful thing about the GT2 is it's endurance. It goes on and on! I find myself charging the watch weekly just so I don't forget that it needs charging by this point it usually has around 30% remaining. Coming from a mechanical Swiss watch battery life was a real worry for me, with the Watch GT2 this is a non-issue. I don't think there is a better smartwatch for someone coming from a traditional quartz or mechanical watch. The watch will look the part, the battery will last longer than a holiday and the features will impress.
Date published: 2020-01-28