Oops!
To view this video, please install the latest version of Adobe Flash Player.



In a nutshell
5.1-inch Full HD display
12MP and 20MP dual lens camera
64GB internal storage
Available in Black, Gold & Blue
What Carphone Warehouse says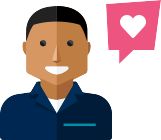 "The Huawei P10, new for 2017, offers some of the best specs on the market. And its dual camera is a real standout, at 12MP and 20MP."
The box contains
Device
User manual
SIM adapter
Headphones
SIM card removal tool
USB cable
Quick Start Guide
Screen protector
Specification

Dimensions

145.3 x 69.3 x 6.98 mm

145 grams

Body

Calls & Messages

Operating System

Android

Android Nougat (7.0)

Apps

Battery

Special Features

Connectivity

GLONASS, BDS, GALILEO, USB Type-C

Display

1920 x 1080p

IPS-NEO LCD capacitive touchscreen 16M colors

Full HD

432 ppi

5.1 inches

Camera

Dual tone

4K

8 megapixels

20 megapixels

Storage

Music and entertainment

Processor

Octa

Cortex-A73 and Cortex-A53

2.4 GHz

4 GB

2.4 GHz
Huawei P10
is rated out of
5
by
12
.
Rated

5

out of

5
by
Ciaran
from
Excellent phone
I've had almost every brand of phone that carphone warehouse sell throughout the last 3 years and I can confidently say that the huawei p10 is my favourite to date. The camera flows any other phone's camera out of the water, including the s7 edge which I had for 6 months. The wide aperture feature which comes fom the dual lens makes taking pictures an enjoyable experience. The speed of the phone is amazing as unlocking the phone can be done with the fingerprint sensor in about 1/4 of a second. The only small issue is the battery is relatively small but it comes with the super fast charger with type C which charges to full in under 80 minutes, even after almost 8 months of use. Highly recommend
Date published: 2017-11-27
Rated

5

out of

5
by
Joey2000
from
Amazing Phone
Great Phone, Fast, Great battery life. Recommend for any iOS users wanting to switch to android as the phone's EMUI is makes it seem very similar to iOS. People are put off by the fact it doesn't have a 4K screen but honestly it doesn't need it the screen resolution is more than adequate, and it is very bright and colourful. I highly recommend you grab it now while it's on offer.
Date published: 2017-11-03
Rated

1

out of

5
by
WigglyWoo
from
Avoid!
I have had the Huawei P10 since it was released at the end of March and I really, really wish I had waited for the Samsung Galaxy S8. The battery life is dreadful, and I am not a heavy user, I don't watch a lot of videos, listen to music or use bluetooth, just general browsing ad checking emails. It does not charge wirelessly and the charging cable is not a generic USB like the Samsung, but a specific Huawei one which is just plain annoying. It hangs up all the time - I was sold the phone on the premise that it wouldn't do this - "Born fast, stays fast" the salesman told me! There is no option for repeating text alerts and some of the apps I used frequently are not supported. On the plus side, the camera is good (but the battery is flat after about an hour of use - no good for a day out!).
Date published: 2017-10-25
Rated

4

out of

5
by
Joe C
from
Good phone is good.
I had an iPhone 6 for 3 years, and whilst I liked it, I was not a fan of Apple's very rigid limitations. I also wanted something with an SD slot after years of not having one, so I made the switch to Android when the iPhone began to quickly deteriorate. After balking at the cost of the newest HTC and Samsung, I opted for Huawei P10, as it was half the price and seems to do what I need. I guess the review will be a direct comparison to the IPhone, as that's all I really know. Battery life seems somewhat better than the iPhone. I can get away with charging the P10 once every 2 days. In general, I prefer the customization of Android a lot more. With the iPhone, the way it looks is the way it looks and that's it. with the P10, I can have whatever I want on any screen, which makes it much more usable as soon as the screen is open. The screen is super sharp and very clear. The touchscreen is very responsive and comfortable. I am led to believe the camera is very good, according to the spec and reviews. I still need to get my head around it. It seems to have an enormous amount of features and modes, none of which I know much about. Taking a photograph with the digital zoom seems very difficult, as you have to hold it in place for quite a while after you've clicked, for some reason. Overall, the photos I do take don't turn out that great, but that may be me not understanding what the camera is capable of. I'm not sure. I prefer Android now, though I do think it can be a little more convoluted to use compared to iOS. A lot of settings are hidden away, and there's a lot of bloatware. I like the way Android operates, but it would be nice to have the option of the amount of apps you want, rather than getting therm all by default. Attempts to delete them gives me warnings stating they are system apps. However, the usability and freedom to customize outweighs the negatives. It's a good device. I'm not too demanding about phones, but it does everything I need and seems better than the iPhone I had in many ways.
Date published: 2017-10-11