In a nutshell
Bluetooth 5.1
Active noise-cancellation
Playback control with mic
4 hours playback with 20 hours from the case
Wireless charging compatible
What Carphone Warehouse says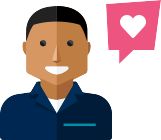 "Listen without distractions – active noise-cancellation blocks out ambient noise for brilliant sounding music. Phone calls are surprisingly clear too as ambient noise is reduced."
rethink wireless sound
---
INTELLIGENT NOISE CANCELLATION | WIRELESS CHARGING
PUNCHY BASS | KIRIN A1 CHIP
A feast for your
ears and your eyes
The all new HUAWEI FreeBuds 3 aren't just easy on the ear, they're easy on the eye too. Two delicate buds sit within the symmetrically moulded charging case comfortably in your hand, pocket or handbag. Available in white or black.
Deeper sound, lighter touch
Engineered to follow the curve of your inner ear, the HUAWEI FreeBuds 3 Dolphin Design not only transmit sound more deeply, they rest in the ear more softly, so you can wear them all day long.
Studio-Quality Sound
Equipped with a high-precision, high-sensitivity 14 mm dynamic driver, the HUAWEI FreeBuds 3 have been tuned to restore every music note to its original depth and brilliance, bringing the audio experience to life.
Surging Bass
Tucked cleverly into each earpiece, the HUAWEI FreeBuds 3 feature complex bass tube technology, delivering richer, tighter and punchier low frequencies, immersing you deeper in the music.
Advanced dual transmission
Enhanced with the world's first certified Kirin A1 chipset and dual transmission technology, the HUAWEI FreeBuds 3 promise fast, accurate audio-video synchronisation for the ultimate music and gaming experience.
Crystal clear music, wherever you are
Whether you're on the train or in a quiet café, the HUAWEI FreeBuds 3 class-leading audio quality and active noise cancellation adapt to suit your environment, delivering precision, real-time noise reduction.
Be heard every time
Thanks to the intelligent Kirin A1 chipset in the HUAWEI FreeBuds 3, calls sound like face-to-face conversations, with your voices noticeably enhanced and free from background noise.
Dial down the distractions
Detecting the delicate vibrations from your voice, the intelligent built-in bone sensor in the HUAWEI FreeBuds 3 distinguishes speech from ambient noise, adding clarity to your conversations.
Walk and talk without disruptions
Whether you're walking on a windy day or cycling at 20 km/h, phone calls remain loud and clear with the friction-free, Aerodynamic Mic Duct design of the HUAWEI FreeBuds 3.2
Pop open and pair instantly
Start enjoying your favourite music straightaway by simply clicking on the pop-up window3 to pair the HUAWEI FreeBuds 3 - and instantly reconnect whenever you pop open the case.
Tap to your own beat
The HUAWEI FreeBuds 3 are designed with you in mind - customise the controls to suit you - double tap the right to play, and the left to pause or skip. It's your choice. Pick up where you left off - just remove the FreeBud 3 from your ear to pause and return to resume.4 Android users can set their own controls.
Smart charging on the go
Charging is quick and easy, via either USB, wireless charging mat, or reverse charging through a HUAWEI smartphone.5 And the charging case produces 4 hours of playback on a single charge, so you'll never miss a beat.
Huawei Freebuds 3
is rated out of
5
by
104
.
Rated

5

out of

5
by
stephb12
from
Great Value, Active noise cancellation works a tre
Ive had these earphones for a little while now and to say i am impressed would be an understatement. The quality they give is incredible. i have tested them out and had my musin blasting and my partner stood next to me could hardly hear a thing. THe noise cancellation works really well and the battery life is really good. One piece of advice that is not obvious would be to download an app calle AI life, this is what you need to control the functionlity of them. you can use tap gestures and each earphone will do a different thing. There is also a really clever trick you can use with the noise cancellation.
Date published: 2020-03-27
Rated

4

out of

5
by
NazHW
from
Good Ear Buds, space for improvement.
I am a huge fan of a Huawei products. I am also a keen user of Bluetooth earphones and use them on a daily basis for music, podcasts and audiobooks. Suffice to say, I was excited and eager to try Huawei's Free Buds. I've got to say the sound quality is good! I mean crisp, clear, punch and has a good natural bass before you've even used the equaliser. The Bluetooth range is good and the app which show you the individual charge per earpiece is genius. Pairing the earphones is a doddle and the battery lasts a good time. The case is strange to look at for me, a bit like a small block of cheese in white wax and the logo looks a bit cheap but it's compact and automatically snaps the earphone in the right direction, to charge them which I find to be a really cook feature with my experience of Bluetooth earphones I've also experienced when I go into superstores or past any sliding doors my Bluetooth earphones temporarily cut-out with other brands. That might be radio signal interference, guess what? I don't have that issue with these! The app lets you re-program the functionality per ear so you can make it pause, rewind, skip etc. You're in control. So, choose wisely. The challenges I found are the earphones are so light and don't sit in your ear canal snugly, like some other earphones – you won't lose them in the gym, but for someone who does a fair bit of running, I fear I might! I also found disappointing that I couldn't have all the same features and benefits on an Apple phone as I do from an android phone when paired to these ear pods. I'm happy with these pods, if I didn't have my existing pair from a non-phone company I'd have chosen to continue with Huawei's version. For now, I'm returning them and looking forward to the next iteration.
Date published: 2020-02-05
Rated

5

out of

5
by
Disaka79
from
Love them
I received this product as part of a review program in return for an unbiased review. A very cool looking buds, easy to connect to any device, I tried on my Samsung s9+, apple iPad Pro, Huawei p20 and on my LG smart TV, it had no difficulty connecting. Battery life not bad on full charge it can last up to 4 to 5 hours nonstop, initially I had this fear that I may loose them but I was wrong they stay put in your ears, having the charging pod is very helpful, you can recharge the buds on the go. Noise cancelling option is good but sometimes is annoying as it feels like you are listening music underwater bit stuffed up, you can change next song by taping on the right bud and left bud is for noise cancelling. It would have been good if the whole thing came with a case as the device gets dirty soon, sound quality is the best. Overall I love them and I do recommend them.
Date published: 2020-01-29
Rated

4

out of

5
by
stevehoppy
from
Huawei Freebuds 3... 3 Reasons Why
I received this product as part of a review program in return for an unbiased review. Firstly, this is going to be a quick, to the point review - I'm not going to go into useless details. so, instead of 13 Reasons Why, here are my top 3 Reasons Why you should try the Freebuds 3 by Huawei: 1. They sound the part! Seriously, the sound quality on these earbuds is astonishing given the fact that they are IN EAR BUDS - the range of sound, including high, mid and low end (although low to a slightly lesser degree) is very, very impressive. The sound is better than my over ear headphones that cost a similar amount a few years ago so that shows just how far Huawei have been able to push this technology. 2. They look the part! Obviously these do look VERY similar to a more famous line of earphones made by a rather 'fruity' competitor, but given that they are thought of as being desirable and cool then that is no bad thing. 3. They go the distance! The battery life on the earbuds is really, really good. I have had these playing a mix of loud music and radio for a whole afternoon and there was still plenty of life in the earbuds - but if you do get low, just place them back inside the case for a few minutes and you will be juiced up in no time - for most people there would be around a week of listening time from one charge. Obviously these also come with noise cancelling - to be honest i'm not a great fan of this feature, but these have it and it does work, so that's another bonus I guess! Bad points are: 1. They could be cheaper as expensive at full RRP . 2. The case itself gets scratched easily (i would recommend buying a neoprene cover for the case to keep it looking fresh); and 3. You get to realise just how badly mixed or mastered some tracks really are....which has been rather depressing at times! Overall these are great earbuds, especially if you can find them on offer then the rating is 5 stars as this was my only concern - I liked them so much that I convinced my brother not to go 'fruity' and buy a pair of these instead.
Date published: 2020-01-28