In a nutshell
Great for exercising
Long-lasting rechargeable battery
Wireless Bluetooth connectivity"
What Carphone Warehouse says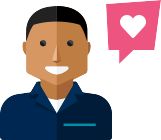 "These headphones from Goji are a great choice if you love listening to music on the move. They're wireless, comfortable and provide high-quality audio."
Goji True Wireless Headphones
is rated out of
5
by
10
.
Rated

2

out of

5
by
NotDave
from
Nice in theory, poor in practice.
I have had these now 9 months, and whilst I really enjoyed them at first, they quickly deteriorated in a few annoying ways. I mostly use them at my desk at work for listening to music. The Good: The sound is actually very good, I really enjoy listening to them when I can. The case is well finished, looks smart and is nice and compact. Charges through a micro-USB, though also has full size USB-A for charging your phone. Neat! The Bad: The battery life has reduced greatly (or its ability to charge) as I find they only tend to last for about an hour and half, even after charging overnight. I can't tell if this is the charging case or the buds themselves, but it's a shame nonetheless. For some reason, no matter what the actual battery life, it always reports 100% when connected to my phone, so I just have to guess what the actual battery left is. While it's a nice idea in theory to be able to use it as a powerbank, it really doesn't hold much charge, so probably for emergencies only. The connection is a bit iffy, seems to work perfectly well when I leave my phone on my desk and head to the kitchen, but if I'm walking home with my phone in my pocket, it cuts out frequently. They fit quite comfortably in my ears, though because of their size / bulkiness, they fall out quite readily with small movements (especially the left one, but I think that's my ears, no the buds), so I only really use them at my desk. They came with a pair of replacement rubber tips, but they only come in one size, as anything bigger would prevent it from fitting in the charging case, so if they don't fit your ears that well, you're a bit screwed (or you have to take the buds off every time you want to charge them). They have a microphone in one of the buds, so you can (in theory) speak to someone on the phone with them, however, whenever I've received a call when using them, I can hear perfectly fine, but they always say I'm too quiet. So I always end up switching to my phone anyway. Overall: I'd say they're ok, but they'd need some significant improvements before they'd be worth picking up. You can buy much nicer wireless headphones for what I paid (£70 - may have changed though), however they're probably the cheapest "true wireless" set I've come across. I'll get some regular bluetooth headphones when these give in. (As as added bonus: almost every time I wear them, someone in the office comments "Those are cool, what are they?" so that's nice.)
Date published: 2018-11-30
Rated

1

out of

5
by
stevie_a
from
Sent them back
Got these on line from cpw, when i received them the security seal on the back had been tampered with, tried then for 20 minutes and they kept losing Bluetooth signal on the right ear, i am sure i had been sent a returned pair, so i sent them back.
Date published: 2018-05-02
Rated

5

out of

5
by
Stevie geevie
from
Great sound quality
Had they for three days, fit in ear perfectly, great sound, charger case is well made quality feel and easy to place earbuds in. One down side is that the button on them is small and fiddly to push when answering calls but not a major. Overall really happy
Date published: 2018-03-17
Rated

1

out of

5
by
Mark W
from
Not Headphones For Sports
I bought these earphones for running to connect to my iPhone and at first I was very pleased as they look great and the charging case and quality look good. The sound quality is good for the price. Once in your ear they are comfortable and don't come out of your ears when moving around, They had the potential to be a very good purchase. However, on my first run with these I had frequent issues with the right earbud randomly disconnecting, or making a horrible stuttering sound where the music drops in and out to the point where it pretty much stopped working. These make it pretty impossible to listen to music, However I thought it was just because I was running with other people that had Bluetooth devices and maybe it was either interference from them or a fault with the product. I decided to try them running on my own and exactly the same issue happened. After taking them back to the store to exchange them for another pair exactly the same issue happened with the new ones. I would not recommend these for any sports or anything where you are moving about.
Date published: 2018-01-16