In a nutshell
9-inch TFT LCD high resolution screen
Microsoft Office Suite as standard
Android 4.4 KitKat
8GB memory
What Carphone Warehouse says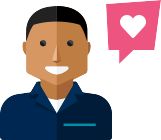 "The Hipstreet Flare 3 8GB is a top tablet - small enough to easily carry around, yet large enough to enjoy movies, games and more."
Compact and simple design
The Flare 3 8GB is a compact tablet that has solid build quality. The smooth plastic casing feels great in your hand, while the interface is simple to use and responsive. 
Bright display
The high-resolution, 9-inch display is ideal for watching movies, playing games and reading eBooks or online articles. 
2MP camera
The rear camera has a 2MP sensor that can take detailed shots while you're out and about. It also records video, so you can capture important moments as they happen.
Front camera
The front camera lets you take bright selfies to upload to social media, plus you can make video calls to your friends and family. Simply download Skype and you're ready to go. 
Quick processor
The Flare 3 8GB WiFi has a processor which runs at 1.3GHz, so movies, games and web browsing all run seamlessly smooth. And with 1GB of RAM, you can have apps running in the background without any lagging or loss of performance.
Battery
You get 6 hours of usage out of a fully charged battery, so you can watch movies, play games and browse the web for hours before needing to recharge – ideal for long car journeys or your daily commute. The charger is also lightweight and portable, ideal if you're heading out and need to replenish the battery on the move. 
Real-time support
The Flare 3 8GB WiFi has a built-in app which lets you access instant, real-time support should you have any technical difficulties.
Calls & Messages

Operating System

Ports

Display

1024 x 600 megapixels

LCD

9 inches

Memory cards & USBs

Storage

Processor

Music and entertainment

Dimensions

244 x 80 x 170 inches

500 grams

Connectivity

Camera

Battery