In a nutshell
5-inch HD display
12.2MP camera
64/128GB internal storage
USB-C to 3.5mm Quick switch adaptor included in box
Available in Just black, Kinda blue, and Clearly white
What Carphone Warehouse says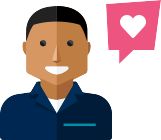 "Google's latest smartphone, Pixel 2, looks and feels great. The camera is incredible, and there's virtually infinite cloud storage with Google Photos and Drive."
Good things come in two.
Introducing the Google Pixel 2.
Discover a better way to capture, store and see the world. Pixel 2 features a smart camera that takes beautiful photos even in low light, a fast-charging battery1 and the Google Assistant2 built-in.
Highest rated smartphone camera.
Again.*
Capture stunning photos with an effortless photography experience. Pixel 2 changes the way you take, save and share your moments – including new ways to dress up your photos with AR stickers.
Your photos, forever.
Save all your photos and videos in original quality with unlimited storage in Google Photos. This means you'll never have to delete photos again. Plus Google Photos makes it easy to find, organize and share whatever you want.
Search what you see.
With Google Lens you can use your camera to explore the world like never before. Simply pull up Google Lens on a photo to learn more about landmarks, artwork and more.
Your own personal Google, built in.
Need help or answers? Just ask the Google Assistant, built into every Google Pixel 2. You can take a selfie, text mum, turn on bluetooth, and navigate home – all with your voice.
Access your Google Assistant even faster with Active Edge™. Just squeeze the sides of your Pixel to start chatting.
Charges fast and really lasts.
Pixel's long lasting and fast charging battery delivers up to 7 hours of use on 15 minutes of charge.
Water resistant when it counts.
Pixel 2 also features a striking encased glass metal unibody that's water resistant.
Find the perfect fit for you and your Pixel.
Accessories designed by Google are precisely engineered to fit, help protect and make the most of your Google Pixel 2. Pick the right color and design that matches your style, while staying compatible with features like Active Edge™.
*Based on 9/2017 test results from DxOMark Mobile. DxOMark is a registered trademark of DxOMark Image Labs.
How does the eSIM technology work on the Pixel 2?
You can use Pixel 2 and Pixel 2 XL without a SIM card, if you're a Project Fi customer - Google's own network. This technology has only previously been used in tablets and smartwatches, but is now available through Google's smartphones.  
What is the Pixel 2 Active Edge squeeze feature?
The Active Edge feature is built around Pixel 2's pressure-sensitive sides. By squeezing the phone, you can launch Google Assistant. And you can set how sensitive you want the edges to be, so you don't accidentally launch the assistant when fishing the phone out your pocket. 
What is Google Lens?
Google Lens is an artificial intelligence (AI) technology, which works through Pixel 2's camera. It understands what it's 'looking at', and can then give you more information through the power of Google. A few examples might be a landmark, or a species of plant. 
What is the 'always on' display feature?
The always-on display is pretty much what it says on the tin. Instead of Pixel 2's screen going completely black when you're not using, you'll always be able to see the time and any unread notifications. 
This feature can be disabled through the phone's setting if you don't want it. 
Is the Pixel 2 waterproof?
Pixel 2 is classed as water-resistant, certified as IP67. This means it will be fine if you get caught in a quick downpour, but you shouldn't dunk it in the bath. 
Does Pixel 2 have wireless charging?
Unlike some other smartphones, Pixel 2 doesn't support wireless charging.
Does Pixel 2 have expandable storage?
Yes and no. Pixel 2 doesn't support the typical microSD card expansion for extra storage, however it does offer unlimited storage through Google Photos and Google Drive. So you should never be short on space when capturing and saving the memories. 
What are the main features of Pixel 2's camera?
Pixel 2 has one of the best smartphone cameras ever made. It uses dual-pixels to capture professional-looking shots with a blurred background through a mode called Portrait Mode. And you can record video in glorious 4K. 
What separates Pixel 2 from Pixel 2 XL?
There aren't many differences between Pixel 2 and Pixel 2 XL. The main thing that differentiates the two is the display size and resolution. Pixel 2 has a 5-inch Full HD screen, compared to Pixel 2 XL's super tall 6-inch Quad HD panel. 
Does Pixel 2 work with Daydream View VR headset?
Both Pixel 2 and Pixel 2 XL are the perfect accompaniment to the 2017 version of the Daydream View VR headset. 
The box contains
SIM card removal tool
Device
Charger
USB cable
Quick Start Guide
Processor

Snapdragon 835 10nm 64-bit

4 GB

Dimensions

145.7 x 69.7 x 7.8 mm

143 grams

Battery

Body

Display

AMOLED

Full HD

1080p Full HD

5 inches

Calls & Messages

Operating System

Android

Android Oreo (8.0)

Apps

Special Features

Connectivity

Camera

8 megapixels

12.2 megapixels

Music and entertainment
Accessories
Gear 4 Google Pixel 2 Piccadilly White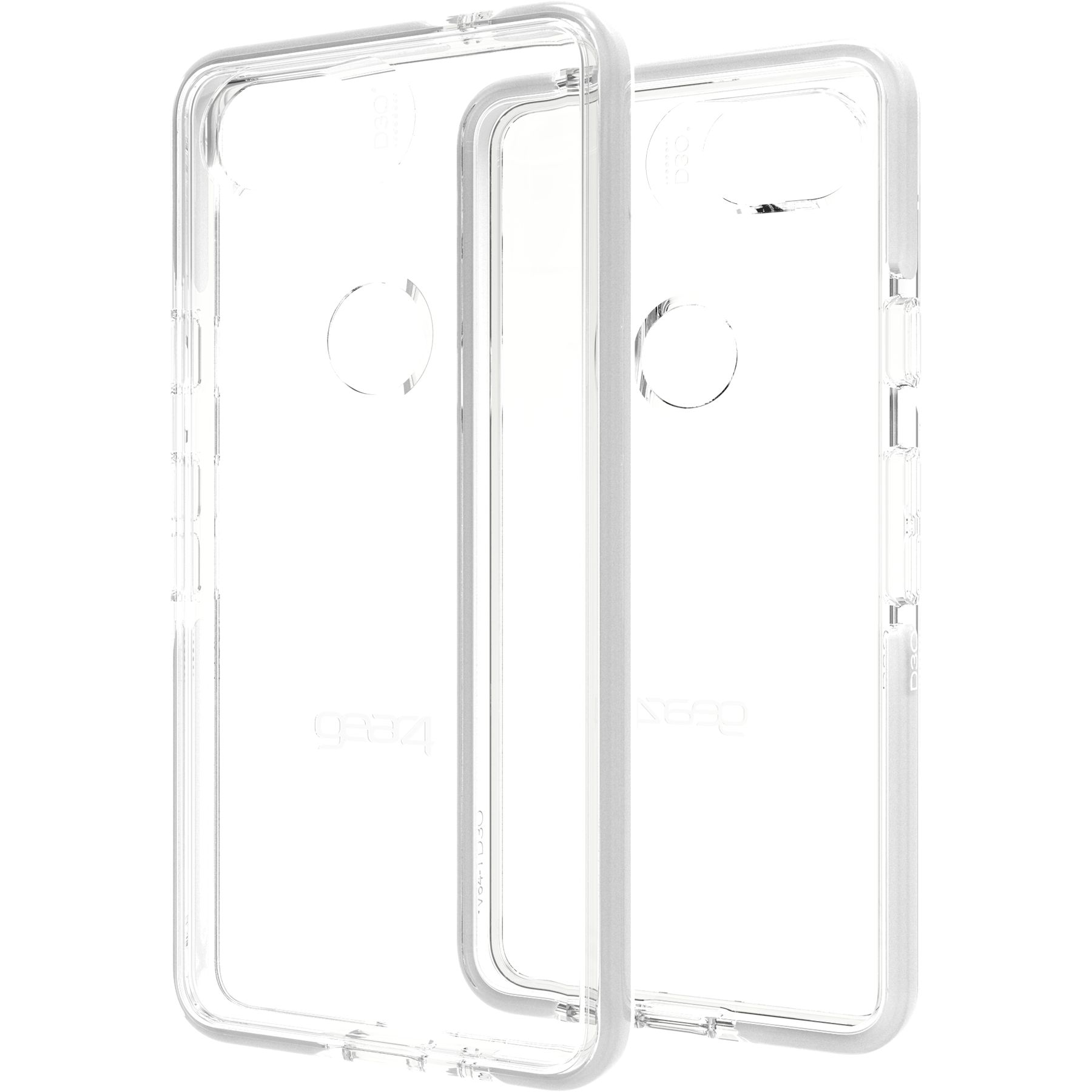 Gear 4 Google Pixel 2 Piccadilly Black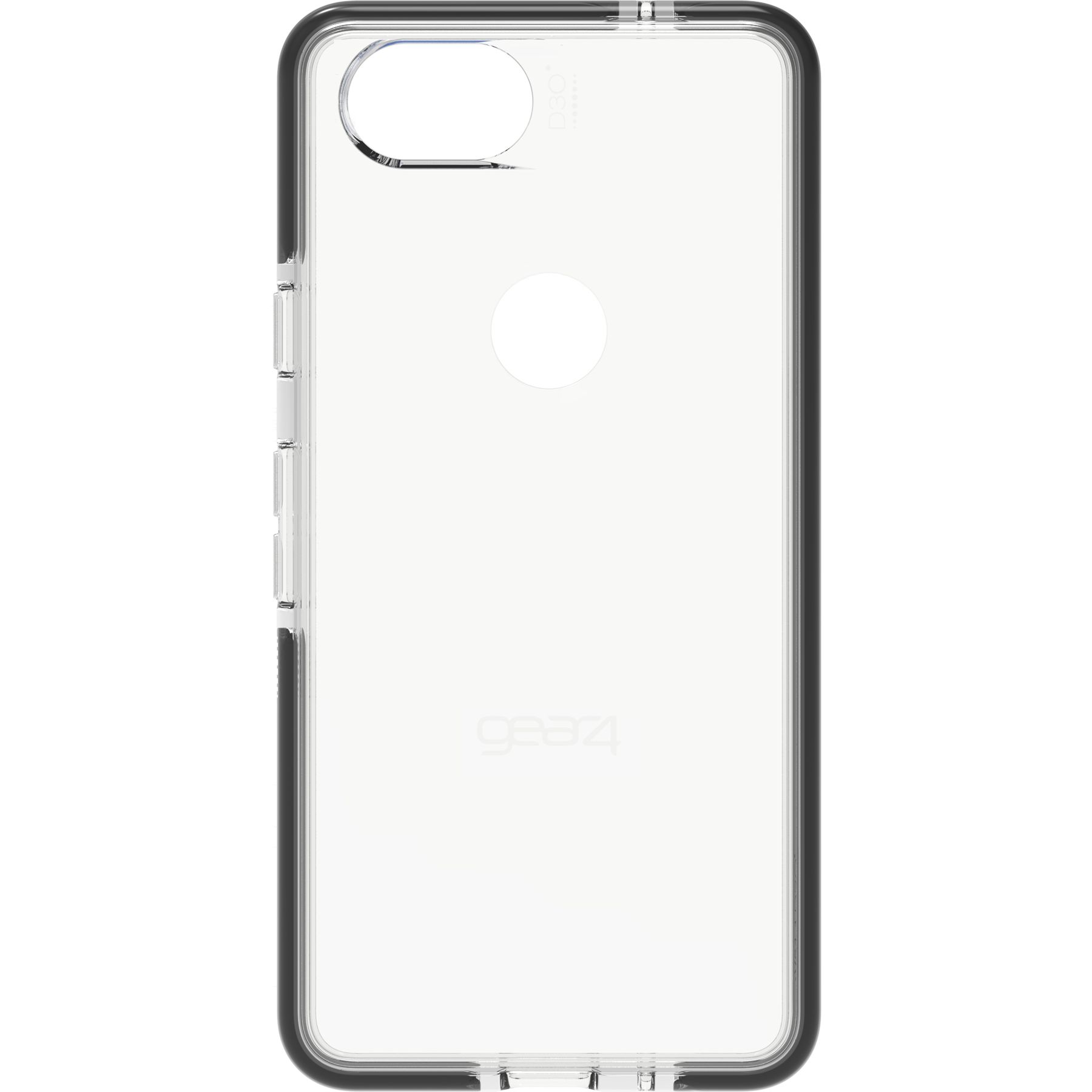 Gear 4 Google Pixel 2 Piccadilly Blue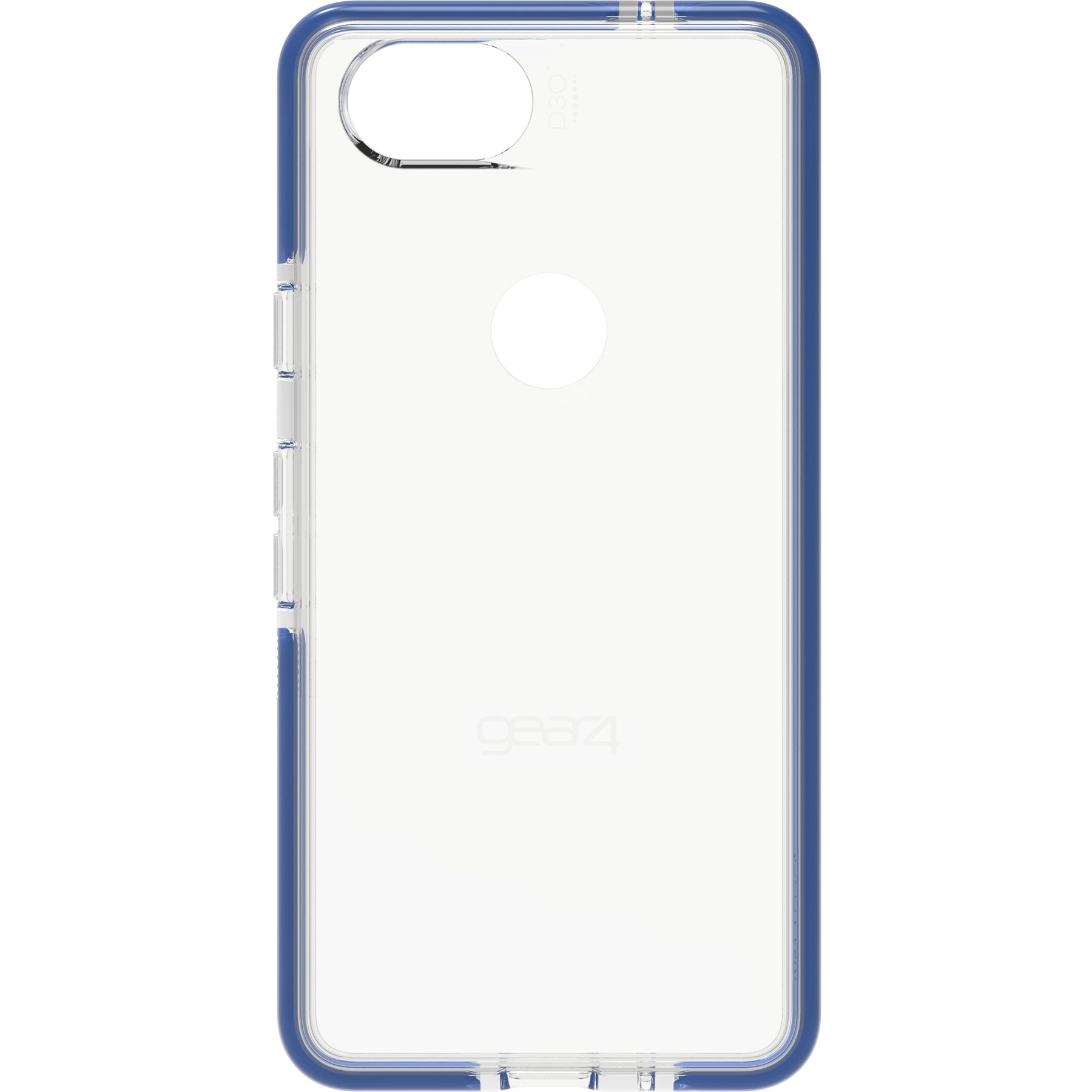 Google Pixel 2
is rated out of
5
by
28
.
Rated

5

out of

5
by
Ziggymundo
from
Another great Google phone.
This has replaced my Nexus 6P, which has proved to be a superb phone. As I wasn't particularly 'gung ho' about paying over £700, for the XL, I decided to get the smaller one. I can honestly say I have not been disappointed. The phone is not a particularly stunning design, but that is not what I was looking for, I use a case anyway. The phone is fast, responsive and runs flawlessly. Google assistant works very well and is actually useful. Squeezing the sides also activates the assistant if you are embarrassed about speaking to a phone! The incorporated music recognition works reasonably well, but is limited in its library. I have found the screen to be excellent, great colours, bright and sharp. The sound is good, though I tend to use earphones in the main rather than the stereo speakers. As I am quite committed to the Google ecosystem, the seamless connection between my Chromebook and even my Macbook when using Chrome is superb. In addition, the phone will get all the updates as and when they are released. Unlimited photo storage at full resolution is also included. That is for three years after which the usual conditions apply. I bought the 64GB model as I am not one to download lots of apps or keep much on my phone. So I am really pleased with the phone and have not experienced any of the issues alluded to by some online reviewers. I am enjoying using the device and look forward to a long partnership!
Date published: 2018-02-18
Rated

5

out of

5
by
Tups
from
The new iPhone but better
I've been an iPhone and Apple user for many years. But now as it's time for a new phone I find myself left cold by the new iPhone line. The price of admission to the iPhone club has finally just gotten too high for what you are getting and iOS 11 is a mess at this present time. So looking around at my alternatives one phone stood out from all the rest of the android masses. The Pixel 2. This is Google's vision of what it wants to produce in a mobile phone and right now compared to Apple's idea I like what google is doing. - design and build, although this aspect of the phone has received the most criticism I like it and it's practical. I came from the 5.5" iPhone 6 Plus and I love the size so much easier to use and the 5" screen is brighter, sharper and when I'm using it I don't notice it's a smaller screen. Much has been said about the large bezels (this is so old, out of date and entirely not acceptable for a premium phone the reviewers cry!) I say what's the big deal? The equally new and not more premium but more expensive iPhone 8 line has a big chin and forehead as well but I don't hear anything about that. Now maybe it's because I've just come from iPhones but I just don't notice it. Not when I'm using it or when it's off. They say the look isn't premium but what exactly is that? First thing I do when I get a new phone especially the premium and ever so delicate iPhone is to slap a case on it and that's exactly what I did with my pixel 2. All phones look pretty much the same with a case on it. I do know people who like to rock their expensive phones with out a case but their beautiful premium product usually ends up chipped and cracked. - The software and it's integration with the hardware, that's what this phone is really about. I think google has taken this most important tip from Apple and improved on it by also integrating their brilliant google services such as google assistant and this is where google is well ahead of Apple. To compare google assistant to Siri isn't even fair. I've had iPhones since the iPhone 4 and apart from when it first came out or the many accidental activations, I never ever used Siri but I find I am using google assistant all the time, even just to teach me how to use the phone and the squeeze to activate is fantastic so natural and intuitive so I use it all the time! I'm really enjoying using Google's other services as well. The way my gmail and calander contacts and photos all work together is brilliant. It's not all perfect. They really need to sort out their messaging situation they're a bit all over the place at the moment but google is coming on leaps and bounds so I'm sure they will. I also really like the always on display especially the now playing feature and I would really miss that going back to an iPhone. - The crowning feature has to be the camera. For me as for many people it's my most important must have deal breaker kind of features that It has to have a great camera. I won't go into much detail on the camera, there are a lot of great reviews out there for that. I'll just say all the hype is absolutely as far as I'm concerned true and once again shows how google has mastered the software side of things. So to wrap up for me the pixel 2 is the best smartphone out ther right now full stop. No phone is perfect, all are an amalgamation of compromises. But for me pixel 2 gets it right: - great in the hand size and built quality, - great screen and 5" is the perfect size, can't fault the quality and sharpness either - amazing camera, with unlimited photo and video storage - stock android, super fast and always up to date with all the google services and google assistant baked right in. - and the little extras I wasn't looking for but now wouldn't be without... like, Squeeze to activate google assistant or squeeze to silence an incoming call, Front facing very loud stereo speakers Super fast charging! Always on display with now playing feature! Super fast finger print scanner on the back which I now think is the perfect place! Battery life that is on a par with my old iPhone 6 Plus, giving me up to 2 days use in a phone this size is brilliant! So if you haven't guessed yet I highly recommend this phone and if you're looking to cross over from the Apple side to me the pixel 2 is a no brainier and the cost of entry is cheaper to. If you shop around. I got mine from the Carphone Warehouse for under £500 in January.
Date published: 2018-02-14
Rated

1

out of

5
by
Sat123
from
Phone is great but has problems
I bought this three month ago and every thing works good most of the time . It goes weird where when u touch screen to open what's app and it opens up something else. Stars scrolling when u trying to type a message very frustrating. Because of this annoyance I would not buy the phone.
Date published: 2018-02-13
Rated

3

out of

5
by
DavidPhotoMan
from
Good in some ways, but missing too many essentials
I've had this phone for about a month now. Certainly is fast, good display and with the 128G model plenty of storage. Camera is good. But too many things that I'd expected were standard on a phone at this price are simply missing. No built in FM radio receiver so can only listen to radio where there is a decent signal and of course uses up data quota. I take many photos and had intended to display them on TV -- but no way it seems to get this phone to drive HDMI. Again, missing hardware it seems. Basically a cut back phone in premium clothes.
Date published: 2018-02-10