Trade In your device
Your Trade In value has been saved
Trade in your old phone, and get money off this handset
This is how much you could get for your old phone.
Click the button below to see how much you can get for it.
Go to your basket to remove a device
Trade-in your device
Now you can sell your old phone and save on your new purchase
Step 1
Complete your trade-in to guarantee your price.
Step 2
You'll receive an envelope and return your old device to us within 14 days.
Step 3
Funds transferred to your account within 3-5 days of us receiving your device
Loading…
In a nutshell
7.6-inch folding display
48MP triple camera
9.5MP selfie camera
Google Tensor G2 processor
4800mAh battery with battery saver
Assistant voice typing
What Carphone Warehouse says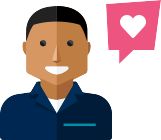 No need to buy two separate devices. The Pixel Fold lets you have a phone and a tablet in one. Enjoy your favourite games and movies on the foldable 7.6 inch display or keep it closed and deal with everything with just one hand on the just as beautiful 5.8 inch front display. No need to worry about performance either. The Tensor G2 processor has plenty of power to run everything smoothly.
The bigger the better is not always true. But it definitely is in this case. The Pixel Fold gives you a whopping 7.6 inch foldable OLED display with 120 Hz refresh rate. And if you need a quick access to your phone, there's also a 5.8 inch front cover display which is just as colourful and smooth.
When is the Google Pixel Fold coming out?
The Google Pixel Fold release date was the 27th of June 2023.
How much is the Google Pixel Fold?
The Google Pixel Fold price will differ depending on the storage option you go for, and what kind of deal you sign up to. If you opt for the 256GB option, it'll be cheaper than going for the 512GB storage option.
What colours does the Google Pixel Fold come in?
If you want a sleek black phone or a cool white phone then the Google Pixel Fold is for you. It is available in two colours: Obsidian and Porcelain.
What processor does the Google Pixel Fold have?
This cool model not only looks great, but it performs even better thanks to the Google Tensor G2 CPU.
What size is the Google Pixel Fold?
If you want a large-screen phone to enjoy movies, games and social media in stunning detail but still want it to be compact enough to comfortably fit in your hand or pocket when you need it to, the Google foldable phone is for you. This phone's dimensions measure at 6.2 x 5.5 x 0.2 inches when open and 5.5 x 3.1 x 0.5 inches when closed.
Does the Google Pixel Fold support eSIM?
Yes, the Google Pixel Fold is an eSIM phone, which allows you to connect to another mobile operator without using a physical SIM card. Learn more about the benefits of eSIM phones in our handy guide.
Is the Google Pixel Fold an Android phone?
Yes, the Google Pixel Fold runs on the Android 13 operating system.
How much storage does the Google Pixel Fold have?
This model comes with two storage capacity options to pick from to suit your needs. If you want to store a decent number of photos, videos and apps, the 256GB phone storage should suffice. If you think you'll need more, you can opt for the 512GB phone storage instead.
How good is the Google Pixel Fold camera?
The main 48MP camera on the Pixel Fold has an aperture of f/1.7 and features optical image stabilisation to ensure that your pictures are clear and crisp. The second camera features a 10.8MP Dual Pixel autofocus with an aperture of f/2.2 and the third is a 5x optical zoom telephoto snapper with a 10.8 MP resolution.
Does the Google Pixel Fold have a voice assistant?
Yes, the Google Pixel Fold does come with Google Voice assistant and allows you to connect to other Google devices. Learn more about voice activated phones for more information on how to make the most of your Google Voice Assistant.
Does the Google Pixel Fold have fingerprint recognition?
The Google Pixel fingerprint scanner is side mounted on the Pixel Fold to make it easy to log into your device. There are plenty of phones that also feature fingerprint recognition to explore at Carphone Warehouse.
What battery does the Google Pixel Fold have?
For a phone with a long battery life that can keep up with your busy days, the Google Pixel Fold is for you. It features a 4,821 mAh battery which will keep you powered up when you're on the go.
Does the Google Pixel Fold support wireless charging?
This Google Pixel has wireless charging capabilities, so you no longer have to mess around with wires and cords. Simply pop it on a wireless charging pad and it'll be charged up in no time.
Connectivity

Display & User Interface

Camera Features

Messages

Technical

139 x 79 x 12mm

283g

7.6 inch open, 5.8 inch folded

4800 mAh

Standard Features

Memory