In a nutshell
Ultra-slim case with brushed metal finish
Uses the latest D30 impact protection technology with advanced shock absorption
Available in rose gold, gold or silver
What Carphone Warehouse says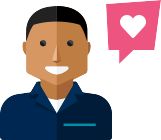 "Crammed with shock absorption technology that's used by Olympic ski teams and the military, you can be safe in the knowledge that with the GEAR4 Trafalgar case, your iPhone 7 or 8 wont just look great but will stay protected too."
Extra Protection
The GEAR4 Trafalgar comes with D30 technology, this clever stuff hardens the case on impact, keeping your iPhone 7 safe at exactly the right moment.
Slim Design
If you want your iPhone 7 to stay looking brand new but not at the expense of a heavy, bulky case then you can't go wrong with the GEAR4 Trafalgar. This ultra-slim cover snaps easily onto your phone and apart from the raised edge to protect the display, you'll hardly notice it's there.
Sleek Finish
Although the GEAR4 Trafalgar case is made for protecting your smartphone, the designers have kept iPhone styling in mind. The brushed metal finish on the rear of the case keeps that industrial feel and being available in gold, rose gold or silver you can choose a look to suit your style.