In a nutshell
D30 material is flexible, strong and stops your iPhone 7 from getting damaged
The minimalist design allows your smartphone's original design to stay on show
This ultra-slim and ultra-light case easily clips on and off your phone
What Carphone Warehouse says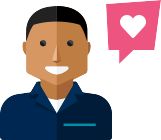 "Smartphone cases don't need to be big and bulky anymore and this case proves it. With a simple, minimalist design, your iPhone 7 is still visible and will stay safe and super protected thanks to the latest impact technology."
Innovative design
The transparent, design of the GEAR4 D3O Soho still lets you see all of the features of your iPhone 7. The clear case is subtle, stylish and looks great.
Protective Qualities
This impact resistant case is made from high-quality D30 material which uses the latest in advanced shock absorption technology to protect your phone. The GEAR4 D30 is flexible and soft, but when it needs to, it'll harden and shield your iPhone 7 from damage.
Ultra-slim
GEAR4 D3O Soho for iPhone 7 can easily slip onto your smartphone and do the business, it's not bulky and you'll hardly notice the difference once it's on, allowing you to carry on as normal.