In a nutshell
Made with D30 which protects your iPhone 7 or 8 with advanced shock absorption
Includes a handy stand, so you can watch your favourite videos on the go
Slim flip-over screen with a magnetic fastener in black, rose gold, gold or silver
What Carphone Warehouse says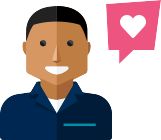 "Protecting your phone from bumps and scratches is simple with this slim, sturdy and light flip-over cover. You can even turn it into a stand and watch media whilst on the move."
Strong Design
Using advanced shock absorption material, the GEAR4 gives your smartphone some of the best impact protection on the market. So, if you want to keep your iPhone 7 looking brand new then the GEAR4 D3O Oxford will give it the fighting chance it needs to prevent scratches and scrapes.
Slim and Stylish
Your smartphone doesn't have to be covered in an ugly, bulky case for it to be properly protected. The GEAR4 D3O Oxford is ultra-slim and you can choose from a black, rose gold, gold or silver case to give it that extra bit of flair. 
Smart features
Even when your iPhone 7 cover is closed, the useful little window at the top allows you to see if you've got any notifications. There's a couple of card slots on the inside for storing your valuables and as the cover can be used as a stand, it means you can carry on watching your favourite videos while you're out and about.
Gear 4 Oxford for iPhone SE/8/7
is rated out of
5
by
10
.
Rated

5

out of

5
by
Allan77
from
Don't believe the others, it's great!
I've gone through a lot of cases in the past and none of them has been anywhere near as good as this one. My iPhone 7 is as pristine as the day I bought it and I have dropped it many times. The sound is fine, the buttons are fine, the catch is fine. The only gripe is that, after nearly 2 years of solid service, the rubberised coating is starting to peel slightly. I've never had a case that lasted this long, let alone stay in such good condition for nearly 2 years. Buy it!
Date published: 2018-08-22
Rated

3

out of

5
by
Dickie
from
Great protection
I've had this for over a year and as I work outside, I am at increased risk to damage particularly from being dropped / scratched. It performs really when in that respect, however the corner of the front cover has started to peel away, which doesn't affect its performance - it's just irritating. As others reviewers have mentioned, it must obscure the microphone, as when not on hands free, people constantly complain they can't hear me. Again, catch is a little loose for my liking, although I've had no issues with controls etc. I need a case that offers all round protection, so In that respect it does the job really well, although failimg in other areas.
Date published: 2018-08-19
Rated

1

out of

5
by
Richjill
from
Unfit for purpose
I bought this for my iphone 8 on recommendation at Carphone Warehouse. Having started to use the case it very quickly proved to be unfit for purpose with volume controls and SOS/emergency function being randomly activated. The case is clearly too tight and the catch is inadequate. Only good point was that upon return it was exchanged without question for an Otterbox case which is excellent. So, I recommend not buying the Gear4 case
Date published: 2018-01-20
Rated

1

out of

5
by
Anthony
from
Waste Of Money!!
I've had this phone case for a good 3 months now and I hate it. When the cover is closed it turns down the volume of your phone/ringer. you cannot talk to anyone on the phone whilst it is in the case as they cannot hear you due to how bulky it is around the microphone. Complete waste of money and not fit for purpose. Find an alternative case that doesn't interfere with your phones functions.
Date published: 2018-01-18