In a nutshell
Ultra-slim, completely transparent case
Military-grade D3O tech offers unrivalled impact protection
Easy access to all ports and volume controls
What Carphone Warehouse says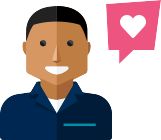 "You can rely on this GEAR4 Crystal Palace case to handle serious knocks and drops, because the D3O technology inside is the same protective tech used by the military. Impressive, right?"
CRYSTAL PALACE
Crystal Palace is drop resistant up to 13ft/4m thanks to the D3O® CrystalexTM protection. The backplate is made of polycarbonate (PC), the same material that's used in bulletproof glass, so it will keep your device safe and sound. With anti-yellowing technology built into the case, this is the most transparent case you can buy.
Drop Protection
Take on anything that comes your way with confidence, knowing that you've got up to 13 feet (4 meters) of drop protection. D3O® - the same material used by the military and professional athletes—is the key component in our formidable phone protection.
Slim Design
Powerful protection doesn't have to be bulky. The slim design of our cases allows your device to fit easily in your pocket and look sleek and stylish in your hand. We use materials like polycarbonate, TPU (thermoplastic polyurethane), and the unrivaled D3O® material to create tough protection with a lightweight feel.
Edge to Edge Protection
Gear4 cases wrap to the front of your screen giving you secure, edge-to-edge protection you can count on. Patented D3O® material - specifically designed for consumer electronics - is injection-molded into the rim of the case and around the camera cutout for added protection.
Wireless Charging Compatible
Wireless charging has become indispensable in a world that never stops. All Gear4 cases are wireless charging compatible which means you can drop your phone on any wireless charging pad for a quick charge without removing your case.
PROTECTED BY D3O
®
Nothing protects your phone better than D3O®. D3O® material offers the thinnest and most advanced protection against knocks and drops. But that's not all – it's also in helmets, gloves and other protective gear used around the world by soldiers, professional athletes, industrial workers, and motorcyclists. So if they trust D3O® - you can too.
Gear 4 Crystal Palace for Galaxy S10
is rated out of
5
by
4
.
Rated

4

out of

5
by
Donnie
from
Sleek and Slim
I bought this because I felt pressured to buy it from one of the sales assistants. It's slim and sleek - it seems like it does the job without adding any heaviness or clunkiness to the phone. The case collects prints too much and the case isn't as clear as I'd hoped. My green Samsung doesn't shine through, which was why I wanted a clear case. I made £30 - it does do the job, it has a lip so it can protect your phone from damage if it falls face down. It has also been shockproof tested. So I guess I can't fault it. I will pursue a thicker, heavy duty case just out of personal preference though. I'd probably use Gear 4 for around the house and informal stuff like shopping. But if I'm out at a concert or on a night out, I'd use my future heavy duty case instead.
Date published: 2019-07-20
Rated

5

out of

5
by
cfos83
from
Brilliant case!
I bought this having had a Gear4 case for my S9 for a year, and it survived every single drop of my phone without even letting the handset pick up a scratch. So when I upgraded to the S10, there was no other option in my mind! Ignore the reviews saying it's impossible to get in - that's not true! There's a knack that you get used to after owning one for a while. Insert the top end of the phone into the top of the case and push it up as far as it will go. Then gently press in the bottom corners of the phone into the case, one at a time. Et voila! Believe me, to give the phone proper protection you really wouldn't want it any looser, or it would just fall out when it hit the floor. Can't recommend these enough!
Date published: 2019-06-13
Rated

1

out of

5
by
Jonofwrath
from
Does NOT fit the S10
I tried for over an hour to get this on my phone - the girls in the store when I returned it strained for a few minutes before giving up. As per the many other reviews say
Date published: 2019-04-05
Rated

2

out of

5
by
Dan D
from
Drawbacks outweigh the positives
I picked up an S10 just after release day and ordered a cheap case off Amazon to hold the fort until i could get a better case. I don't like obscuring the phone in massive chunky pieces of rubber and like to show off the phones sleek aesthetics so always go for thin transparent cases. After a week or so of research i decided it was time to get a premium case to go with the premium tech i was carrying around and this case seemed to fit the bill perfectly. On the face of it it should tick all the boxes, it's made of really high quality durable material which i can just tell will protect it against any day to day drops and knocks. The plastic really is completely crystal clear and apparently it won't turn yellow over time. BUT the fit is terrible, it's really difficult to get on the phone as the lips are rigid and fold in on themselves as you push the phone into the case. It was a nightmare to get on as i had to push really hard in the corners and was afraid of breaking the phone. Whilst i was doing this is i was thinking whether it was supposed to be this difficult and wondered whether this just meant there's going to be a really tight compact fit. I was wrong, there's a microscopic gap between the underside of the case back and the back of the phone, meaning that when you grip it it flexes and creaks. It's the same on the right hand edge where the power button is. If you squeeze the phone, the case flexes and makes a creaking noise. How can a case be so tight and so loose at the same time? I lived with it for a few days but in the end was worried that small particles of grit and dust etc might find them selves into all the gaps under the cover and be abrasive to the phone surface. In the end i slung on the £8 case from Amazon which fits like a glove and does the job well enough.
Date published: 2019-03-25