In a nutshell
Fitbit reminds you to keep mobile throughout the day
StartTrack features automatically senses when you begin exercising *
Track your progress with the Fitbit apps goal setting and workout summaries.
What Carphone Warehouse says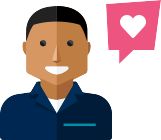 "This sharp looking fitness accessory keeps you motivated to hit your goals. It's a great tool to help you get and stay fit"
Keep on track
Check how you're going at any point with Fitbit Alta's OLED screen. You can track steps, calories, distance and the minutes you've been active.
Alta will also help you achieve mini goals, like making 300 steps an hour. It'll remind you if you've not been active, and congratulate you when you've completed the goal. 
It's all on the app
The brilliant Fitbit app gives you insights to help with your fitness, like goal setting, food logging and workout summaries. You can even connect with friends and see how they're going too.
The Alta's convenient SmartTrack feature identifies when you're exercising, and also the kind of exercise, to give you a breakdown of distance and the calories burnt. 
A good night's sleep
Check how well you're sleeping with Alta's sleep tracking. It shows you how restless you were during the night, and how much deep sleep you got. Plus, a silent vibrating alarm wakes you up in a calmer way.