Trade In your device
Your Trade In value has been saved
Trade in your old phone, and get money off this handset
This is how much you could get for your old phone.
Click the button below to see how much you can get for it.
Go to your basket to remove a device
Trade-in your device
Now you can sell your old phone and save on your new purchase
Step 1
Complete your trade-in to guarantee your price.
Step 2
You'll receive an envelope and return your old device to us within 14 days.
Step 3
Funds transferred to your account within 3-5 days of us receiving your device
Loading…
In a nutshell
6.1-inch HD+ display
Triple 13 MP + 2 MP + 2MP rear camera
5 MP selfie camera
32 GB internal storage
Built-in assistance button
Hearing aid compatibility
What Carphone Warehouse says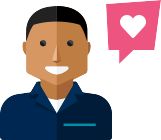 "A smartphone with all the modern functions does not have to be too complicated to frustrate less experienced users. The Doro 8100 is designed to make your life easier – the buttons are larger, the sound is louder and clearer and there's even an assistance button in case you need to call for help."
Looking for an easy-to-use, hassle-free smartphone? Doro 8100 comes with all the functions of any other smartphone but is specifically designed to not give you headaches from over-complicated controls.
When was the Doro 8100 released?
The Doro 8100 release date was the 3rd of May 2022. It's a great addition to the Doro lineup, tailored to meet the needs of senior users.
How much is the Doro 8100 in the UK?
The Doro 8100 price may vary on the promotions or deals available.
What are the recommended accessories for the Doro 8100?
You'll want to get a Doro 8100 case to protect your phone from any accidental drops, bumps or scrapes. A Doro 8100 screen protector will also add an additional layer of protection from scrapes and scratches.
Is the Doro 8100 a smartphone?
The Doro 8100 smartphone is an easy-to-use device that helps seniors stay connected with loved ones.
What is the battery life of the Doro 8100?
The Doro 8100 features a 3000mAh battery which is pretty impressive – it's designed to last for extended periods between charges but can vary based on usage. The 3000mAh battery life phone will provide you with up to 687 hours of standby time or up to 23 hours of talk time.
What is the Doro 8100 operative system?
The Doro 8100 operates on the Android 11 Go Edition operating system.
Does the Doro 8100 have Wi-Fi calling?
Yes, the Doro 8100 has Wi-Fi calling which means you can call and text friends and family whenever you're connected to the internet.
What does the button on the back of a Doro phone do?
The button on the back of compatible Doro phones is an emergency button and is part of the free service called Response provided by Doro. It is an emergency call button for elderly people that connects Doro users to their emergency contacts when they press it. For other phones that are designed for the elderly and cater to their needs, check out our full collection at Carphone Warehouse.
What SIM does Doro 8100 use?
The Doro 8100 is compatible with Nano SIM cards only.
Does the Doro 8100 have NFC?
The Doro 8100 has NFC on the phone which allows you to make contactless payments with compatible providers.
Is the Doro 8100 a 5G phone?
No, unfortunately, it is not a 5G compatible phone, however, the Doro 8110 is 4G and 3G compatible.
What sort of deal will I get?
You'll find that there are plenty of deals available at Carphone Warehouse. The Doro 8100 is available on SIM-free, new plan or upgrade options.
What are the Doro 8100 remarkable features for the elderly?
The Doro 8100 is tailored to meet the unique needs of the elderly, offering remarkable features designed to enhance their lives. It includes incorporated advanced sound amplification technology, ensuring that calls are loud and clear, making conversations easier to hear and understand. It also features an easy-to-read, user-friendly interface.
Connectivity

Display & User Interface

Camera Features

Technical

156mm x 73mm x 9.2mm

167g

18 hours

6.1 inches

330 hours

300mAh

Music Features

Standard Features

Memory