In a nutshell
High-quality cable for connecting new USB Type-C devices
Works up to 20-times faster than micro USB
Only works with devices with USB Type-C connectors
What Carphone Warehouse says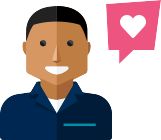 "If you've got a new phone with a USB Type-C connector, this cable is great, letting you transfer data up to 20 times faster."
Reversible Design
Smaller, smarter and more convenient, the connectors have a handy reversible design so you don't need to worry about plugging it in the right way up. Easy to just grab and go.
Compatibility
With more USB-C devices coming onto the market, the cable is the perfect way to hook up your new Google Pixel phone, Nexus, Moto Z or any other USB-C device to older laptops and PCs and still get super-fast syncing.
Syncing & Power
With up to 5GB fast syncing, you can transfer large files like HD video and audio in seconds. Not only that, with an output of up to 2.4 amps, the adapter can charge your device via USB pretty speedily too. Job done. 
Specification

Any device with a USB Type-C port to a computer for syncing or charging.