In a nutshell
LED lights around edge of the case to light up the camera
Controls to adjust brightness, colour and add a strobe effect
Choose from a white, black, gold or pink case
What Carphone Warehouse says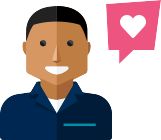 "Low-lighting can ruin photos but the Casu Selfie case and its LED lights can shine a light on any situation and help you to capture memorable moments and take fantastic snaps."
LED Lights
The Casu iPhone 6/6S Plus Selfie Case is packing LED lights inside the edge of its case so in those dull moments, it can shine a light and help you take the perfect selfie. 
Control
The Casu Selfie case is more than just a protective cover; it comes packed with features to make sure your selfies are on point. With the ability to change the brightness and colour of the LEDs or even add a strobe lighting effect, you know that with this cover you'll get perfect photos every time.
Extra Protection
It's easy to forget that while you're taking photos, the Casu iPhone 6/6S Plus Selfie Case will protect your iPhone from bumps and scratches too. It's a robust case that doesn't just make you look good, but keeps your phone in shape too.