In a nutshell
4.5-inch Full HD+ display
12MP camera
Available in 32GB and 64GB
Available in Silver and Black
26+ Hours use and with Quick Charge 3.0, get up to 50% charge in just 36 minutes
What Carphone Warehouse says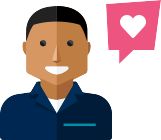 "If you're looking for something that goes against the grain, the KEYone is the smartphone for you – with its striking build and smart keyboard."
The box contains
Device
SIM adapter
User manual
Headphones
SIM card removal tool
USB cable
Quick Start Guide
Connectivity

Camera

Dual tone LED flash

4K

8 megapixels

12 megapixels

Storage

Music and entertainment

Processor

Octa

Qualcomm MSM8953 Snapdragon 625 Octa-core 2.0 GHz Cortex-A53

3 GB

2 GHz

Display

Full HD

433 ppi

1080 x 1620p

IPS LCD

4.5 inches

Specification

Body

Dimensions

149.1 x 72.4 x 9.4 mm

180 grams

Calls & Messages

Operating System

Android

Android Nougat (7.1)

Apps

Battery

Special Features
BlackBerry KEYone
is rated out of
5
by
51
.
Rated

5

out of

5
by
Quantum Genius
from
A seriously underrated Phone and Brand!
I've always been fond of Blackberry phones because of their physical keyboard, but I've been reluctant to go back blackberry thinking, like most, that their phones weren't up to market standards and company is a dying brand. After having owned Apple and Samsung phones for a good ten years, I got frustrated of typing on touch screens and finally decided to give blackberry Keyone a go as a business phone. Boy, was I impressed! This has to be the best phone I have ever owned. Writing on a Keyboard is dream. The Keyone has this amazing feature that allows you literally 'flick' predicted words onto the screen, none of that annoying auto-correct function which makes typing on touch screens a tedious chore. On most touch-screen phones you have swipe on the screen to find your app, which can be tad difficult when you're trying to find that android pay app to tap on the bus or tube station. With Blackberry you can assign numerous shortcuts from your keyboard to each app. So, for example, if you click an A, the android pay pops up, W for whatsapp, T for twitter, G for Gmail... and there's like 52 of these shortcuts in total, I think. Love it! No more fumbling around on the touch screen looking for apps, just one click and your app comes up! The Battery life on this phone beats any Samsung or Apple phone hands down. It seems to go on forever, even when you're listening to something, or watching a video on Youtube. I have been able to use this phone for two days without charge, even with heavy use! There's probably so much more I can write, but this alone should be sufficient for anyone considering blackberry Keyone a try. It's a shame the phone wasn't advertised that well by BB. I think had most people known what this phone can do, a lot of them would have loved to get their hands on one of these! Yes, this is a very, very underrated phone, and I am proud I own one!
Date published: 2017-11-05
Rated

5

out of

5
by
uioj
from
great to have a balckberry once again.
As a blackberry user for many years what I say about this phone may seem biased but it is truly not as i have never til now had blackberry running on android ( a platform I never wanted) for various reasons but ended up with on my previous phone, (Which I grew to love android). the keyone is the best phone I have owned since the passport. I loved the passport but the bb10 app store did not offer the aps I required so I sold the phone 11 month later bought another top spec phone running android, not mentioning brand and model but it was a flagship device from a market leader. it was and still is a great phone but I hate touch screen keyboards and simply cant write text without getting frustrated and making mistakes. now that I'm used to android and actually enjoy it I was thrilled to stumble across the keyone powered by android os at upgrade time. (before I seen this phone I was going in to renew my contact on sim only as after this 24 month there was nothing that I didn't already have) After a quick bit research I went for it. All the other phones all look and do the same thing as my 2 year old phone. Sure as you will hear on reports its not running the latest chipset but this is to maintain exceptional battery life, its deliberate as it doesn't need it and having it just because its there would hinder battery life. (I couldn't get a full day on my old phone) but I'm on for 2 days with the key one with heavy'ish use. everything I loved about blackberry is on the keyone and easily replaces the passport and my more recent android device. I don't use phones for games or watching movies so I cant comment on performance on that front but for what I use my phone for is browsing and using apps such as social media, shopping, and utilities. I've had no experience of freezing, lag or any other hassle. It performs just as smooth as my previous device that had more ram and faster processor and I cant tell any difference on performance from my oher phone based on what I used it for. The build quality and look of the phone is top notch and just as good as my previous 2 mentioned devices, The battery performance is streets ahead of any other phone on sale today. The keyboard is fantastic and the size of the screen is more than enough, actually huge. Even though its 1 inch smaller than my previous device it does not seem like it and I haven't noticed any difference in size of screen. If you have never owned a blackberry before it will be a marmite situation. But if you loved blackberry and were forced to jump ship like I was purely to lack of required apps on bb10 os then this is absolutely the phone for you and you will not regret the purchase. I almost forgot the sound quality during calls is crystal clear and signal is excellent. the audio quality from inbuilt speaker is the same as you would get from any other phone really and the in built speaker is loud. Audio quality (depending on headphones) is fantastic, better than all my previous phones. With a graphic equaliser to adjust to your preference. I don't know wether or not this is due to the os being close to stock and not being full of manufactures bloatware that removes this sort of thing to replace with their own varient, But ive not til now seen a phone with a graphic equaliser and this has been the best audio quality I've ever been able to get from a phone. if I had known this before I bought the phone this would have been the biggest selling point to me and a massive thumbs up to that!
Date published: 2017-10-15
Rated

5

out of

5
by
Dan3467
from
Best Blackberry ever. Best everyday phone
I have had the phone a while now, it is the best everyday phone you can get. It is great for work email etc, Twitter Facebook and Microsoft Office including Outlook can be down loaded for free from google play store. Keyboard is great and easy to type quickly. Screen is fantastic with pin sharp video delivery. Screen issues have been sorted in the 100.2 version (Silver) which CW sell. It is built like a tank. Sound quality is one of the best, including bluetooth if you like listening to music. Screen is not odd as others have said it the same size as an Iphone 7 and most apps like Netflix will scale to fill the screen. Device is also great for web surfing as you can use the keyboard to scale and zoom the page. Most outstanding feature of this phone is the battery life, it is amazing. If you travel a lot as I do, this phone is your ultimate travel companion. On other phones watching Netflix etc while waiting for planes etc hammers the battery, this phone handles it. The battery easily lasts 24 hrs whatever you throw at it. I have upgraded from an iphone 6, which I like, but the battery life during heavy use while travelling is poor. I found that I needed to charge it a couple of times a day. This phone lasts a day and half to two days easily between charges. It will take a 200gb sd card too so you can take all your films and music with you. The bundleed headphones are excellent sound quality is really good.
Date published: 2017-09-16
Rated

3

out of

5
by
Martin1969
from
Love the phone but the screen has popped out!
I've now had the KEYone for a few months after switching from iPhone and absolutely love it. Really enjoying the physical keyboard and didn't realise how much I'd missed the hub too. Unfortunately I picked the phone up earlier today and the screen simply fell out (albeit still connected by a ribbon and still working). There doesn't appear to be any glue/clips that were holding it in and it's never been dropped. Having searched the issue on the internet, it appears to be a common problem with some of the earlier issues and I believe Blackberry are aware of it; however this is the only reason I haven't given the phone 5 stars - as I now have the pain of getting it sent off for repair/replacement and all the palaver or backing up all my data, sorting out a replacement in the meantime and the wait (which I;m advised could be up to 28 days)! Providing they rectify the problem with future models, I would whole-heartedly recommend the phone. We'll see how the repair/replacement process goes!
Date published: 2017-09-08