In a nutshell
2.4-inch display
0.3 MP camera
Backlit keypad
Phonebook for 100 contacts
Available in Black, Red, Rose Gold
What Carphone Warehouse says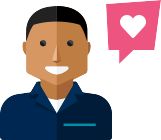 "The Binatone Blade is a slim and lightweight feature phone, that does exactly what it says on the tin. Great as an extra phone for holidays and festivals, and a retro treat for fans of Snake and Tetris."
Retro design
The design is based on the classic Motorola RAZR flip-phone, so you simply open the phone to take a call and snap it back to end the call. It also comes with a back-lit keypad, and has a super-slim profile so it fits easily in your pocket. 
MP3 player
Simplifying your phone doesn't mean you have to go without music. The Binatone Blade has a built-in MP3 player where you can save your favourite tunes, and listen to them with any headphones that have a USB connector. 
Two SIM cards
The Binatone Blade has two SIM card slots, so it's great if you want to use both your work and personal number at the same time. 
Long-lasting battery
The 600mAh battery means you'll only have to charge the Binatone Blade once or perhaps twice a week, making it a great backup, spare or emergency phone. 
The box contains
USB cable
Quick Start Guide
Charger
Dimensions

Calls & Messages

Connectivity

Battery

Music and entertainment

Display

QVGALCD Display

2.4 inches

Body