In a nutshell
Connect iPhone, iPad or iPod to VGA-equipped products
View your videos in up to 1080p HD
Simple, compact and easy to use
What Carphone Warehouse says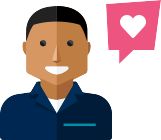 "The Lightning to VGA Adapter is a handy little product that lets you transfer content from the screen of your iPhone, iPad or iPod onto a much bigger screen. It makes the process simple and it's really easy to use."
Big Screen
When you need to watch videos on a bigger screen or transfer apps, presentations, websites and slideshows from your Apple product to your TV, the Lightning to VGA Adapter is the perfect solution. Watch videos and view content in up to 1080p HD on any VGA-equipped device. It'll be high wuality and clear to see.
VGA
All you have to do is connect your Lightning to VGA Adapter to the Lightning connector on your iPhone, iPad or iPod and then you'll need a VGA cable (not included) to connect to your TV or projector.
Compact
The Lightning to VGA Adapter is a small, easy to use item. It's the perfect size to pop in your bag or laptop case and carry around with you, making it a great tool for presentations or showing videos.