In a nutshell
Import photos from your camera onto your iPad or iPhone
Transfer photos so you can edit and share with family and friends
Organises your imported photos into albums
What Carphone Warehouse says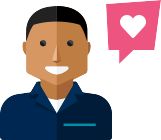 "We think the Lightning to USB Camera Adapter is a great product. When you've been on an adventure and want to see your fab photos on a bigger screen, you can import them easily and speedily onto your iPad or iPhone and you'll be able to edit"
Download
The Lightning to USB Camera Adapter makes it so simple and easy to import photos from your camera to your phone or tablet. This means that you can edit your photos, view them on a bigger screen and share them at the touch of a button.
Organised
Once you've decided to import your photos form your camera, connect the adapter and your iPad or iPhone will automatically open the Photos App, so you can choose which photos to transfer. It'll then organise the photos into albums and when you next sync, it'll add the photos to your PC or Mac. Simple!
Support
This adapter supports standard photo formats, which include JPEG, RAW, SD and HD video formats and also H.264 and MPEG-4. Your iPad needs to be updated with iOS 9.2 or later.