In a nutshell
Sync and charge your iPhone, iPad or iPod
2m long, white cable for added length
Includes a reversible USB design
What Carphone Warehouse says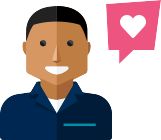 "The Apple Lightning to USB Cable lets you easily charge and sync your Apple products, including your iPhone, iPad or iPod. It's super-long and the 2m cable is really useful when you want to use your smartphone or tablet while you charge."
Extra length
The biggest advantage this cable has is that it's 2m long, so it's possible to charge and sync your Apple products and still use them easily at the same time. Want to head outside but need to charge your device? Now you can.
Reversible Design
The Apple Lightning to USB Cable has a reversible design, which makes it easier to use when charging and syncing your Apple iPhone, iPad or iPod. You can connect it to a computer USB port or a power adaptor for wall charging. Easy.
Simple
The white, compact cable is simple to use and you can wrap it up and take it with you anywhere. It does exactly what you need it to, with no fuss.