In a nutshell
Lightweight silicone case
Soft microfiber lining to help protect from scratches
Silky, smooth outer shell
What Carphone Warehouse says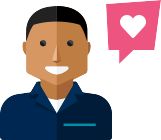 "Simple, straightforward protection for your iPhone 7. The Apple silicon case will keep your phone safe and looking great."
Simple Design
The silicon case from Apple fits snugly over your phone and around all the ports and buttons, it's so super-thin and lightweight, you'll hardly notice it's there.
Extra Protection
Don't let the simple appearance fool you, the Silicon case still offers extra protection for everyday smartphone use and with a soft microfiber lining, it'll stop those pesky dust particles getting stuck in your case and scratching the back panel of your new phone.
Stylish and Soft
Made with iPhone styling in mind, the case provides an extra layer of protection without detracting from the original design. It looks great and will keep your Apple iPhone 7 safe, what more do you need?