In a nutshell
Specially tanned European Leather
Soft microfiber lining to help protect from scratches
Slim and lightweight
What Carphone Warehouse says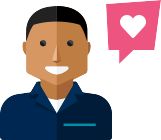 "Want a case that you're not ashamed to have out in public? The Leather case from Apple is for you, it's sleek, smart and as time goes by will naturally develop that cool distressed leather look. Perfect."
Luxurious Leather
They say some things get better with age and it's true for the Leather case from Apple. It's made from specially tanned and finished European leather so the outside feels super soft on your skin and it'll develop a cool patina the more you use it.
Extra Protection
The tough leather exterior doesn't just look the business; it does the business too. It'll protect your iPhone 7 Plus from every day scratches and scrapes and even comes with a super soft microfiber lining, providing all round protection for your new phone.
Stylish and Soft
The Leather case from Apple is a smart way to protect your new phone, the premium leather finish and machined aluminium buttons compliment the industrial body of the iPhone 7 Plus and keep it protected from every day wear and tear.