In a nutshell
View content from your new iPad 2 or iPhone on a bigger screen
Perfect for watching videos, slideshows and presentations
Small, compact and easy to carry
What Carphone Warehouse says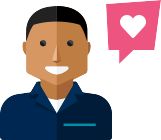 "We love the Apple Digital AV Adapter because it allows you to easily view anything on your iPad 2 or iPhone's screen on a much bigger scale. It's perfect for presentations or videos or showing off your holiday snaps on a TV or projector."
Connectivity
You can connect your Apple AV Adapter to another HDMI enabled device, like a TV or projector and transfer content from your iPad 2 or iPhone's display onto a much bigger screen.
Flexible
If you regularly need to show videos or presentations to large groups, or if you're wanting to stream media from your phone onto something larger then it's a really useful piece of kit, affording you the flexibility to transfer content across various devices.
Compact
The iPad 2 and iPhone Digital AV Adapter is simple to use and easy to carry. Just pop it in your bag before a presentation and you can use it whenever you need to.