In a nutshell
Connect your iPhone, iPad or iPod to your computer or power adaptor
Can connect products through a dock too
Charge and sync while your product is in a case
What Carphone Warehouse says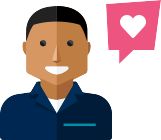 "The Apple 30 Pin to USB Cable charges and syncs your devices. It does exactly what you need it to with no frills attached. Connect your iPod, iPhone or iPad to your computer or power adaptor and charge and sync to your heart's content."
Connectivity
Whether you want to connect your Apple product to your computer's USB port or to your power adaptor for wall charging, the Apple 30 Pin to USB Cable easily allows you to. You can do this directly or through a dock. It's up to you.
Access
You'll still have complete access to all of your iPod, iPhone or iPad's functions while you charge or sync and you'll also be able to keep your Apple product in its case at the same time.
Compact
The Apple 30 Pin to USB Cable is simple to use and it's compact, so you can take it with you on the move. It's 1metre long, so you'll still be able to use your device easily while it's on charge.