Call our sales team on 0800 049 6250
Sony Xperia Tablet Z Wi-Fi 16GB
The Sony Xperia™ Tablet Z 16GB Wi-Fi is ultra high end with a unique design. The 10.1" screen is full HD, the processor top of the range & it's water resistant.
Made with the best materials and hardware
Anti-shatter glass & water resistant
Powered by the latest Android 4.1 software
Read full description
Top features
microSD card compatible up to 32GB
Your device accepts a specific kind of memory card, which can be used to enhance its internal memory. Adding a compatible card lets you store more music, videos apps & photos.
10.1" HD Display
This is the size of your device's screen, in inches ("). Larger screens are often better for media viewing, while smaller screens mean devices can be made smaller and lighter for improved portability.
Wi-Fi
If your device is compatible with Wi-Fi then you can access the internet via wireless networks, and enjoy broadband-like browsing speeds. Signal strength varies, and you might need a network key.
8MP front facing camera
This is the quality of your device's camera in megapixels (MP). Generally speaking, cameras with more megapixels produce sharper images which can be enlarged or zoomed in on with less loss in detail.
Qualcomm® Snapdragon™ S4 processor
Enables lightning-fast downloads and highly realistic 3D gaming. See below for more details.
Android Jelly Bean
Android Jelly Bean is the latest version of Google's operating system – it's faster, even more customisable and has more features than ever like offline voice typing and advanced notification bar.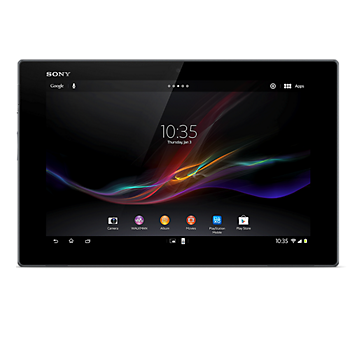 Tablet Accessories
Check out our great range of accessories to go with your tablet.
View Accessories
Fantastic Trade in prices
Get great prices for your old phone or tablet.
More info
The Sony Xperia™ Tablet Z is a super high end tablet that's able to do anything you like – even survive being submerged under water. With 16GB of storage, there's enough on board space for most of your content, and if you need more, just slot a microSD card up to 64GB in size inside (sold separately).
Original, beautiful design.
When it comes to looks, there's nothing that comes close to the Tablet Z. The distinctive shape is exactly what a tablet should be, a flat, glossy piece of glass. Made from high quality materials, it's seriously impressive. The glass for example is specially tempered, so it won't crack. Not only does it look impressive, the feel is amazing too. At only 6.9mm thick it's thinner than almost all the world's top smartphones, and as it weighs only 495g, it's the most portable and usable full sized tablet going.
Ultra sharp, full HD screen.
The Sony Xperia™ Tablet Z has a 10.1" screen with two great features. One is the full HD 1080p resolution, making it perfect for movie playback and viewing high definition content. It also uses Mobile BRAVIA® Engine 2. This automatically adjusts the screen to ensure it looks perfect all the time, and uses contrast enhancement, colour management, noise reduction and sharpness filters. Whatever you're looking at will never look better.
Water resistant1
There aren't many tablets that are as beautiful and have the same high specification as the Tablet Z. There are even fewer that also let you drop them in a tank of water. With IP55 & IP57 rating, it'll withstand being submerged in 1 metre of water for 30 minutes, and even water jets and dust won't affect its insides1. This means you can wash it off if you spill coffee on it, can use it in the bath or at the beach, and of course it's kid proof too, for peace of mind.
State of the art insides.
So it looks good, keeps out dust and water, and is super light and thin. Sony still managed to pack it with a top of the range quad core Snapdragon S4 processor and 2GB RAM. This means that it'll be able to run all the latest 3D games, most advanced apps and of course let you use multiple apps at once. It also future proofs the tablet. When websites become larger and apps and games more complex over the next couple of years, there's enough power inside the Tablet Z to ensure it'll be able to run everything for the next few years without a problem.
Cool built in apps.
If you've got a TV, the built-in TV remote app, known as SideView, lets you switch channels, access the menu, change volume and check what's on using just your tablet. Into social networks? The SocialLife app is perfect. It collects all of your latest updates, along with your news feeds and even YouTube videos in one place. Then there's Small apps. These are apps that pop up on your screen and float above other apps. There's a web browser, calculator, and more, making for really easy multitasking.
Versatile cameras.
Cameras front and back mean you can take shots of weddings or days out, or make video calls wherever you are. The 8MP rear camera is very advanced, using the same software as in the Sony Xperia™ Z smartphone. There are loads of modes to choose from like sport and night, and the Superior Auto mode chooses the best settings every time. It's easily one of the best tablet cameras going.
If you're looking for a top of the range tablet with all the latest features, a truly stunning and original design and water resistance, the Sony Xperia™ Tablet Z is the tablet you've been looking for.
1. In compliance with IP55 and IP57, Sony Xperia™ Tablet Z is protected against the ingress of dust and is water resistant. Provided that all ports and covers are firmly closed, the tablet is (i) protected against low pressure jets of water from all practicable directions in compliance with IP 55; and/or (ii) can be kept under 1 metre of freshwater for up to 30 minutes in compliance with IP 57. The tablet is not designed to float or work submerged underwater outside the IP55 or IP57 classification range and should not be exposed to any liquid chemicals. If liquid detection is triggered on the device or battery, your warranty will be void
Your device, in safe hands
Geek Squad technology insurance includes the tools you need to make the most of your device. We can support and fix your smartphone, tablet or computer. If it ever breaks, we'll be here to help 24/7. No claim too complex, no job too small.
Our best plan for your device:
| | | |
| --- | --- | --- |
| | + | |
Sony Xperia Tablet Z Wi-Fi 16GB

with Insurance & Tech Support - Tablet Complete

£10.99 per month

Full terms & conditions here
Pay as you go customers
Cover for accidental damage, theft and loss
Cover for liquid damage
Cover for unauthorised use
24/7 phone Tech Support from our Agents
In-store Tech Support from our Agents
Cover for up to £300 of Carphone Warehouse phone accessories
Next working day phone replacement on claim acceptance
Insurance underwritten by Aviva
Security software for your smartphone.*
Find out more about Geek Squad Mobile Insurance
You are able to upgrade your Tech Support cover to include all devices in your household for a small additional monthly fee.
*Subject to device compatability.
Help choosing your tablet
Opening times:
Monday - Friday:

8am - 9 pm

Saturday:

9am - 6pm

Sunday:

11am - 5pm

Bank holidays:

10am - 5pm
Call costs
You may be charged for calling this number, depending on your call plan. Your mobile phone network or fixed line provider will have details of which numbers are free for you to call. Call us on 0800 049 6250 Monday - Sunday. Costs of calls from networks may vary and calls from mobiles may cost significantly more.
What our customers say