Call our sales team on 0800 049 6250
Samsung Galaxy Note 8.0 Wi-Fi 16GB
The Samsung Galaxy Note 8.0 is a highly portable tablet with loads of features and the S Pen stylus for easy interaction. It's perfect for getting work done or creating content.
Read full description
Top features
8" touchscreen
This is the size of your device's screen, in inches ("). Larger screens are often better for media viewing, while smaller screens mean devices can be made smaller and lighter for improved portability.
1.6 GHz Quad Core Processor
Where a single core processor can deal with one task at a time, a quad core can work on four. Your device is smoother & far better at multitasking, so you can have more apps open at once without slowdown.
Eye Movement Recognition
The screen will stay on when you're reading it, and turn off when you put it down and do something else.
Multitasking
Run multiple apps and switch between them instantly, without sacrificing performance or battery life.
S Pen
S Pen and S Note
The S Pen is a stylus that lets you write, draw and label on your device. S Note is the software that enables you to make notes from any screen.
Android Jelly Bean
Android Jelly Bean is the latest version of Google's operating system – it's faster, even more customisable and has more features than ever like offline voice typing and advanced notification bar.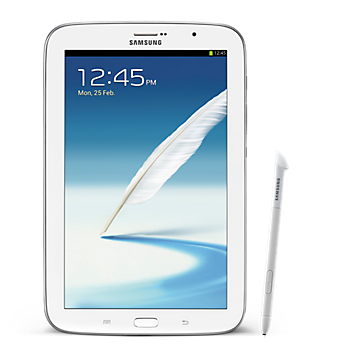 Tablet Accessories
Check out our great range of accessories to go with your tablet.
View Accessories
Fantastic Trade in prices
Get great prices for your old phone or tablet.
More info
The Samsung Galaxy Note 8.0 is a high powered tablet that's truly portable. You can hold it in one hand and use like a large smartphone, use the S Pen stylus to scribble a thought, sketch out a concept and organise your ideas.
Perfectly portioned.
The tablet computer is a portable beast, and the Samsung Galaxy Note 8.0 is one of the most portable around. Like and slim, it's easy to hold with one hand, and despite its portable size, it's still got a sizeable 8" screen. Clear, sharp and colourful, it's great for any kind of content, and because it's so portable, it makes an ideal eReader too. Want style? The Note 8.0 uses the latest Samsung styling, so it's got the same look and feel as great devices like the Samsung Galaxy S4.
Multi-window – use many apps at once.
The hardware is powerful and the screen so spacious that you can easily use multiple apps on screen at once. Pop open the menu and you'll be able to choose with which apps to open up. Checking where the best restaurants are? Open up the web browser and Google Maps, and you can view both apps on the screen at once. How about writing an email and watching YouTube™? No problem. Taking a note while watching a movie and keeping an eye on Twitter? You'll want a Note 8.0 for that!
S Pen, for ultimate control.
The Samsung Galaxy Note 8.0 is kitted out with the S Pen, a stylus that interacts with the software inside the Note 8.0 to give you loads of features and capabilities. Hover over the screen to preview images and videos, write on and annotate photographs, even hand write notes and have the words turned into Times New Roman text. You can also draw designs or pictures, and even set up gestures to launch shortcuts in seconds.
S Apps, designed just for your Note 8.0.
The S Pen has loads of apps designed for it, all built into the Galaxy Note 8.0. How about Awesome Note? This is an integrated app that is capable of unlimited note-taking uses including memo, diary and must-remember lists. There's S Note and S Planner to help to manage everyday tasks, including meeting notes, to-do lists and even personal diary entries. All your content can be entered and updated with the finest of detail thanks to the evolution of the intelligent Samsung S Pen. The advanced Productivity Tools feature supports formula, shape and text recognition, so your hand drawn content is turned into professional looking text.
Control your TV and other devices.
The Samsung Galaxy Note 8.0 is also great in the home. With Smart Remote, your Note 8.0 is turned into a universal remote control and electronic programming guide, letting you control the channels, volumes and settings of your home systems, as well as check what's on. You can even set reminders so you won't miss your favourite programmes!
A huge battery.
Despite the thin and portable size of the Note 8.0, it still packs a battery that's 4,600mAh, one of the largest of any mini sized tablet. This means it can last longer for longer video playback, more game time, and if you're using the S Pen, you'll be able to get a whopping 14 hours of continuous use.
If you're looking for a smaller, portable tablet that still offers premium power, a huge array of apps and is great for both creating and consuming content, the Samsung Galaxy Note 8.0 is a market leader.
Your device, in safe hands
Geek Squad technology insurance includes the tools you need to make the most of your device. We can support and fix your smartphone, tablet or computer. If it ever breaks, we'll be here to help 24/7. No claim too complex, no job too small.
Our best plan for your device:
| | | |
| --- | --- | --- |
| | + | |
Samsung Galaxy Note 8.0 Wi-Fi 16GB

with Insurance & Tech Support - Tablet Complete

£10.49 per month

Full terms & conditions here
Pay as you go customers
Cover for accidental damage, theft and loss
Cover for liquid damage
Cover for unauthorised use
24/7 phone Tech Support from our Agents
In-store Tech Support from our Agents
Cover for up to £300 of Carphone Warehouse phone accessories
Next working day phone replacement on claim acceptance
Insurance underwritten by Aviva
Security software for your smartphone.*
Find out more about Geek Squad Mobile Insurance
You are able to upgrade your Tech Support cover to include all devices in your household for a small additional monthly fee.
*Subject to device compatability.
Help choosing your tablet
Opening times:
Monday - Friday:

8am - 9 pm

Saturday:

9am - 6pm

Sunday:

11am - 5pm

Bank holidays:

10am - 5pm
Call costs
You may be charged for calling this number, depending on your call plan. Your mobile phone network or fixed line provider will have details of which numbers are free for you to call. Call us on 0800 049 6250 Monday - Sunday. Costs of calls from networks may vary and calls from mobiles may cost significantly more.
What our customers say